The Girl In The Photographs
(2016)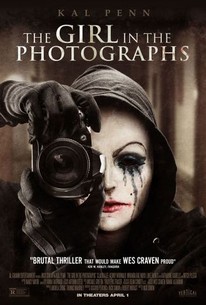 The Girl In The Photographs Photos
Movie Info
In Nick Simon's THE GIRL IN THE PHOTOGRAPHS, Colleen's life isn't going anywhere. The small town check out girl with natural beauty is bored with her dead end job and annoyed by her apathetic boyfriend. This isn't the life she wanted. In the midst of her turmoil, a pair of deranged serial killers begin leaving her photos of their mutilated victims. Her chance to escape comes in the form of Peter Hemmings, a hipster celebrity photographer who has traveled back to his hometown of Spearfish, South Dakota, with a pack of models, intent on copying the killers' intense and unapologetic artistry. When he learns Colleen is the killers' muse, Peter resolves to make her his own and use her as the centerpiece of a photo campaign in Los Angeles. But before Colleen can leave her old life behind, she must contend with the desires of her murderous stalkers who have chosen her last night in town to execute their most provocative work to date.
Critic Reviews for The Girl In The Photographs
Audience Reviews for The Girl In The Photographs
I don't know why, at first, the setting of this movie somewhat reminded me of Scream. It's set in a small, peaceful town where these horrific murders take place. That's about where the comparisons to Scream end, because it, obviously, isn't as good as any of the films in the Scream franchise. It's not even better than the third movie, which was the worst of them. Part of me wanted to like this film, like I thought Kal Penn's performance, as this narcissistic photographer who finds inspiration from photographs of murdered women left behind by a serial killer, was entertaining. But that's really the only entertaining thing about the movie. I didn't think it was bad, at all, but it really is kind of a nothing happening slasher film. Like they had an idea for a short movie, but they decided to stretch it out to a full-length one and it's obvious that they just didn't have enough material to justify going as long as they did. There's certain scenes that just feel interminable. Like everything in between kills, the film really has nothing going on in between the kills. They pretend they do, but they really don't. The only thing that's comes remotely close to being interesting is Kal's character struggling with the fact that a serial killer is taking better photographs than he is. Ka's character really is the only interesting thing about this movie. Everyone else is what you would expect, cliches, underdeveloped and uninteresting. The kill themselves are surprisingly nasty, but I don't feel that it fit with the film's tone. It's not like it's a movie that's got a consistent comedic tone, but the film doesn't take itself as seriously as one would think. The kills, however, are another matter entirely. Talk about self-serious and lacking awareness. I'm not saying the kills themselves were bad, it's just not something that fits with the tone for the rest of the film. The acting is fine, Kal Penn is the best of them all, but that's only because his is the only character that has any real interesting scenes or lines. So, of course, he's gonna shine through more than any of the other actors. It's not bad though, it's just your basic horror acting. Well, really, it's probably better than the average, it's still nothing special. Like I said, the movie isn't bad at all. Well, I mean, the score implies that it isn't good, but it was ok at best. I just felt that with the film's structure and script, it was probably better suited for a 45-minute format and not a 90-minute one. But that's just me, clearly the people behind the making of this felt differently. But you can just see from watching this that there just wasn't enough material to justify its length. It feels empty and shallow and that's a shame. I'm not saying the film would've been great if it was shorter, but it would've definitely been better. It had some real pacing issues, for sure. With that said, I can't really recommend this movie. If it ever hits Netflix and you need a horror fix quick, then I guess this will do just fine, but it's not a movie that a lot of people are gonna enjoy. Kal Penn's performance is the only legitimate highlight of the film. So there you go.
Jesse Ortega
Super Reviewer
The Girl In The Photographs Quotes
There are no approved quotes yet for this movie.