The Girl on the Train
(2016)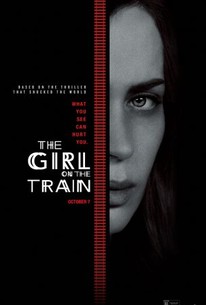 TOMATOMETER
AUDIENCE SCORE
Critic Consensus: Emily Blunt's outstanding performance isn't enough to keep The Girl on the Train from sliding sluggishly into exploitative melodrama.
The Girl on the Train Videos
The Girl on the Train Photos
Movie Info
Rachel, devastated by her recent divorce, spends her daily commute fantasizing about the seemingly perfect couple who live in a house that her train passes every day, until one morning she sees something shocking happen there and becomes entangled in the mystery that unfolds. Based on Paula Hawkins' bestselling novel.
News & Interviews for The Girl on the Train
Critic Reviews for The Girl on the Train
Audience Reviews for The Girl on the Train
"The Girl On The Train" ain't no "Murder On The Orient Express". The solution to the mystery becomes obvious halfway through when the murder victim is show in flagrante delicto with a faceless person who has the distinctive physique of only one other character. Later, it is explicitly stated that the key character is not two of only three possible candidates. What's more, that key character is acting entirely consistently with how he/she has acted before. The mystery train apparently only stops in Obviousville. Blunt's performance as a black-out drunk is entirely unconvincing. In fact, her sober moments are almost indistinguishable from her drunk moments. (Thank goodness for fuzzy focus and wobbly cameras or you might miss when her perceptions are through vodka-soaked eyes.) Threoux is tiresome and boring. Pacing is slow and the structure is unnecessary and almost haphazard. At least the cinematagraphy and set design are good. Overall, the film is drab, dull and dank. If I were on this train, I'd carpool next time.
Christian C
Super Reviewer
Coming across like Gone Girl lite, the adaptation of the mega best-selling thriller The Girl on the Train seems to be on a runaway collision course with irony-free, amped-up melodrama and sundry "adult" sensuality reminiscent of the 90s boon of erotic thrillers like Jade and Sliver. The book by Paula Hawkins had three strong female lead characters each telling their own miserable worldview of trying to live up to social standards of motherhood and marriage. The movie seems to have shorn most of the focus on character and included every twist and turn, no matter how absurd. Take for instance just how insular this world is: Rachel (Emily Blunt) is the ex-wife to Tom (Justin Theroux) who left her for Anna (Rebecca Ferguson) who has a nubile nanny Megan (Haley Bennett) who is unhappy with her controlling husband Scott (Luke Evans), who happens to be the couple that Rachel voyeuristically observes and fantasizes domestic bliss. Megan goes missing and Rachel cannot account for her whereabouts because she has become a blackout drunk to kill her self-loathing and sense of internalized failure. The whodunit aspects of this movie can come across as rather hokey and overblown, but lacking the nasty nuance and subversive gender politics of the far superior Gone Girl. Every single person in the film has to come across like a suspect (Megan's husband, Megan's therapist, some guy in the road?) and talks in a curiously oblique style. The attempts at sexy lack heat but more than that they lack conviction. Director Tate Taylor (The Help) seems to think he's directing a Hitchcockian thriller one minute and a tawdry art film the next. The screenplay is also unhelpfully nonlinear, frivolously jumping around in time and point of view and muddling the overall timeline. Anna and Megan are drastically underwritten; Megan is a sex kitten with a dark secret that's trying too hard to be provocative, and Anna is an even more thankless role as the stand-in for Rachel's swirling antipathy. The concluding moment of girl power feels unearned, and the answers to the mysteries leave a lot more lingering questions about train platform-sized plot gaps. The best thing this Girl has going for it is Emily Blunt, who delivers a better performance than the film deserves. She's unrestrained, red-eyed, sloshing, and disturbing as a drunk. She's wounded and lashing out ferociously at the world, at her self, and it's fascinating and heartrending to watch. I bet it would be even better to read. Nate's Grade: C+
Nate Zoebl
Super Reviewer
While most people tear apart film adaptations for not being anywhere near as great as the novels they are based on, I myself (whether or not I have read the novels) go into them as films, not how closely they come to the novel. When a film is made, changes need to be made to the story and things need to be trimmed out or altered in order to suit a big-screen adaptation. Not having read the source material that The Girl on the Train is based on, I have to say that as a film, it is very, very good. The critics have been complaining that it is extremely dull and that it does not have the same suspense factor that its novel had. I have never disagreed more with critics all year. Here is why The Girl on the Train is great, because of its dullness. Told through many flashbacks throughout the film, it was imperative that the film set up the main characters quickly. Within the first 20 minutes of the film, it is able to display the characteristics of everyone involved, let you form your own opinion, and also reveal the mystery of the film, which is the disappearance of Megan. Rachel, an alcoholic who rides the train every day, analyzing the homes in the area she used to live, she notices affairs developing and secrets behind stories from her past. While drunk, she stumbles in front of a few people under a bridge, one being Megan. The next morning, the mystery of the woman (Megan) that she had been spying on, begins to unfold. While the writer who adapted this screenplay (Erin Cressida Wilson) is not known for any spectacular work, I admired what she attempted with Men, Women, and Children, even if it was a mess, and even more so with the film Chloe. There is a certain style that she likes to bring to the table, and it worked very well here. Once the first act concludes, answers slowly begin to trickle in. While last years film Gone Girl was a much longer film, its quick dialogue and pacing kept its audience engaged. This is where I feel The Girl on the Train may turn off some viewers. When there is a score, it has a presence, but this film is very quite most of the time with not many exciting moment until the very end. That being said, the way this film plays out makes that okay. The dull and slow pacing of this film made me feel slightly uncomfortable most of the way through, due to its eerie tone. This is what most of the critics are complaining about, but they are missing the great performances throughout. The cast and the mystery surrounding them is what makes it enjoyable to watch. Emily Blunt, Haley Bennett, Rebecca Ferguson, Luke Evans, Justin Theroux, and Edgar Ramirez are all fantastic in almost every scene they are present in. Although I do not think this film will be earning any of them Oscars, this is some of the best performances any of them have ever given. This is where I have a few minor issues. Throughout the film there is an underlying question of what happen to Megan. While it is unclear at first, you may begin to guess who the culprit is behind her absence, but there are far too many twists to get to that point. The film tries to makes you think too many things before the big reveal, which was ultimately effective, but not the greatest conclusion. The last 20 minutes is where this film suffers the most, due to its jarring character alterations. There are a few choices made by some key characters that I would have never expected and I am still trying to decide whether or not I enjoyed the way this film concluded. That being said, my only gripes with this film are toward the end. The rest of this film is being extremely underrated by almost every critic out there. I have been very excited for this film and when I heard some reviewers completely bashing how dull this film is, I became worried and went into this film expecting something completely different than what I had originally hoped for. That was a silly move on my part, because this is the film I was hoping for. The Girl on the Train may have a few issues in its conclusion, but it is a very, very good film with terrific performances and a nice underlying mystery throughout. It may take you a while to get used to following Rachel (Emily Blunt), as her character is a train wreck of a human being, but once you understand her mindset, you may just feel the same way about this film that I do. Against all odds and the majority of critics out there, I had a great time watching The Girl on the Train. If the current reviews are giving you second thoughts about seeing it, please, I still recommend giving it a shot.
The Girl on the Train Quotes
There are no approved quotes yet for this movie.
Discussion Forum
Discuss The Girl on the Train on our Movie forum!