The gore gore girls
(1972)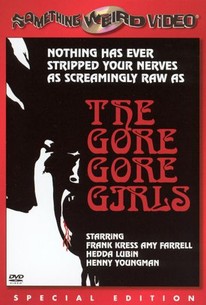 AUDIENCE SCORE
Critic Consensus: No consensus yet.
Movie Info
Infamous exploitation icon Herschell Gordon Lewis wrapped up his lengthy foray into low-budget gore epics with this coda, which not only sports Lewis' most creative title, but revels in an amazing barrage of outrageous (and patently fake-looking) makeup effects. The nominal plot involves a masked psychopath stalking, torturing, and murdering the strippers at a Miami nightclub owned by standup veteran Henny Youngman. But enough of that -- it's merely a loose linking device for a multitude of sleazy murder scenes, all of which involve some kind of sick visual gag. The murders range from simple throat-slashings to the popping of eyeballs to the protracted french-frying of one poor girl's head. Essentially a retread of Blood Feast (and perhaps an attempt to outdo some), this flick was re-released later under the title Blood Orgy.
Critic Reviews for The gore gore girls
There are no critic reviews yet for The gore gore girls. Keep checking Rotten Tomatoes for updates!
Audience Reviews for The gore gore girls
½
Enough gore for a good laugh, the deaths were witty, especially the death of the stripper with afro.
Sylvester Kuo
Super Reviewer
I live in a very infamous country that makes a lot of crazy shit and films loaded with nothing but graphic violence's and gore but that's what makes them so successful but this movie here is very infamous because its one of the only films as of 2010 to still be banned since 1979 and that's Extremely rare less then 10 are still banned to this day. Then why is it still banned? Well because this movie is just excessive I mean I have seen gore before but OMG there is just so much, not like all over the place but just the killings there that graphic and that scene with the mirror OMG again. He smashes her face into the mirror so Meany times without a cut away. I liked Mr. Herschell Gordon Lewis's Blood Feast and Two Thousand Maniacs that's why I watched this. So strippers in the Miami area are being targeted by a serial killer for some reason is bent on slaying them in gruesome and violent ways so all this becomes such a problem the police hire a professional private detective. He is hot on the killer's tail throughout the movie and occasionally landing on a suspect with some comical elements. The thing I didn't like about this movie it tries to be funny at the same time and being disgusting needless to say I laughed only because its dumb humour only I will get. I think it just relied too heavily on violence's and yes I am saying that, some scenes really put me off and I am seeing why it was banned, the scenes that did it the most was the stripper getting her breasts cut off with the blood and milk purring out and the tire iron scene. Frank Kress as the detective without a name was really well acted despite some of the flaws from other fellow actors he himself rather makes things funny with his quote "God damn how could they waste a good and hot stripper? If they saved her I wouldn't be toughen that ass" The killer himself cut it off by driving a hook throw there another scene that put me off. The special effects are next to nothing but a major prise this is the reason the film is banned there's a lot of stuff that happens but I wont mention it to Meany people die. The music is by Lewis himself its bad but okay to listen I might download the soundtrack sometime down the road. I think I come to a close my DVD came form the UK that's the only country that I have seen that has it uncut my country will hopefully pass it off next year.
Ariuza koraw
Super Reviewer
I really liked this movie, Lewis' gory take on the Jack the Ripper type story, but with a twist ending. I really enjoyed it, and if you like horror movies I think you will too.
The gore gore girls Quotes
There are no approved quotes yet for this movie.