The Great Magician (Daai mo seut si)
(2011)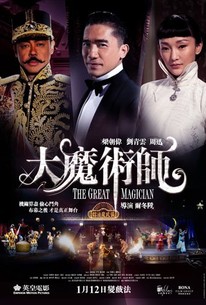 AUDIENCE SCORE
Critic Consensus: No consensus yet.
Movie Info
A famous Chinese magician attempts to rescue his fiancée from a powerful warlord in this drama set after the fall of the Qing dynasty, and adapted from the novel by Zhang Haifan. His country divided in the wake of the Revolution, famed illusionist Zhang (Tony Leung) is troubled to discover that clever warlord Bully Lei (Ching Wan Lau) is using magic to amass a powerful army. Even worse, Bully Lei has imprisoned Zhang's former flame, and intends to make her his seventh wife. Later, when Zheng's plan to rescue his love goes awry, the two talented illusionists face off in the ultimate battle of magical might. Directed by Derek Yee (Shinjuku Incident).
Critic Reviews for The Great Magician (Daai mo seut si)
Audience Reviews for The Great Magician (Daai mo seut si)
I was really surprised when instead of a serious story I found out that this is just an ordinary love comedy about a legendary Chinese magician fighting a warlord to rescue his fiancée during the period of the Republic of China after the fall of the Qing dynasty. If you take it as such you could enjoy it, if you expected something else you could be really disappointed! Directed by Hong Kong director Er Dongsheng (尔冬升), the film has a cast led by Liang Chaowei (梁朝伟), Liu Qingyun (刘青云) and Zhou Xun (周迅). While the first two were well suited for comedy roles, Zhou Xun's poker face did nothing to contribute to the excitement of this film adapted from a novel by Zhang Haifan (张海帆). The novel devotes a large part to traditional Chinese magic tricks and the film is showing these tricks with the help of special effects. The leading actors have received training from real magician and all become magic enthusiasts. Professionally acted and directed but without any extra effort to make it special. Just another flick where a guy goes for the childhood sweetheart for boring cold Saturday afternoon.
The Great Magician (Daai mo seut si) Quotes
There are no approved quotes yet for this movie.