The Green Inferno
(2015)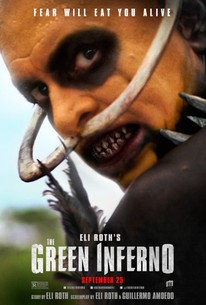 TOMATOMETER
AUDIENCE SCORE
Critic Consensus: The Green Inferno may not win writer-director Eli Roth many new converts, but fans of his flair for gory spectacle should find it a suitably gruesome diversion.
Movie Info
From acclaimed horror director, Eli Roth, THE GREEN INFERNO follows a group of student activists who travel from New York City to the Amazon to save the rainforest. However, once they arrive in this vast green landscape, they soon discover that they are not alone... and that no good deed goes unpunished. (C) Submarine
News & Interviews for The Green Inferno
Critic Reviews for The Green Inferno
Audience Reviews for The Green Inferno
½
Eli Roth displays a surprising maturity (at least most of the time) with this nasty, tense and well-directed horror movie that, awful acting apart, pays a welcome homage to the Italian cannibal genre and Ruggero Deodato - most especially his cult classic Cannibal Holocaust.
Carlos Magalhães
Super Reviewer
At least Roth's other 2015 release knows exactly what it wants to be, which is a stomach-churning gore-fest homage to one of cinema's most notorious movies, Cannibal Holocaust. From an early college lecture about female genital mutilation, you know exactly where Roth is leading this story. Unlike Knock Knock, you get a sense of Roth's passion for the material here, and while much of that material is the systematic exposure of other people's guts, it's at least treated with the right amount of horror and dread. In grand slasher tradition, our poorly developed characters are but bodies to be sacrificed for our sickening amusement, but at least this is where Roth comes alive with creativity. The plot is fairly barebones: a group of activists from a liberal arts college travel to the Amazon jungle to protest the local government tearing down acres of forest that rightfully belong to native communities. After having successfully staged their protest, their plane goes down in the jungle and the cannibalistic natives collect the survivors and do what they do best. While it takes a bit too long without layering in mystery or essential plot, or even ironic counterpoints to fold back upon, once the students meet the hungry villagers, the movie becomes everything it was intended to be, one gory torture sequence after another. There are some memorably gross and uncomfortable moments. Similar to Roth's Hostel, sometimes the threat of torture is worse than a grisly death. When the practices of female circumcision come roaring back as a plot point, you won't be able to stop squirming in your seat in appropriate trepidation of what's next. The Green Inferno might prioritize its colorful slaughter but at least Roth puts something approaching a survival story in play to fill in the gaps. The first human sacrifice is so methodical that it serves as a grandly grotesque statement to better motivate the other survivors. Izzo (Roth's wife) appears as the movie's version of the Final Girl, so we're anticipating that she'll be able to escape somehow. The villagers keep our characters locked in cages and slowly we get a greater sense of their routines and eating habits. There's a clever use of marijuana to purposely drug their captors. While there is an overwhelming sense of doom and futility, partially just by knowing what kind of movie this is, I'll credit Roth that the movie doesn't feel repulsively nihilistic. It may feel genuinely repulsive for other reasons, but you still hold onto a small glimmer of hope that at least some of these college students might maybe make it out alive. Maybe. There's also the elephant in the room when it comes to the cultural depiction of a bunch of savages feasting upon primarily white Americans. Its certainly not an enlightened or nuanced analysis of another culture and brings to mind some rather ignorant and racist imagery of old where the "backwards natives" were seen as dangerous and uncivilized villains more in common with wild animals than human beings. The villagers in the movie are all bathed in a blood-red skin dye as if they were to be recognized as devils and otherworldly demons. I can't fathom that a village of this size comes across enough wayward humans to keep itself nourished. It's hard to get a read on what commentary Roth has in mind. Is he playing into xenophobia or is he sending up the ignorance of the college activists who think getting to the front page of Reddit is a major accomplishment? I can't tell and this indecision on Roth's part doesn't help the movie. It's easy in slasher cinema ot root for the charismatic killer to mow down our gullible and dumb teenagers, but it's also easy to find a survivor to root for against all odds. I can't tell which side Roth was more interested in highlighting the plight of. The ending doesn't clarify this either. By no means am I saying that The Green Inferno is a conventionally enjoyable movie, but if you're a gore hound looking to slurp up your next bloody feast, then this might hit the spot. It's an uncomfortable and too often tedious film, and some of the character setbacks just seem mean-spirited or unnecessary, like a character literally defecating in a corner for what feels like a solid minute with Farrelly Brother sound effects (even the natives point and laugh). This is not a pleasant filmgoing experience, nor is it particularly articulate with its social commentary, but the thing that The Green Inferno accomplishes is in its sense of grisly purpose. It's not groundbreaking or even particularly artistic but for its select audience of horror aficionados, I feel like there is enough to merit watching. Unlike Knock Knock, which doesn't know who its audience is, The Green Inferno knows all too well, beholden to their bloodlusts, and thus too limited to attract wider appeal. Then again any film that can be thematically linked to Cannibal holocaust wasn't exactly going to be targeting the masses. After a long drought behind the camera, these two releases have shown me that Roth's interests have become a bit more base, his skills a bit more ramshackle, and his sick sense of humor a bit more misapplied. After Cabin Fever and Hostel, I had high hopes that Roth would follow in his mentor Tarantino's footsteps and rise above genre trappings as an artist. With news that Roth will produce a Cabin Fever remake for 2016, well I think my hopes for the man have gone up in smoke. Nate's Grade: C
Nate Zoebl
Super Reviewer
An ode to the cannibalistic Umberto Lenzi flicks of the 70's, Roth botches his comeback after a nearly 7-year hiatus. A plane crash is a thriftily staged affair with tertiary special effects, actors tumbling on a jib and rubbery pilot decapitations. The ensemble cast are mostly cookie-cutter fodder for a buffet with the lovelorn black best friend, the shrill stoner, the nonconformist lesbians and of course, the immaculate, virginal "final girl". Worst of all, Roth slathers the film with a didactic message about collegiate activism for the "right reasons" and not profiteering from it. While the citrus-colored, teeth-gnashing tribesmen are terrifying, a human villain in the form of Alejandro is superfluous. Squelching the tension are incompatible examples of scatological humor such as Kaycee's explosive diarrhea and flesh-eaters with the "munchies". The beginning is filmed with the pedestrian presentation of a CW show, but, upon their arrival in the village, Roth wavers to Paul Greengrass-style shaky cam and it's exhausting. Roth could be too ambitious with his astringent budget because a superimposed jaguar lounging on a rock is a risible sight of Asylum-level F/X. Many people criticized 'No Escape' for white-man's-burden prerogative but the loathsome characters here are much more xenophobic. Roth was more efficacious with culture-clash horror in the superior 'Hostel'. While I appreciate the wantonly sadistic streak of the film (the first victim is filleted with limbs removed systematically and eyes gouged out like grapes), it's a grotesque, sermonizing letdown.
Cory Taylor
Super Reviewer
The Green Inferno Quotes
| | |
| --- | --- |
| Amy: | We have to get out of here. |
| | |
| --- | --- |
| Amy: | What are you going to do to us? |
| | |
| --- | --- |
| Samantha: | Why are they doing this? |