The Happytime Murders
(2018)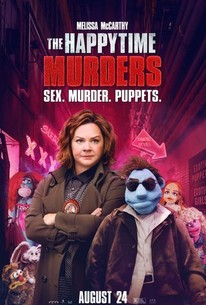 TOMATOMETER
AUDIENCE SCORE
Critic Consensus: The Happytime Murders wastes its intriguingly transgressive premise on a witless comedy that blindly pushes buttons instead of attempting to tell an entertaining story.
The Happytime Murders Videos
The Happytime Murders Photos
Movie Info
No Sesame. All Street. THE HAPPYTIME MURDERS is a filthy comedy set in the seedy underbelly of Los Angeles where puppets and humans coexist. Two clashing detectives with a shared secret, one human (Melissa McCarthy) and one puppet, are forced to work together again to solve the brutal murders of the former cast of a beloved classic puppet television show.
News & Interviews for The Happytime Murders
Critic Reviews for The Happytime Murders
Audience Reviews for The Happytime Murders
½
The Happytime Murders asks one question on repeat: is something inherently funny just because a puppet does it? As I feared from the marketing, this is strictly a one-joke movie, and that joke being the entire concept of puppets behaving badly. In a world where puppets and humans live side-by-side, Private Investigator Phil Phillips (Bill Barretta) is investigating a series of grisly murders targeting the stars of a popular children's sitcom. His ex-partner, Detective Connie Edwards (Melissa McCarthy), is forced to work with Phillips as the bodies and felt pile up. Together they trace the killer amid seedy drug dealers, prostitutes, strippers, and criminals, all of them puppets. For a depressing majority of the running time, the jokes are simply puppets swearing or puppets being randy. Very rarely will there be more thought given to the gags and setups. This reminded me of Seth MacFarlane's Ted wherein too much of the comedy was centered on a teddy bear doing things we don't normally associate a teddy bear doing. A puppet simply dropping an F-bomb is not a joke, just as a random person dropping an F-bomb is not a joke without some degree of setup and/or context. A puppet smoking is not funny on its own. A puppet drinking is not funny on its own. This is lazy writing that falls back on its surface-level shock value to compensate for the paucity of actual comedy. Too many jokes fizzle on screen, drawing at best the occasional generous chuckle. While you're watching The Happytime Murders, you're quite conscious of the fact that it should be funnier. You can feel the desperation on screen and the disappointment. I kept thinking, "Why did they settle for that joke? Why aren't they doing more with the possibilities of their premise? Oh great, now it's a joke about balls." An R-rated puppet cop movie starring Melissa McCarthy should not be this uninspired. Let's tackle one scene emblematic of the film's best assets and its shortcomings. Early in the first act, our puppet P.I. visits a puppet porn store/theater/film set. As soon as he enters, the curtain is pulled back and we see an octopus vigorously milking a cow's udders, milky geysers freely spraying everywhere amid giddy cries. It's a memorable visual with obvious sexual connotations and it's one of the better moments to convey some degree of thought as far as developing the world of puppets. But then the scene just keeps going without any new development or complication. And then it keeps going. And then you realize that the filmmakers tapped out with the visual and had nothing else. The sequence at the porn store/theater/film set keeps sliding in more debauchery, especially with clips from an array of fetish films, a notable example being a fireman whipped by a Dalmatian dominatrix. Then in short order it becomes a murder scene and the fluff flies everywhere. Once again it becomes readily apparent how poorly handled the development process was with this film. There are puppets fighting, puppets doing drugs, puppets even having sex, but are there comic scenarios here? Infrequently. Without better crafting, the shock value naturally loses its impact and then the film gives up. It's front loaded with the most memorable transgressions, and then it settles into a fairly mediocre cop movie that you have to remind yourself is a comedy because... puppets? Instead, what the viewer gets is pretty much a standard cop movie with some film noir elements emphasized as reference. There is some half-hearted commentary about discrimination against puppets and how they're seen as second-class citizens (like Bright). This too is dropped after the first act and the movie settles into a second-rate potboiler. If you remove the presence of puppets, too many scenes don't even present humor. It's more a cop movie than it is a comedy, and that realization perplexed and disappointed me. The lazy, crude sexual humor is a crutch they return to, though with diminished returns, as another attempt to jolt the lagging movie to life. It's a tedious affair where the imagination feels capped. You'll likely be reminded, as I was constantly, of the brilliant Who Framed Roger Rabbit? which tackled film noir tropes and cross-human integration. The difference is that Roger Rabbit thoroughly thought out its characters, plot, world, and satire, and I consider it to be one of the best-written films of all time. With The Happytime Murders, it has to resort to a Basic Instinct legs-crossing gag twice in 2018. This movie desperately needed a few more drafts from better skilled comedy writers to have more entertaining jokes than "puppet does non-puppet stuff." McCarthy (Life of the Party) is drifting on autopilot, desperately looking for ways to make this enterprise funnier. Her improv intuition runs into conflict with the simple nature that puppeteering demands a lot of preparation, so there are less off-script riffs. This is your standard brash, profane, ball-busting McCarthy performance we've gotten to know but there's not a character here. Even in the realm of simplistic cop movie tropes, she's still never more than the irritable partner who develops a begrudging respect. There is one interesting aspect to her character that the film does so little with. In a flashback, we see that she was critically injured in the line of duty and had to have an emergency puppet liver donation. The only thing ever done with this is the allowance that McCarthy is now able to snort puppet drugs that would ordinarily kill humans. That is it. There's not even a joke related to this fact. It's another example of the film's deficiency of creativity. The Happytime Murders is a one-joke movie that has far too little imagination. The lewd vulgarity gets boring and becomes indicative of the lazy writing all around, the mere appearance of anything naughty meant to goose the audience into thinking they're watching something really transgressive and provocative. The novelty wears off pretty quickly. Maya Rudolph as a cheerful secretary and the behind-the-scenes end credits were the best parts. What they're really watching is a mediocre cop movie strung together with the flimsiest of genre tropes and a scant chuckle. Without better comedic writing and setups, you're stuck with the story, and that's not a good decision. This is a witless movie that doesn't deserve its premise and is a waste of everyone's time. At my preview screening, I could hear a child's voice behind me and thought, "Oh my, a parent actually brought their child to see this movie? Did they not know?" That child never should have been in that theater, and not because of the raunchy content, but because that child deserved a better movie experience from their parent, a figure of trust. Nate's Grade: C-
Nate Zoebl
Super Reviewer
½
I really didn't know what to expect from The Happytime Murders, and that's why I went to see it. I wasn't sure if I'd be getting Team America or Roger Rabbit, maybe even a combination of the two. Despite the tagline, that the film wasn't suitable for children, I did expect some level of juvenile humor, but I thought if it has a edge to it and if the mystery is somewhat compelling, maybe it would surprise me, it didn't. Much in the same way that Roger Rabbit had humans and toons living together, with an extreme bias against toons, this world has humans and puppets living together, with a bias against puppets. Phil Phillips (Ryan Tran) claim to fame was as the first puppet to be a police officer, but now he's washed up, and it's brother's fame and his TV show, The Happytime Family, that overshadows him. Phil doesn't care about anything anymore until someone starts killing off the Happytime gang, including his brother, that's when he wants back in, even if his human partner, Connie Edwards (Melissa McCarthy) wants nothing to do with him anymore. The tagline said this film was not intended for kids, but I disagree, because that's exactly who this film is intended for. The comedy is nothing but sex and jokes aimed at a very young crowd. There is no way that adults are going to find most of the comedy in this film even remotely funny. As for the "dramatic" side of the story, the mystery isn't such a mystery, it's so simplistic that you'll know before the first murder even happens. But what about the star of the film, Melissa McCarthy? Well, she plays the same role in just about every film doesn't she? Sometimes it works and sometimes it doesn't, here she just adds to the futility of everything. The bottom line on The Happytime murders is that the story is too basic, the backstory is a complete rip off of Roger Rabbit, and the jokes are so low-brow, that I think even Trey Parker and Matt Stone would pass on using them in a similar film. The true joke here is that this film was ever made.
Todd Smith
Super Reviewer
The Happytime Murders Quotes
There are no approved quotes yet for this movie.