You might also like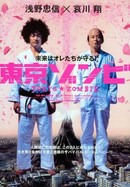 Schizophreniac: The Whore Mangler
Rate And Review
The Headless Horseman Photos
Movie Info
The village of Sleepy Hollow is getting ready to greet the new schoolteacher, Ichabod Crane.
Critic Reviews for The Headless Horseman
There are no critic reviews yet for The Headless Horseman. Keep checking Rotten Tomatoes for updates!
Audience Reviews for The Headless Horseman
At first this looked like it might be a cool creepy horror movie, but then it gets dull and tiring. It's more about witchcraft and folk legends than the headless horseman. The movie spends too much time talking about these things rather than showing them. I did like the ending, though it wasn't at all what I expected.

While the story is timeless, and the characters are classics. I would have to say that this 1922 silent starring Will Rogers is horrid. The quality is horrendous and the soundtrack is unbearable. It is a very true retelling of the Washington Irving story but it doesn't transfer well to this film. Dry, Boring, yet slightly comedic, this version of the Headless Horsemen is one of dullest versions ever. Will Rogers is great but drab. I really cant wait until i reach the talkies, silents are getting on my nerves. There are 30 min. of the film dedicated to Ichabod Crane (Rogers) getting tarred and feathered. It is a waste of time watching those scenes. There are some saving parts to this movie though, even though the transfer from film to DVD is crap. You can tell this is a higher quality film grade. Its this way because it is the first feature photographed on panchromatic negative film, which was equally sensitive to all colors. Unlike the earlier film, which rendered blue skies and blue eyes as pale white. I would have to give this film a 4/10, its saving factor is its comedy and ever so slight charm. Watch this movie on YouTube don't buy it Sid
Quotes
There are no approved quotes yet for this movie.