The Hit List
(2011)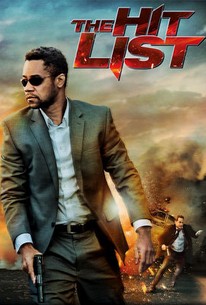 AUDIENCE SCORE
Critic Consensus: No consensus yet.
Movie Info
A chance meeting between a depressed businessman and a cold-hearted killer leads to a frantic race against death in this thriller starring Cole Hauser and Cuba Gooding, Jr. Allan Campbell (Hauser) has just been passed over for a big promotion. With his marriage falling apart, he heads to the local bar to drown his sorrows and strikes up a casual conversation with Jonas Arbor (Gooding, Jr.). During the course of their discussion, Arbor reveals he is a professional hit man, and asks Campbell to write down the names of the five people he would like to see dead. Incredulous, Campbell plays along. But the very next day, when the people on the list begin dying under mysterious circumstances, Campbell realizes that Arbor may have been telling the truth. Horrified that what he had assumed was a bad joke has now become a matter of life and death, Campbell realizes that only he has the power to stop Arbor, and sets out to catch the killer as the cops close in.
Critic Reviews for The Hit List
All Critics (2) | Fresh (1) | Rotten (1)
Unfortunately, the true potential of the material isn't developed beyond snips of depravity, which is a shame. After all, in the DTV world, a film like this could use every last morsel of shock value it can find.
...ultimately a fair degree more entertaining than the majority of its DTV brethren...
Audience Reviews for The Hit List
½
"This movie was good up until the point when his wife just ups and forgives him for putting her ass on a hit list. You know, because it wasn't suppose to be real. It was just him blowing off some steam with a local bar buddy. That's crazy. I know it's a movie and stuff isn't suppose to be so black and white, but that's just crazy to me. I liked Cuba in this, and I though Cole Hauser did good in this too. But the film itself was not believable. Some movie's aren't suppose to be, but with this kind of situation you kinda want to make it realistic."
♥˩ƳИИ ƜѲѲƉƧ♥
Super Reviewer
½
This movie had rather cheap looking opening credits, and we were afraid that we were in for a real stinker. Surprisingly, it was very good. Cuba Gooding did very well, and the storyline, etc. was well done, also. UNTIL the last 15 min. that included the most ridiculous police station shoot-out that we have ever seen.
Cynthia S.
Super Reviewer
An exciting, suspenseful and very cool psychological action-thriller. An intense nail-biter that grabs your and dose not want to let you go. It's stylish, thrilling and relentlessly exhilarating. A dynamic and explosive action-packed thrill-ride. It snaps and crackles with wild but fun live-wire entertainment. It's a riveting mind-game version of Collateral. Cuba Gooding Jr. gives one of his best and grittiest performances in years. Gooding is intense, riveting and extremely compelling. Cole Hauser gives a strong and gripping performance. Hauser and Gooding square off nicely together. A killer thriller that packs plenty of action, suspense and smarts.
The Hit List Quotes
There are no approved quotes yet for this movie.