The Hitman's Bodyguard
(2017)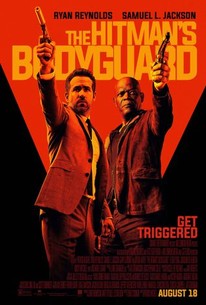 TOMATOMETER
Want to See
Critic Consensus: The Hitman's Bodyguard coasts on Samuel L. Jackson and Ryan Reynolds' banter -- but doesn't get enough mileage to power past an overabundance of action-comedy clichés.
The Hitman's Bodyguard Videos
The Hitman's Bodyguard Photos
Movie Info
The world's top protection agent (Ryan Reynolds) is called upon to guard the life of his mortal enemy, one of the world's most notorious hitmen (Samuel L. Jackson). The relentless bodyguard and manipulative assassin have been on the opposite end of the bullet for years and are thrown together for a wildly outrageous 24 hours. During their raucous and hilarious adventure from England to the Hague, they encounter high-speed car chases, outlandish boat escapades and a merciless Eastern European dictator (Gary Oldman) who is out for blood. Salma Hayek joins the mayhem as Jackson's equally notorious wife.
News & Interviews for The Hitman's Bodyguard
Critic Reviews for The Hitman's Bodyguard
Audience Reviews for The Hitman's Bodyguard
½
The Hitman's Bodyguard feels like a 90s Tarantino knockoff remake of Midnight Run, and I don't mean that in any pejorative sense. This is a movie that knows exactly what it aims to be and strikingly new and original isn't one of those qualities. When you deliver a late summer movie that has this much depraved entertainment and energy, I don't mind. Michael Bryce (Ryan Reynolds) is a disgraced bodyguard-for-hire who lost a high-profile client to an out-of-nowhere sniper. Stuck shielding coked-out white-collar traders, he still knows more than a thing or two about keeping a client safe. His former flame, Interpol agent Amelia Roussel (Elodie Yung), is tasked with getting notorious contract assassin Darius Kincaid (Samuel L. Jackson) to the International Criminal Court at The Hague. Kincaid is the only living witness who can testify against Vladislav Dukhovich (Gary Oldman), a former Belarus military dictator. Coincidentally, all of the witnesses and evidence against him seem to always disappear. Roussel's team is ambushed and she reluctantly seeks out Bryce for assistance. He has 24 hours to keep Kincaid alive and transport him to The Hague, but Kincaid has some ideas of his own, like arguing, escaping, and visiting his wife (Salma Hayek). It's a battle of wills and a healthy deployment of the versatile F-word. When it comes to genre filmmaking, especially in action or horror, the level of entertainment is much more related to the singer and not the song. Sure a well developed script with interesting characters, organic complications, and memorable set-pieces connected with payoffs are still desired, but often it's execution that separates the brashly fun bombast from the dreck that dots late night cable. The selling point of this movie is its central pairing of Jackson (Kong: Skull Island) and Reynolds (Deadpool). Hell, both of them aren't straining too hard from their familiar big screen personalities, Jackson the gleefully stubborn badass and Reynolds as the incredulous smart-alleck with the quick wit. Some critics will chafe and say that the actors are stuck in stale riffs and acting on autopilot. I look at this as a certain virtue of the film. They hired Jackson and Reynolds and let them do exactly what we demand that Jackson and Reynolds do. They were hired for a specific reason. Their crackling repartee keeps the movie alive even as the first half feels too sludgy getting everything going. The comedy can be a tad forced (riding on a bus with chirpy nuns! Gatorade bottle of pee?) and exaggerated at times (really, a fart joke, sound designers?) but this isn't a film for subtlety, and Jackson and Reynolds, who can outdo just about every working actor for sarcasm and volume, are at their best when they're big and broad. The rapport elevates even moments that would otherwise be redundant. I thought the action scenes were going to take a backseat to the Jackson/Reynolds buddy road trip, popping up here and there to move things along and kill off an antagonist or two. To my great surprise, the action in The Hitman's Bodyguard is uniformly great. Director Patrick Hughes (The Expendables 3) makes each action scene its own story and he thankfully varies the scenarios so they nicely stand out. There's a terrific motorcycle chase through Amsterdam's canals and streets, smashing things to bits in the most exciting ways. The action is often divided into two parallel points following Jackson and Reynolds, which allows the film to pair the right sequence for the right character. There's a late foot chase that's filmed in refreshing long takes (newest Hollywood action trend?) that stops into the back kitchen of a restaurant and then a hardware store. Each location is well utilized to provide a unique opportunity for the fight choreography and use of props. The movie does a very successful job of approaching action by thinking how to use geography, character, and purpose to plot. Hughes also has a solid inclination when to punch for humor with visual gags, including a few gems involving a minivan. When the comedy wasn't completely working, I knew I could rely upon the dependable thrills. The movie also has one of the dumbest attempts at injecting urgency into a story. The plot hinges upon Darius Kincaid arriving at The Hague at an exact time to testify against Oldman's dictator. In a moment that made me blurt out laughing, an expositional device/news lady informs us that if nobody comes forward to testify then The Hague has to drop all charges, Oldman's dictator goes free and apparently becomes the president of Belarus immediately again, and probably the end of democracy. First, this false sense of urgency requires witnesses to arrive at a court. That's not how testimony works. You can give a sworn statement anywhere. You can appear in court via teleconference. The location is not the problem here. And then his testimony is aided by (slight spoilers) photographic evidence of the dictator's genocide... except it's all digital pictures. This entire movie hinged on the mad rush to get Jackson to The Hague when he could have just made an email attachment with the incriminating pictures at any wifi spot. There's also the factor that if it was one second after five or so the court would not accept any testimony. I don't think courts work that way, especially when it's a decision over dictators and due process. And yet a wall clock is treated like the ticking clock on a bomb detonator. It's so dumb I question whether the filmmakers were self-aware and making a satirical riff. While being an enjoyably profane experience, The Hitman's Bodyguard doesn't know when enough is quite enough. It has problems walking away and routinely falls upon overkill in several elements. There's almost way too much plot here. Every character has a back-story that nabs a lengthy flashback with an ironically chosen pop song. There are obvious betrayals that the film thankfully doesn't belabor in revealing the culprits, but did we need them anyway? Hayek seems to have said yes just to be a vulgar badass that would attract Jackson. It's fun but her shtick gets old quickly. She's all unchecked exaggeration. Hayek's character is just here to provide a counterpoint for Kincaid to wax poetic about romance and relationships, to nudge Bryce to "man up" and realize what he's let slip away. The romantic elements are presented on the same wavelength as the comedy, meant to be a shoulder-shrug of cocksure cool. When they try and get earnest on their own terms it doesn't quite work out tonally. The movie also runs rampant with false endings, going from one escape to another just as it should be winding down. It's like the filmmakers were having so much fun they didn't know when to walk away from their story. I think every ticket-buyer knows what they're getting when they walk into The Hitman's Bodyguard. It's two actors doing what they do best, in an action vehicle that cribs from Midnight Run, and with a sense of style and attitude that resembles a bluntly ironic return to 90s R-rated action excess. Fortunately, the execution of these genre tropes and elements lead to one of the more profanely entertaining popcorn flicks this summer season. It's a movie that doesn't take itself too seriously, coasts on above average action and the charged comic chemistry of its two loud-mouth leads. It's a movie that doesn't require much thought and rewards you for the effort. The Hitman's Bodyguard is everything you want it to be, and if that's good enough for you, then you'll find satisfaction here. Nate's Grade: B
Nate Zoebl
Super Reviewer
Despite its lack of creativity and overload of clichés, the movie does hold up a huge amount of laughter only for half of those laughs to be only once and just once. They took two favorable actors and the rest of the cast, who are forgettable for like half of the movie, into a movie where they must bring entertainment to the modern industry without looking back to what made these guys favorable in the first place. The Hitman's Bodyguard definitely is worth watching if you can avoid the overload of clichés otherwise you'll have to wait for the next movie featuring Ryan Reynolds and Samuel L. Jackson together, which, unfortunately for you, won't be here until they can communicate with each other for another movie.
EpicLadySponge the Adventurer
Super Reviewer
Director Patrick Hughes has three directorial credits to his name; one I've never seen, another the watered down third installment in the Expendables franchise, and a third in this late-in-the-summer entry cleverly titled The Hitman's Bodyguard that seems intent on capitalizing on the penchant of its two stars for choosing cheap and easy over challenging and risky. Such choices typically provide audiences a few laughs and producers failed financial returns so why Lionsgate thought this might be the exception to the rule is uncertain. Whether it be Ryan Reynolds in disasters like R.I.P.D. or the mildly intriguing but woefully undercooked Self/less to that of Samuel L. Jackson in any number of the projects he tends to choose in between Tarantino and Marvel flicks (think The Man or Formula 51) the fact of the matter is it seemed pretty obvious what we were getting into from the moment the first trailer for The Hitman's Bodyguard was released no matter how much of a surprise it might have felt like it could potentially be. Sure, the premise is cute, but sole screenwriter Tom O'Connor (Fire to Fire AKA one of those direct to DVD Bruce Willis actioners) does little to nothing with the main idea and mostly puts the naturally charismatic personas of Jackson and Reynolds into tired buddy cop scenarios that result in a stale story and a bland experience that is neither consistently funny enough for us to excuse it's formulaic narrative or dark enough to challenge us in unexpected ways. This brings to light the real issue going on within The Hitman's Bodyguard in that it doesn't have a real idea of what it wants to be. Rather, Hughes pulls O'Connor's obviously uneven script in so many different directions that it ultimately fails to succeed in any one of the many genres and/or styles it attempts. I'd like to imagine that Hughes really thought he was pulling off something special and legitimately fun by getting back to the kind of balls to the wall, abundance of blood, unafraid to show death in spades-type action movies that Steven Seagal, Nicolas Cage, or even Harrison Ford might have made twenty some odd years ago, but while Hughes shows us these tendencies time and time again they are either executed so poorly they render themselves empty or they don't lean far enough into any one genre so as to play to the strengths of the tropes of that genre, but instead remain somewhere in the middle of all these things it wants to be without actually being any of those things. Honestly, it will be a wonder if the film leaves any impression on viewers other than how its use of soundtrack rivals that of last year's summer movie season closer, Suicide Squad. That's the only thing I'm still laughing about; its blatant disregard for how such tools are supposed to be utilized which, coincidentally, effectively summarizes the root cause of everything that goes wrong in this movie. read the whole review at www.reviewsfromabed.com
Philip Price
Super Reviewer
The Hitman's Bodyguard Quotes
There are no approved quotes yet for this movie.
Discussion Forum
Discuss The Hitman's Bodyguard on our Movie forum!