The Horror Show
(1989)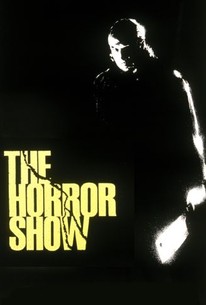 Movie Info
This muddled attempt at creating a new supernatural serial killer franchise (in the mode of Freddy Krueger in the Nightmare on Elm Street series) features perennial movie thug Brion James as sadistic mass murderer Max Jenke, who hacked up more than 100 victims with a meat cleaver before his eventual capture by dedicated cop Lucas McCarthy (Lance Henriksen). Unwilling to cease his homicidal spree after his death, Jenke had been conducting bizarre experiments in soul-transference prior to his capture; his execution in the electric chair subsequently transforms his evil essence into electrical current. In this new form, the seemingly unstoppable maniac launches a supernatural siege against McCarthy and his family until the tormented cop finally faces him down on his own nightmare turf. Originally conceived as another House sequel, this film consists of long periods of tedium punctuated by outbursts of graphic gore and surreal effects. This condition is partially the result of footage being shot by two separate directors; it seems as if neither of them knew what the other was doing. James is amusingly sleazy as the cackling madman, but his one-note material is not compelling enough to merit a recurring character.
Critic Reviews for The Horror Show
Audience Reviews for The Horror Show
The Horror Show was conceived as a obedient capitalization of the Nightmare on Elm Street franchise from Friday the 13th producer Sean S. Cunningham but for international box office, it was converted into the third entry of the House franchise. From the get-go, James Isaac's directorial debut plagiarizes directly from Wes Craven with the boiler room nightmares and the cackling villain, Max Jenke (Brion James). Despite the brazenly inert beginning (which illogically contains flashbacks within dreams), expectations shouldn't be dashed because the protagonist is the gaunt, craggly-faced journeyman Lance Henriksen. It's a copacetic cast-against-type role for Henriksen and he is reliably stalwart despite the film's propensity for the numbing slasher convention of jump scares surrounding the household cat and the officious boyfriend of Henriksen's daughter. While the movie meanders around the volatile cat-and-mouse symbiosis between James and Henriksen, they don't spend much time together before James is sentenced to the electric chair. Furthermore, James doesn't spout any memorable catchphrases and while his body count has accrued to over 110, the movie was so neutered by the MPAA, we only witness the mangled, dismembered aftermath of his heinous crimes. On a distracting side note, he strangely shrieks like an adenoidal Sylvester Stallone. The notion of a recently executed serial killer becoming an ethereal spirit was definitely making the rounds in Hollywood around that era. From the guilty pleasure Shocker to the unpalatable The First Power, the novelty has vanished and The Horror Show squanders the opportunity with two powerhouse actors in the main roles. While I can't quibble too heavily about Dedee Pfeiffer in states of undress, her character is an underdeveloped sexpot. Henriksen's son is a weasally con artist who bamboozles Nesquik for free products which doesn't suffice for sympathy when Jenke's apparition is jeopardizing his safety. More than anything, The Horror Show is frustratingly stillborn and unintentionally risible (ex. The comical Blake Edwards misunderstanding of Dedee eavesdropping on Henriksen scolding his furnace and believing he is verbally abusing her intruder boyfriend) because it could've been a decadently sleazy blast with two leading juggernauts. Instead it's an unconscionably lumbering buildup of search parties followed by false jolts.
Cory Taylor
Super Reviewer
Originally this wasn't anything to do with the 'House' horror franchise so I've read. It seems the same crew made this film but it was an independent horror flick, I'm not really sure why they gave it the title 'House III', confusing and odd state of affairs. Anyway this film doesn't revolve around a haunted house but mainly a serial killer in the form of Brion James. Horror/sci-fi legend Lance Henriksen is the cop who captures 'Jenke' but when he gets electrocuted in the chair it seems to zap him into another dimension or reality where he can continue his killing ways much like 'Freddy Krueger'. This film did in fact come out in the same year as Craven thriller 'Shocker' and the results are suspiciously the same I must say. It seems director Isaac may have borrowed a few elements from Craven's world for this film. The first 'House' film was a horror thriller with slight comedy, the second film was a horror comedy adventure, now this third film is a straight horror thriller. Its not terrifying or particularly original (as I have mentioned) but its not for the younger audience and does include some gore. The sequence where 'Jenke' is executed is easily the most horrific moment with some vain popping effects that remind you of 'Scanners' and make you wince at the same time. There are some good body part moments also that are kind hokey but add to the atmosphere. The film is totally saved by James as the killer 'Jenke' and Henriksen as the cop, if it wasn't for these two top actors the film would be pants. James hams it up hugely but does come across as menacing despite his annoying laugh, while Henriksen's lean greyhound like physic and face always seems to fit any role. This still feels like a TV movie of sorts for some reason, doesn't have that true film like quality if that makes any sense. Its not a bad film either, not scary despite more blood and gore than the previous films, but more towards plain silly with enjoyable moments. I guess one of the funniest things is seeing Henriksen giving his all (as he always does) despite being cast in such an average forgettable film. Its still solid stuff if your a horror fan.
Phil Hubbs
Super Reviewer
The one star is out of respect for Lance Hinriksen, aside from his presence this film was probably one of the worst films that I have seen in a very long while. It has little to no connection to any of the other "House" movies (not that that those were great...), as a matter of fact it was just billed as "The Horror Show" when I DVR'd it. The only "horror" here is that this film got made and that Henriksen signed on. It contains just about every cheesy horror gimmic and cliche. Bad acting. Bad special effects. Ridiculous story (development through resolution). What really put me over the edge was hearing a "howling/hissing cat" sound bite that I had on a Haunted House record when I was a kid, being used in one of the scenes as an actual cat. This wasn't even good enough to qualify for my "so good it's bad" list.
The Horror Show Quotes
There are no approved quotes yet for this movie.