The Housemaid
(2011)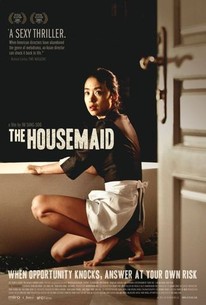 Movie Info
Eun-yi is an innocent young woman who is hired as an upper class family housemaid, and is tasked to take care of the family's small daughter and her pregnant mother, Hae-ra. Byung-sik is an older housemaid who has been with this family for a long time and holds many secrets. But soon enough, the master of the house, Hoon, takes advantage of his social position by slipping into the new housemaid's bed. Hoon's visits become frequent and Byung-sik reports the affair to Hae-ra's mother Mi-hee, who plots to give Hae-ra the control over her husband. Soon Eun-yi becomes pregnant by Hoon and wants to keep the baby. This is discovered by the family and Eun-yi is forced by Mi-hee to have an abortion despite the young woman's pleas to let her keep the baby and leave the house. Her forced abortion turns Eun-yi's already fragile mental condition for the worse and she decides to take the matter into her own hands... -- (C) IFC
News & Interviews for The Housemaid
Critic Reviews for The Housemaid
Audience Reviews for The Housemaid
*Sigh*, Koreans... they're just so twisted lol. This may surprise you but "The Housemaid" is superbly made. Wow, the cinematography was absolutely gorgeous; excellent camerashots riddled all over this film. It's so sublime in fact that it leaves room for this movie to be identified as an art-house movie, but sadly, there isn't much to the movie except for eerie and surprising perversion, sickening revenge, and a twisted narrative. It's funny because everything about the movie shouts "true filmmaking". Nevertheless, the narrative simply touches upon the characters' struggles and that's it. This movie isn't here to teach people not to do certain things and it isn't here to thematically stir audiences emotions; this movie is simply here to tell its narrative, which is much of the case for a profuse amount of Korean films, but ever more so with "The Housemaid". Once the credits roll, it seems nothing more than just a shallow but twisted movie that is easily forgotten except for its credible filmmaking craftsmanship. So if its absolutely devoid of any substance aside from the production value, how is "The Housemaid"'s narrative? Is it entertaining? I guess so. It's gonna give you thrills, chills, and tension. It's also gonna give you strange goosebumps and surprises not because it's a great horror flick, but because of the audacious and extremely black raw sexuality that it throws viewers. C'mon now... it's almost like a cheap scare. Throw in some taboo-breaking content and you got yourself a shocking movie. That to me, is cheap. It draws you, but I was certainly squirming in my seat -- not cause I'm a pansy, but how deep "The Housemaid" chooses to let characters get sucked into a pitch black world of lies, deceit, hatred, and sexuality. At the end of the day, "The Housemaid" is a stylish but extremely raw sexual movie. It's a movie about sex. That's about it. You think "Black Swan" was raw? LOL "The Housemaid" is stomping all over it, and its all its got: Mesmerizing cinematography and a taboo-shattering narrative. I ain't saying this is a bad movie but it's certainly not even close to what I would enjoy.
Albert Kim
Super Reviewer
½
The Housemaid is a South Korean thriller about a maid who is seduced by the husband of the family she was recently hired by, and then menaced and manipulated by the women of the house once they find out she's pregnant. It's a pretty good movie, but very sad. 
½
This Korean sexy thriller film looks gorgeous, a combination of Fatal Attraction. Immediately notable is the immensely gorgeous mansion-set for the film, the beautiful costumes and Im's drenching of every shot in a kind of elegant style that really captures well the world of the elite that Eunyi wanders into. Interestingly enough, it's in stark contrast to the bustle of the "real world" that Eunyi lives in before her move and I think that's a really effective technique. Jeon Do-yeon deserves all the acting accolades she has received thus far for her role, and we feel the pain she has to go through in having traumatic experiences forced upon her just because she's in no position to bargain, until the defining moment in the finale where she gains the upper hand but at what a price at scarring the family for life. Actor Lee Jungjae wraps the cocky arrogance and entitlement of his character so naturally. And An Suhhyun, as the observant daughter, is remarkable for a child actor, capturing a surprising distance with her huge eyes.
Dean McKenna
Super Reviewer
The Housemaid Quotes
There are no approved quotes yet for this movie.