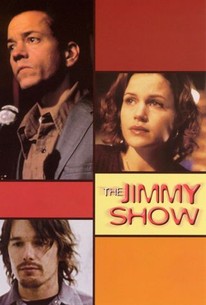 The Jimmy Show
2002, Drama, 1h 36m
10 Reviews
500+ Ratings
Rate And Review
Movie Info
A New Jersey man named Jimmy (Frank Whaley) splits his time between working as a lowly supermarket stock boy and inventing things. Unfortunately, the latter part of his career has not been going well, and his wife, Annie (Carla Gugino), has just had their first baby. Meanwhile, his best friend, Ray (Ethan Hawke), is a slacker who seems to be a terrible influence. Amid all this angst, Jimmy decides to participate in a nearby comedy club's open-mic night, with surprising results.
Audience Reviews for The Jimmy Show
frank whaley, writes directs and stars, as jimy a wannabee stand up comedian. who gets a chance in a comedy club, hes chuffed, even though its a open mike night, but a pregnancy and a dead end job, gets in way, will he live his dream, 9 months later hes doing his routine, but his act is more a guy getting thoughts out of his life, and not comedy, various jobs and caring for mother, impact life some more, and more of life gets into his stand up routine, whaley is acting well in this, showing his age, and lots of scenery to chew on, up there with swimming with sharks for best performance by him

I don't have any problem with a film being dreary and depressing, but throughout The Jimmy Show I was repeatedly asking myself, "What's the point?" The protagonist of this story is introduced to us as a self-absorbed, obnoxious whiner who periodically picks up prescriptions for his invalid grandmother. The use of the grandmother as a way to manipulate the audience is particularly distasteful, and I couldn't force myself to feel any attachment to the main character. This film is too sentimental to be effective, too self-conscious to be earnest, and ultimately we are simply called to witness a loser's life falling apart. Sure, it's unfortunate and unpleasant to watch, but that doesn't make it a meaningful picture. The acting is fantastic from the entire cast, and it's a shame to see Frank Whaley waste such a superb performance on this piece. Ethan Hawke steals every scene he's in with his hilarious supporting role. Overall, there is just not enough going for this film for me to recommend it.
See Details