The Jimmy Show
(2001)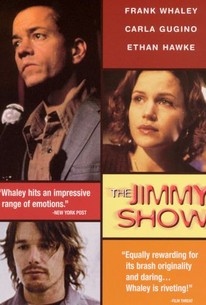 Movie Info
Following up on his directorial debut, Joe the King, actor-turned-sometimes director Frank Whaley made this gritty character study of a man consumed by anger. Working as a clerk at a supermarket, Jimmy (Whaley) makes it a practice to steal anything and everything he can get away with, usually cases of beer. At home, he supports his neglected wife (Carla Gugino), his infant daughter, and his foul-tempered invalid grandmother, whom he has been caring for since he was a teen. A compulsive complainer, Jimmy is vitriolically bitter about his lack of a childhood. His latest dream, one in a series of failed schemes to make it big, is to be a standup comedian. Yet Jimmy's idea of a schtick is less one-liners and gags than a prolonged confessional rant about his marriage, the loss of his parents, and his grandmother. As the film progresses, Jimmy's monologues grow darker and ever more sinister. This film was scheduled to be screened at the 2001 Toronto Film Festival.
Critic Reviews for The Jimmy Show
Audience Reviews for The Jimmy Show
½
I don't have any problem with a film being dreary and depressing, but throughout The Jimmy Show I was repeatedly asking myself, "What's the point?" The protagonist of this story is introduced to us as a self-absorbed, obnoxious whiner who periodically picks up prescriptions for his invalid grandmother. The use of the grandmother as a way to manipulate the audience is particularly distasteful, and I couldn't force myself to feel any attachment to the main character. This film is too sentimental to be effective, too self-conscious to be earnest, and ultimately we are simply called to witness a loser's life falling apart. Sure, it's unfortunate and unpleasant to watch, but that doesn't make it a meaningful picture. The acting is fantastic from the entire cast, and it's a shame to see Frank Whaley waste such a superb performance on this piece. Ethan Hawke steals every scene he's in with his hilarious supporting role. Overall, there is just not enough going for this film for me to recommend it.
The Jimmy Show Quotes
There are no approved quotes yet for this movie.