The Keeping Hours
(2016)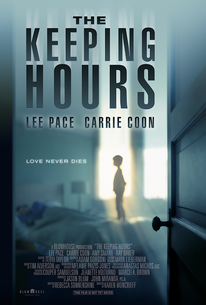 AUDIENCE SCORE
Critic Consensus: No consensus yet.
Critic Reviews for The Keeping Hours
All Critics (3) | Top Critics (1) | Fresh (2) | Rotten (1)
Where the film falls short, at times, is in Pace and Coon's representation of grieving and renewal. Whether it's an issue in the dialogue or direction, the actors struggle to break outside the same emotional quadrant.

Conventional, sentimental ghost story rescued by beautiful performances and a couple of honestly-earned jolts.
The Keeping Hours is a hauntingly beautiful film that leaves a lasting impression.
Audience Reviews for The Keeping Hours
I've never really liked kids, I find them to be incredibly annoying. Though, to be fair, not all kids are annoying, I just find most of them to be because, seemingly, I hate them. Well, hate is really too strong of a word, I'm just easily irritated by children is what I mean and, at least at this point in time, I do not want to have any. This is, of course, a little problematic. Because what if I end up falling in love with a woman who does want to start a family. I've always felt that not everyone is equipped to be a parent. Some people are like 'well, how would you know if you don't give it a shot?' as if it was, I don't know, like learning to play the guitar. I don't know if I'd be good at playing the guitar, but if I did try and failed at it it's not like I'd be messing up THAT badly. It's a guitar, there's no real stakes involved. Raising a child, on the other hand, is a whole other thing. You're literally bringing a human life into this world and you're attempting to raise him/her to be a productive member of society. But life doesn't always go how you expect and a series of wrong decisions can lead to a scenario where your child does not end up where you imagine them to be or they go down unhealthy paths. The stakes are really high. That's why, for some people, to be so flippant and nonchalant about the whole thing feels like an insult to people who do attempt to do their best and do actually raise their child properly. Regardless, however, as much as I am irritated by children, I cannot imagine the pain a parent must feel if their child dies before them. It's never easy, at any age, but I imagine it has to be far more difficult when they're still very young. I think that's why a lot of marriages that have had young children die end up divorcing. I feel that, subconsciously, there might be this fear that you failed as a parent. You had one job and that was to protect your young child and, in a way, they blame themselves for 'failing' to protect their child. It's gonna be difficult to trust yourself, let alone your husband and/or wife, to raise another child together again and, I feel, that's what ends up pushing these couples apart. This isn't to say that this right, it's just how I feel some people who have gone through this would react. Of course, also, this is also me just wondering aloud. I imagine that every parent who's gone through this has their own tale to tell. With that said, I wonder how some of these grieving parents would react if they were able to see their deceased child again? And, despite not being able to touch him/her, would they want to go back to some semblance of normalcy if the deceased child in question stuck around for longer than expected? Well, as much as you can be normal pretending to play house with a ghost child. If you've ever thought about that, then this is the movie for you. Ok, so where do I start with this??? I love Lee Pace and I've loved him since his work in Pushing Daisies way back when. Well, really, only a decade ago. And I also loved him in The Fall. But he's a guy who, in my opinion, has really been underrated and underutilized. Because his work in Pushing Daises proved him to be funny, charming and, quite frankly, adorable. He could have been a rom-com heartthrob in that era if the right role came along. But it never did. At the same time, maybe this was a calculated decision in his part, maybe he shuns the fame and he wants to stick to independent filmmaking. Which is weird, he's appeared in some pretty big movies over the years. He was in two of the Twilight movies, he was in The Hobbit trilogy and in the first Guardians of the Galaxy. Yet, really, a lot of people wouldn't really be able to recognize him from those characters. Regardless, I find the man to be really talented and, if anything, he was probably one of the few reasons I would have given this a shot anyway. With that said, however, this movie is just not that particularly good. Which is a shame, because I feel there's a worthy story to be told here with the nature of grief and the process of, at least, attempting to put the pieces back together and, at the very least, trying to move on. Look, I never expected a horror movie out of this, I really didn't. There was just something about the premise and the trailer that didn't give off the vibe that it would be a horror movie. So, again, it's not that I went in expecting a horror fest and walked away disappointed when it was just a basic family drama about second chances. It bears repeating, but there's a story worth telling here. It's just that I found the narrative and the presentation of the movie to be of Original Lifetime TV movie. And, really, not even one of the good ones. Wait a minute, are there any good Lifetime TV movies? I'm certain that there are, but are they good movies because they actually stand up to the quality of, and I hate to sound elitist here, "real" movies? Or are they good because we're lowering our standards since it is, after all, a Lifetime TV movie? I wonder what my perception would have been like if this had been, after all, an original movie for that channel? The point I'm trying to make is that the story is told in that same style. It goes to the places you expect it to. Mark and Elizabeth mutually blame each other. They, eventually, start to bond and fall in love with each other again when they get a second chance to make up for lost time. Mark attempts to figure out, through the help of a medium, what it is that his son wants in order to help him cross over to 'the other side'. There's even a Nicholas Sparks-esque fatal cancer diagnosis that comes out of nowhere and ends up killing one of the lead characters (SPOILER ALERT, it's Elizabeth). It's just basic and trite, like this is what you're meant to do in a movie like this, but you don't use any tact and subtlety in getting to that point. Though, if I'm being fair, the movie isn't exactly as heavy-handed with its narrative as I probably would have expected, but it still is very much sentimental and overly dramatic. In short, I just feel that the movie doesn't really work because of its predictability and, not even just that, but because of the fact that its scripting leaves a lot to be desired. Lee Pace and Carrie Coon do about as good a job as they can and there's a certain satisfying element to seeing Mark's character finally trying to move on, even if he just went through something that he will never forget. I just wish the movie would have done so in a more satisfying and insightful narrative. Like I keep saying, there's a worthy story here of the process of grief that would probably have been better handled with someone who was able to employ a little more tact and care into the story and its character. But that's not what we got, which is why this movie is the way it is. And I'm not even saying that it's even a bad movie, since I found it to be perfectly watchable. I had absolutely no problem getting through this whatsoever. Did I enjoy myself, though? No, I can't really say that I did and I can't really see how most people would say that they did either. I mean, maybe you've lost a child and this movie helped you deal with that and I'm not gonna take that away from you, since I'm not a dick. Still, after having seen Coco and how that movie handles its themes of loss and grief in such a poignant, beautiful and lovely manner, I can't really say that this movie evokes those same feelings. I realize that not every movie can have that same standard of quality of Coco did, but I feel like they didn't really make an effort. They just did what was easiest and called it a day. Who knows, maybe I'm being too harsh. But I just feel that this movie really missed its shot at something that was good. Something that might have actually really helped people who have gone through this. I don't know, I can't really say anything else. This is an ok movie but, if you watched this on Netflix, as I did, and you haven't seen Coco, then just watch that instead. It explores this film's themes more thoughtfully and intelligently. So, yea, I can't say I would really give this a recommendation.
Jesse Ortega
Super Reviewer
The Keeping Hours Quotes
There are no approved quotes yet for this movie.