The Killing Room
(2009)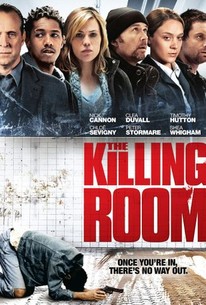 Movie Info
Four volunteers sign up for what initially appears to be a typical paid research study, only to discover that they've unwittingly become involved with a classified government program that was said to have been terminated nearly two decades ago, in this tense psychological thriller from director Jonathan Liebesman (Darkness Falls, Texas Chainsaw Massacre: The Beginning). The allure of a little extra cash proving too powerful to resist, four strangers decide to partake in a paid research study. As the study gets underway, the group is presented with a series of questions, and given a finite window of time in which each individual member must submit a unique numerical answer. At first, the participants all assume that the subject who gives the most obviously incorrect answer will be removed from the experiment, though it doesn't take long for the group to realize that the correct answer isn't always the answer that the researchers are looking for. Meanwhile, as the brooding Dr. Phillips (Peter Stormare) attempts to manipulate the study to get the answers he wants, the newest member of his team, military psychologist Ms. Reilly (Chloë Sevigny) begins questioning the ethics of such a diabolical experiment.
Critic Reviews for The Killing Room
Audience Reviews for The Killing Room
½
I really enjoyed the concept of this movie, but the way it was executed and portrayed was just boring and uninteresting enough to make it a good movie.
Film Crazy
Super Reviewer
A rather simple and poor thriller. I can't believe Clea Duvall has such a small part. Similar to quite a few films, although I wouldn't say it's like the Saw films. It's more like Cube, House of 9, The Experiment.
A triumph from Director, Jonathan Liebesman. An intensely entertaining and utterly unpredictable edge of your seat thriller. A brilliant, taut, twisted, stylish and electrifying film. A great movie. It's a knockout. A heart-pounding, bone-chilling and relentlessly exhilarating psychological thriller that delivers pulse-racing suspense and keeps you guessing right till the explosive conclusion. It runs on fear-fuel as well as gut-wrenching terror. The cast all deliver riveting performances. Theirs some surprisingly strong work being done by Timothy Hutton, Nick Cannon and Shea Whigham. Peter Stormare gives a chilling and gripping performance. A solidly crafted film with a lot going for it. A gripping and compelling nail-biter that delivers unbelievable tension from beginning to end. This film is an experiment...in awesome and works well.
The Killing Room Quotes
| | |
| --- | --- |
| Ms. Reilly: | Where do we draw the line? |
| Dr. Phillips: | When we have to fight fire with fire, there's no more line. |
| | |
| --- | --- |
| Dr. Phillips: | People will do anything to survive, don't you think? |
| | |
| --- | --- |
| Dr. Phillips: | Most candidates can't even look in that room. You can. Why? |