The Last Horror Movie
(2004)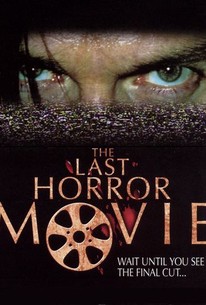 The Last Horror Movie Photos
Movie Info
What begins as yet another teen-slasher horror flick transforms into a frightening travelogue through the mind of a serial killer who hides behind the mask of a mild-mannered wedding photographer.
Critic Reviews for The Last Horror Movie
Audience Reviews for The Last Horror Movie
This was an incredibly creative idea for a movie, centered around quite possibly the coolest serial killer ever. This guy was so cool, yet so realistic. He wasn't your over-the-top movie serial killer, nor was he your tortured soul who kills because of his pain. He was just a guy who had a deep interest in human psychology and explored it through murder. I loved how the film went back and forth between the mundane aspects and the murderer aspects of his life. As no time does anything feel silly or forced. And the philosophy behind it just makes it even better. Yes, it's a message I've heard before, but it was done great and that's all that matters.
Alex Matarese
Super Reviewer
½
Smooth talking serial killer and amateur film-maker Max Parry has made a fly-on-the-wall documentary about murder. By copying his movie onto a rental tape at his local video shop, he gets people to unwittingly start watching his opus, in which he delivers a snuff showcase of his greatest 'hits', whilst glibly commenting about the nature of killing. Despite borrowing heavily from Belgian movie 'Man Bites Dog', the classic 'Henry: Portrait of a Seial Killer' and 'American Psycho', and ending with a gimmick which is reminiscent of Japanese ghost movie Ringu, director Julian Richards manages to deliver a grisly film that succeeds in being genuinely disturbing. The catalogue of stabbings, beatings and strangulations are filmed with a gritty authenticity that will shock all but the most desensitised; but despite all of the nastiness, there is a knowing sense of ridiculousness which will appeal to those with a very dark sense of humour. Kevin Howarth's Max is both chilling yet comic; he claims to be sane, and talks intelligently about his project and his reasons for killing, yet he is clearly a few sandwiches short of a picnic. At times he is logical, calm and collected whilst going about his business, but we see just enough glimpses of his completely wacko side to know that he is far from 'mentally balanced'. A sharp script, impressive hand-held video work and some gruesome effects (try watching the burning scene without wincing) add to the realism of the film. The Last Horror Movie is a brave plunge into the dark world of an unhinged individual. Unashamedly violent and unflinchingly graphic, it is not a movie for the easily offended.
Cassandra Maples
Super Reviewer
I really liked this movie. It's a really novel approach to a horror movie, although I liked what Leslie Vernon did much better. Max is such an endearing character that, even when you see him killing people, he is still himself not scary. I found the ending a little gimmicky, but Max' philosophy of murder and death I found endlessly interesting. This film is a real gem.
Emily Armstrong
Super Reviewer
The Last Horror Movie Quotes
There are no approved quotes yet for this movie.