The Last Reef 3d: Cities Beneath The Sea
(2012)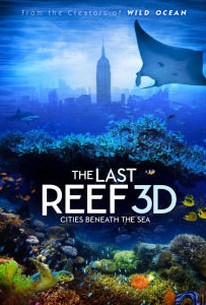 AUDIENCE SCORE
Critic Consensus: No consensus yet.
The Last Reef 3d: Cities Beneath The Sea Videos
The Last Reef 3d: Cities Beneath The Sea Photos
Movie Info
FLY ACROSS irridescent tropical reefs, brush through a cloud of a million jellyfish, visit an alien world where the closer you look, the more you see, where the tiniest creatures support the greatest predators... We think of reefs as exotic, distant places with little or no connection to our everyday world. Yet every reef is a living city beneath the sea with a parallel existence to ours, distant yet undeniably connected. Reefs are hotspots of biodiversity as vital to life on earth as the rain-forests. They have been shaping our shorelines, literally forming islands and mountains, for millions of years. The fossil record shows that given time they have recovered from all of earth's major extinction events. Even reefs pulverised by atomic blasts at Bikini Atoll have regenerated. Yet within our lifetime reefs have come to face their greatest threat...
Rating:
G
Genre:
Directed By:
Runtime:
Studio:
Critic Reviews for The Last Reef 3d: Cities Beneath The Sea
All Critics (2) | Top Critics (1) | Fresh (1) | Rotten (1)
The story line is lacking. If reefs can rebuild themselves after nuclear bombing, can't they survive other endangerments?
You'll be tempted to reach out and touch the hovering schools of jellyfish - just try not to get stung.
Audience Reviews for The Last Reef 3d: Cities Beneath The Sea
Great little short film about Reefs. While there is not as much narration as i had hoped the movie explains the reefs, the effects we have on them and the relationship between reefs and sealife in detail. The visuals are amazing and everything looks otherworldly. Film is vibrant in colour and keeps you interested and wanting more. Someone says above that "if reefs can rebuild after nuclear bombs why cant it now?". They obviously did not pay attention to this short film. He explains that rising water temperatures, pollution from things such as carbon dioxide and creams we put on before swimming have an adverse effect of the reef.
Tanya Jane
Saw this at the IMAX theater at the Aquarium of the Americas in New Orleans. The 3-D effects are simply amazing. The children in the audience were trying to touch the images popping off the screen. The story line is interesting and relevant. A short documentary that leaves you wanting to see more of the brightly colored world of coral reefs and spurring you into action to do something to help save these diminishing habitats.
Don Schick
The Last Reef 3d: Cities Beneath The Sea Quotes
There are no approved quotes yet for this movie.
Discussion Forum
Discuss The Last Reef 3d: Cities Beneath The Sea on our Movie forum!