The Law In These Parts
(2012)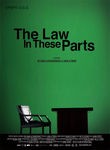 The Law In These Parts Trailers & Photos
Movie Info
What is legal and what is just? The wide gap between the two is explored meticulously by this Israeli investigation (winner of the Best Documentary Award at the Sundance and Jerusalem Film Festivals) of the legal structure created after the 1967 Six Days War, specifically to treat the West Bank and Gaza Strip as occupied territories. Speaking with some of Israel's most respected lawyers and judges - men who helped to craft and later interpret these laws - filmmaker Ra'anan Alexandrowicz asks tough, pointed questions and gets even tougher answers. He asks his subjects to consider the consequences of their actions in a highly politicized environment. THE LAW IN THESE PARTS takes the position that unjust laws create unjust realities. Laws that everyone admits are not perfect but are the best that can be done under difficult circumstances may result in tragedy for everyone: both the judges and the judged.
more
Cast
News & Interviews for The Law In These Parts
Critic Reviews for The Law In These Parts
Audience Reviews for The Law In These Parts
½
"The Law in These Parts" is an insightful documentary that looks into the way the law has been enforced, often unevenly, by Israeli military authorities in the occupied territories of the West Bank and Gaza Strip since 1967. To the filmmakers' credit, they go directly to the source which is military judges who presided over cases and in some cases created that law. That is especially interesting considering the obscure Ottoman law that led to the creation of the controversial settlements.

Considering the judges seem to be interviewed of their own free will, it does seem at least a little rude for them to be questioned as hostile witnesses, especially the one guy in a wheelchair. Plus, you are bound to get more information in a pleasant environment, anyway. That's not to mention the documentary being unnecessarily meta. I mean, yes, if the witness is still alive and can shed some light on the case in question, by all means interview her and not just talk about her.
Builds the background slowly but becomes increasingly compelling. It's interesting how the judges interviewed variously defend, criticize, justify, rationalize, resign to, and condemn the actions and policies of the Israeli occupation. some express powerful denial; some poignant resignation to doing the best they can in a bad situation.
Michael Harbour
Discussion Forum
Discuss The Law In These Parts on our Movie forum!
News & Features