The Liability
(2013)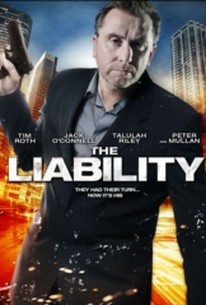 Movie Info
This film is the story of a young guy who only wants to become a hitman, and an old hitman who only wants to retire. They are thrown together on a 'hit' - a day's drive away that will test their patience and tolerance for each other. When they do the job in the forests of Northumberland they realise there's a problem - a young woman witnesses their crime. This is a thrilling and darkly comic portrayal of a son looking for a father, and an older man forced to become a mentor. Throughout this cinematic road trip across the wild North East of England we encounter twists that will reveal a black secret that some people will kill to protect, and some will kill to uncover.
Critic Reviews for The Liability
Audience Reviews for The Liability
An entertaining enough movie that amused me and kept me engaged. Interesting Relationship blossoms between the two unlikely characters! Worth a watch!
Film Crazy
Super Reviewer
½
To make amends for smashing up his gangster stepfather's car, teenager Adam (O'Connell) is giving the task of acting as a driver for hitman Roy (Roth). Things get messy when a backpacker escapes after witnessing one of their dirty deeds. Another day, another awful British crime flick. Here we get the tired old "hitman on his last job" routine with groan-inducing references to previous Roth films 'The Hit' and 'Reservoir Dogs'. Somebody really needs to tell the British film industry there's more to film than just costume dramas and gangster movies. Like most U.K productions, the only positive aspect here is the acting, (O'Connell is charismatic despite playing a seriously annoying character), but when cliched tripe like this is all that's churned out, it's little wonder so many Brits are acting in U.S cinema.
The Movie Waffler
Super Reviewer
The Liability Quotes
There are no approved quotes yet for this movie.