The Man Who Invented Christmas
(2017)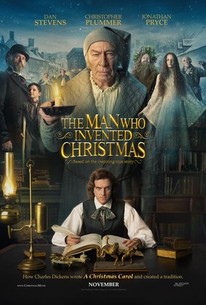 TOMATOMETER
AUDIENCE SCORE
Critic Consensus: The Man Who Invented Christmas adds holiday magic to the writing of A Christmas Carol, putting a sweetly revisionist spin on the story behind a classic yuletide tale.
The Man Who Invented Christmas Videos
The Man Who Invented Christmas Photos
Movie Info
The Man Who Invented Christmas tells of the magical journey that led to the creation of Ebenezer Scrooge (Christopher Plummer), Tiny Tim and other classic characters from A Christmas Carol. Directed by Bharat Nalluri (MISS PETTIGREW LIVES FOR A DAY), the film shows how Charles Dickens (Dan Stevens) mixed real life inspirations with his vivid imagination to conjure up unforgettable characters and a timeless tale, forever changing the holiday season into the celebration we know today.
News & Interviews for The Man Who Invented Christmas
Critic Reviews for The Man Who Invented Christmas
Audience Reviews for The Man Who Invented Christmas
½
The Man Who Invented Christmas is a compelling and whimsical fictionalized telling of Charles Dickens' writing of A Christmas Carol. Having lost the faith of his publishers after a string of failed novels and dwindling finances, Charles Dickens comes up with a scheme to self-publish a Christmas book that will put him back on top; but to do so he'll have to confront the ghosts of his past. The film does an impressive job at showing the creative process, with Dickens literally bringing characters to life and interacting with them as he develops them. Dan Stevens does a good job at playing Charles Dickens, and Christopher Plummer is perfectly cast as Scrooge. Additionally, newcomer Anna Murphy brings a lot of charisma as the nurse/muse who inspires Dickens. Also, the sets and costumes are especially well-done, giving a real Dickensian feel to the film. Inspirational, with a little bit of magic, The Man Who Invented Christmas is an entertaining look behind the novel that forever changed the way we see Christmas.
Dann Michalski
Super Reviewer
The Man Who Invented Christmas may as well be one of those holiday Hallmark originals for all of the dopey, saccharine spins it puts on Charles Dickens coming up with "A Christmas Carol" and the overall quality of life in 1843, but luckily director Bharat Nalluri (Miss Pettigrew Lives For a Day) was working from a screenplay by writer/actor Susan Coyne (Mozart in the Jungle) as adapted from Les Standiford's 2008 novel of the same name where distinctive features of those Hallmark originals (or hallmarks of those hallmarks) come to be non-existent. There is no gushing love story at the center of it, no excessive amount of perfectly pressed pants or flannel (or whatever the equivalent was in 19th century London), but rather there is this overriding feeling that came to pass throughout the entirety of the experience that was one of lovable cheese. The usual suspects of certain clichés and plot points might not all be present, but that feeling of the overwhelming power of pure holiday love and all that it can conquer, is. And while this may just be due to the fact I'm a sucker for the Hallmark channels block of holiday programming to the point I draw every holiday-themed movie back to these standards The Man Who Invented Christmas is so family friendly and earnest in its intent that it's hard to discern between what the movie wants you to feel and what this material should make you feel. As another in a line of "story behind the story" films that have, for one reason or another, decided to catch on some thirteen years after Finding Neverland made it a hot idea to studio execs The Man Who Invented Christmas is perfectly serviceable in delivering all of the broad moments required by an audience that craves what they already know; the name Marley coming from a waiter at a restaurant where Dickens was eating for instance coupled with the tidbit that he "collected names" for his works from his everyday life. Things one could have just as easily assumed without having concrete proof of them, but this is the kind of depth and insight The Man Who Invented Christmas offers: facts that might not have been necessarily well-known, but ones that are rather obvious in that they aren't surprising and offer little to no real drama that would justify this story about Dickens writing his career-defining novel being a story in its own right. read the whole review at www.reviewsfromabed.com.
Philip Price
Super Reviewer
The Man Who Invented Christmas Quotes
There are no approved quotes yet for this movie.
Discussion Forum
Discuss The Man Who Invented Christmas on our Movie forum!