The Midnight Hour
(1985)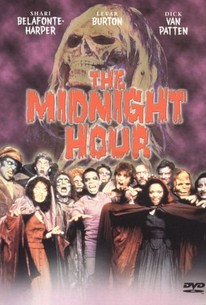 AUDIENCE SCORE
Critic Consensus: No consensus yet.
Movie Info
Inexplicably given the deluxe DVD collector's edition treatment by Anchor Bay, this silly TV-movie from the director of Child's Play 3 aired on ABC in 1985 in a clear attempt to capitalize on the success of the long-form music video "Thriller." A group of teenagers break into a museum in a small Massachusetts town in order to steal some authentic costumes for a graveyard Halloween party. Their blasphemous acts unleash a vampiric witch from the 1700s and a passel of zombies, leading to a number of hokey musical production numbers. The best thing about the film aside from some nice special effects by Tom Burman (Cat People) is the cast. Shari Belafonte and LeVar Burton become vampires, Kevin McCarthy turns into a zombie, and there are numerous recognizable faces like Dick Van Patten, Dedee Pfeiffer, and Mark Blankfield. The redoubtable Lee Harcourt Montgomery also shows up to prove that even years after his immortal dubbing as Worst Child Actor in The Golden Turkey Awards for his roles in Ben and Burnt Offerings, his acting abilities remain remarkably annoying. Cultists and completists may find it worth a look for camp value alone, but most will want to give it a wide berth.
Critic Reviews for The Midnight Hour
There are no critic reviews yet for The Midnight Hour. Keep checking Rotten Tomatoes for updates!
Audience Reviews for The Midnight Hour
This is one of my favorite holiday movies. This was another made for TV movie back in the 80's that I caught around Halloween time. I know this movie use to be on DVD and I actually own a copy, but unfortunately as far as I know this movie is out of print. You should still see it if you can find a copy somewhere because this movie was just awesome. I know that they have used copies on Amazon but there asking for over $100 and that's just ridiculous. Maybe they have a cheap copy somewhere on EBay but I don't know for certain. This movie has a lot of shit in it...vampires, zombies, a werewolf, and even a midget zombie(the cutest zombie I have ever seen). It's about a teenage boy named Phil, who on Halloween time, shows his classmates a slideshow of a legendary witch from their community named Lucinda. After class one of Phil's dumb friends, named Mitch, gets an idea and tells everyone that they should steal artifacts from Lucinda's three hundred year old wardrobe and wear them as costumes. Of course, a group of them feel the need to go along with Mitch's idea, and after school the teens break into an old basement where Lucinda's artifacts remain. While in the basement one of them comes across an old trunk bearing the "Grenville" seal. Nathaniel Grenville was actually the man responsible for hanging Lucinda hundreds of years ago, and saving the town from her curse. The teens now also feel that they should take the trunk along with them on their little mission to the local cemetery. While at the cemetery the group of teens, now wearing their Halloween costumes, decide to open the trunk and inside they find Nathaniel's ring and a timeworn scroll. Melissa, one of Phil's friends, takes the scroll and begins to read the accursed incantation. Little did she know that she just raised hell from beyond the grave and everyone and everything starts to rise from their tomb. In the mist of all this chaos Phil meets a beautiful young girl named Sandy, who wears a cheerleading outfit and does cheers with her pom-poms. What Phil doesn't know at first is that Sandy is also a zombie herself, but the thing is that she's actually a good zombie. Back at the teens Halloween party the dead are dancing it up, literally. No one at the party seems to know that the zombies are crashing it, for everyone there is dressed up in a costume. The party's biggest threat though is Lucinda, the witch/vampire that they brought back from the grave, and it's all up to Phil and his new girlfriend Sandy to save the day...or can they? This movie is just so much fun. What a great Halloween time view this was! Don't expect any violence or anything like that because this was a made for TV movie that was viewable for the younger crowd, all though they did show some stuff that might be too frightening for them. The good thing too was, it wasn't all that cheesy(well at least not in a bad way) and this movie had plenty of spooky atmosphere to go around. If you can you have to get your hands on this movie. Hopefully they'll release it again on DVD just in time for the Halloween season, but you should really try to see this one as soon as possible. Like I said, it's one of my favorite holiday movies!
jd cryptic
Super Reviewer
The Midnight Hour Quotes
There are no approved quotes yet for this movie.