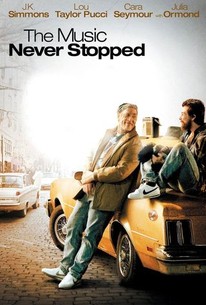 The Music Never Stopped
2011, Drama, 1h 45m
49 Reviews
2,500+ Ratings
What to know
critics consensus
An involving, if sentimental and predictable family drama elevated by J.K. Simmons' sympathetic lead performance. Read critic reviews
Where to watch
Rent/buy
Rent/buy
Rent/buy
Rate And Review
The Music Never Stopped Photos
Movie Info
A man (J.K. Simmons) hires a therapist (Julia Ormond) to utilize music as a way to communicate with his brain-damaged son (Lou Taylor Pucci).
News & Interviews for The Music Never Stopped
Audience Reviews for The Music Never Stopped
Predictable story, but the soundtrack was awesome, so I enjoyed it.

In "The Music Never Stopped," Henry(J.K. Simmons) and Helen Sawyer(Cara Seymour) receive a phone call that no parent wants to receive, that their son Gabriel(Lou Taylor Pucci) is seriously ill in the hospital, decades after they last heard from him. He has a benign tumor that has so greatly damaged his brain, that he is left with no short term memory or of anything else in the last twenty years. After Henry is made redundant at work, Helen goes to work for the first time at the same company for badly needed money for hospital fees. That frees up Henry's time to do research that leads him to Dianne Daley(Julia Ormond), a music therapist, who after a few initial struggles, makes a breakthrough with Gabriel. Based on a true story, "The Music Never Stopped" handles a difficult subject well with sensitivity. Aiding that is J.K. Simmons who underplays nicely in a rare leading role. In fact, the movie makes excellent use of music, especially "Truckin'" which is about the only Grateful Dead song I like. However, in attempting to make the 80's look as drab as possible, the movie drifts into the trap of depicting the 60's as cliched as possible, with the focus squarely on the generation gap.(The source material is an Oliver Sacks essay called "The Last Hippie.") And if Gabriel's memory is decades behind the times, then how come he does not freak out with everybody looking much older than they should?(Hat tip: the television show "Perception")

While The Music Never Stopped is a corny name, even if it is the title of a Grateful Dead compilation album, it just strikes me as the name of a TV movie. Thankfully, the movie is pretty good and has a solid story, even if it tries to manipulate your emotions far too much. You know for once I'd like to watch a movie where a father and son (or whatever other dynamic) that don't get along at the beginning manage to reconnect and have a great father-son moment without having either one of them die tragically before the movie ends. And it's not like this is a surprise, it's patently obvious from the beginning that that's what is going to happen. If you have seen more than 10 movies in your life you'll easily predict what's going to happen. It would work if it wasn't so patently obvious that the movie is trying to tell you what to feel. That's why I liked The Way so much, that movie never ONCE tries to manipulate your emotions with cheap tactics. I can imagine that movie's main character FINALLY finishing the 800 mile walk with his son's ashes, whose death was the catalyst for the main character finishing the journey and sprinkling a bit of his son's ashes at every stop, and then just randomly dying after finishing the journey. That's not really very satisfying, because it doesn't really accomplish anything. Real emotion doesn't come from killing a main character randomly and expecting us to care. I'm not saying it couldn't work, as it worked in Mary and Max, but 95% of the time it ends up feeling cheap way and comes across as poor storytelling. That's not to say the movie isn't good because it is, it has a strong story and an excellent performance from J.K Simmons but I never really got into it past a certain point. The soundtrack to the movie is tremendous, which it would have to be since the movie is completely centered around it. The rest of the cast is good, Lou Taylor Pucci is definitely good as Gabriel but there's something about his chemistry with J.K that sort of doesn't work. They never really felt like father-son, just actors paid to do so. If you look at their performances individually, they're strong but as a whole it didn't seem to click for me. It works on a generational clash, using music to illustrate the gap in thought and ideology between Henry and Gabriel. That's about it. Of course this is comparing it to The Way in which Martin Sheen's son's character is played by his real life son, Emilio Estevez, which isn't really fair from my part. But yea, I've said far too much about this movie already and, again, this is why the scoring system sometimes fails, I spent the entire movie completely shitting on a movie I thought was good overall. In the end, though, the movie really disappoints with its manipulative tactics, but an excellent performance from J.K Simmons, a good story, and an awesome soundtrack make this movie good, though I'd recommend The Way over this movie any day of the week and twice on Sunday.

This was based on a true story by famous British neurologist Oliver Sacks (who wrote such books as "Musicophilia: Tales of Music and the Brain." I thought this was a fascinating movie about how music therapy can benefit those with severe brain damage. Also a must see if you're a fan of the Grateful Dead!
See Details