The Oscar Nominated Short Films 2013: Live Action
(2013)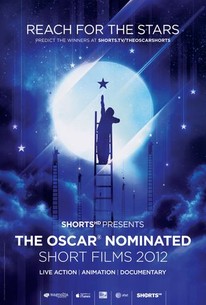 The Oscar Nominated Short Films 2013: Live Action Photos
Movie Info
Asad - (director: Bryan Buckley, South Africa) Set in a war-torn fishing village in Somalia, an all Somali refugee cast brings to life this coming of age fable of a Somali boy who is faced with falling into the pirate life, or rising above to choose the path of an honest fishing man. Buzkashi Boys - (director: Sam French, Afghanistan) Set against the dramatic landscape of contemporary Afghanistan and the national sport of Buzkashi - a brutal game of horse polo played with a dead goat - Buzkashi Boys tells the coming of age story of two best friends, a charismatic street urchin and a defiant blacksmith's son, who struggle to realize their dreams as they make their way to manhood in one of the most war-torn countries on Earth. Curfew - (director: Shawn Christensen, USA) At the lowest point of his life, Richie gets a call from his estranged sister, asking him to look after his nine-year old niece, Sophia, for the evening. Death of a Shadow - (director: Tom Van Avermaet, France and Belgium) Soldier Nathan died during World War I. A strange collector imprisoned his shadow and gave him a new chance: a second life against 10,000 captured shadows. It is love that guides him, as his purpose is to meet Sarah again, the woman he fell in love with before he died. But then he discovers that she's already in love with someone else, jealousy clouds his mind and pushes him towards a bitter decision, not without consequences. Henry - (director: Yan England, Canada) Henry, a great concert pianist, has his life thrown in turmoil the day the love of this life, Maria, disappears mysteriously. He'll then discover the inevitable verdict of life. (C) Shorts International
Critic Reviews for The Oscar Nominated Short Films 2013: Live Action
Audience Reviews for The Oscar Nominated Short Films 2013: Live Action
The five Oscar nominated live action shorts from 2012, each about 20 minutes long: a dead soldier works for a shadow collector in a steampunkish afterlife, an elderly composer struggles with his memories, a suicidal drug addict is pressed into watching the daughter of his estranged sister, two Afghani boys hope to grow up to play Buzkashi (a game played on horseback with a dead goat), and a Somali boy decides between becoming a pirate or a fisherman. Most of these films are melancholy dramas, with a little black humor in the USA's "Curfew" and a little magical realism in Belgium's "Death of a Shadow"; "Henry" (the Canadian composer's story) was emotionally devastating and my favorite, but the field is strong enough that almost everyone seems to favor a different one (though oddsmakers have made "Curfew" a huge favorite). A refreshing change of pace from feature films.
The Oscar Nominated Short Films 2013: Live Action Quotes
There are no approved quotes yet for this movie.