The Perfect Witness
(2007)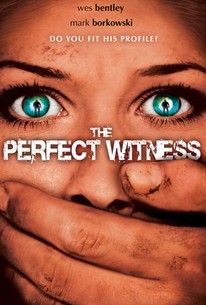 AUDIENCE SCORE
Critic Consensus: No consensus yet.
The Perfect Witness Photos
Movie Info
Inspired by the satirical black comedy Man Bites Dog, emerging film director Thomas C. Dunn's feature debut tells the tale of a young documentary filmmaker who inadvertently captures a murder on camera, and unwisely attempts to blackmail the murderer into becoming the subject of his latest film. Mickey (Wes Bentley) is an aspiring filmmaker who seems to lack a certain sense of inspiration - that is, until he captures elusive serial killer James Lemac (Mark Borkowski) on camera doing what he does best. Realizing the remarkable value of this gruesome footage, Mickey approaches the madman with an offer of creating the ultimate reality show. Should James agree to become part of the project the pair will no doubt become famous, but should he refuse Mickey will immediately hand the footage over to the police. Left with precious little choice other than to play along in Mickey's twisted little game, a reluctant James agrees to grant the filmmaker total access to his grisly excursions. But as the filmmaker and his subject set out to make movie history, the lines of power gradually begin to blur, at times giving James the upper hand. Now, as the psychological game of cat and mouse winds to it's shocking conclusion, Mickey will be forced to confront the darkness that dwells not just in the corroded soul of his subject, but somewhere deep within his own fragile psyche as well.
Critic Reviews for The Perfect Witness
There are no critic reviews yet for The Perfect Witness. Keep checking Rotten Tomatoes for updates!
Audience Reviews for The Perfect Witness
½
"It's not conscience that keeps man from killing. It's consequence." The movie really doesn't waste time getting right into it. Right off the bat you see the movies protagonist with his camera capturing a murder. Why he was in the alley at just the right time kind of makes you wonder. So what does the main character do after capturing this brutal crime on tape? He figures, 'oh yes, lets meet the killer.' Bloody brilliant idea. I mean once you get past the fact that the main character looks like he's a uni-bomber in training, kind of makes it hard to empathize with him due to his stupidity. It would seem that this "aspiring film maker" knows more about this killer than one might have thought. The killer and the film maker meet at a park surrounding by kids and their moms to have their first "get to know you" setting. From there you can tell that the killer is rather...interesting. I mean to do the things he does I guess would automatically make him an odd duck, but just what he says in passing about the mothers is a little dark. At this point I can't help but wonder who is the sicker person, the one killing or the one that knows the killer and knows his patterns but wants to film it to "preserve the killers integrity." They bring up an interesting parallel between philosophy and being serial killer. I think that this movie once again speaks volumes about how the people behind the camera feel detached from the real world and what is going on because they see it through a lens instead of their own unfiltered eyes with a sense of apathy. I guess it's biting social commentary about how much people have become detached from reality and each other because we've been exposed to so much with TV. All I know is if I see some guy walking near me with rubber gloves on I am taking off as fast as I can in the other direction. As the movie progresses it really makes you wonder. You got a killer that volunteers with cancer kids and does charity work by day, then is a brutal rapist/killer by night. I think this does a brilliant job painting a killer out to be a person as opposed to just an animal. I think that it is also there to almost make you want to feel something for him. I know there is always something behind the "why" they do it. Sometimes you can't help but empathize with them and what they went through, but the fact that they continue to perpetuate future acts of violence makes it incredibly hard to care. It's hard to have a sense of right and wrong, what to do and what not to do when someone close to you does something horrible. I think its rather amazing what the killer is teaching the film maker about compassion and life when he isn't the type of person one should really learn anything like that from. And oh snap! The biggest surprise was a uniformed officer played by none other than Kenny Johnson, Lem from TV's "The Shield". Great actor that hasn't been used in enough things. Sure it's a small part along the lines of what he's played before but it was a great surprise. It isn't long before the compassion for the killer is drained away replaced by a real hatred for the antagonist. He did a great job trying to get you to feel something for him and it's amazing how fast it can be snatched away. It's not long before the movie takes a dark twist one should be expecting yet it still is surprising. I keep seeing the antagonist and think he looks and speaks a lot like Harvey Kitel. As the past of the killer gets more and more uncovered the film gets darker and more disturbing. The sense of responsibility and consequence is kind of overwhelming at parts. It certainly doesn't play out like a typical "horror/slasher/killer" movie. The way it builds and plays on the mentality of the situations makes it feel more real and not something that can be laughed at or easily disregarded. Interesting twist toward the end that I don't know how to feel about. It's not a real deep twist that changes things greatly but it certainly doesn't exactly change things. I feel it kind of loses it's steam and power it had as the movie starts to get closer to the end. Didn't exactly see how they were important to the story but I guess it's hard to bring things to a close. The way the protagonist starts spiraling down hill and substance abuse seem wedged into the story. I guess this is a way for him to deal with what is going on in his life but I felt it rather unnecessary as it didn't really add much to the way things were going. As the conclusion draws boy oh boy is it something else. I mean holy crap. Certainly not a normal way to do it but kinda awesome all at the same time. If you like Silence of the Lambs or movies of the like then you might enjoy this. It's not horrible and I think it does a realistic job painting the picture of a fractured psyche.
Aurelius Duchtius
Super Reviewer
The first twenty minutes suggest a brilliant re-imagining of C'est arrive pres ches vous as a straightforward objective linear, but around the halfway through mark, it degrades into predictable thriller. The killer kills outside of his profile, the same shock scene of trying to force the filmmaker to film a kill is used twice. The "source" of the killer's psychological distress is not unique, though the setting for it is very well done. There are loads of interesting dialogue. The most interesting scene is revealing an AA group for serial killers. The ending is a blinder, just as the first shot is terribly tense and suggestive of a great film. Too bad the plot gets in the way. Had this film taken the more natural approach that Man Bites Dog does in terms of plot, this would have been a great film, but as I said it degrades into thriller standard fare. I hope Wes Bentley hasn't been pigeon-holed as the stone-faced guy with a camera, as that's his job in this film. Hope this director gets a good career launch from this, but that he will insist on better plotted scripts in the future.
_kelly .King
Super Reviewer
½
You've seen it all before. The sympathetic monster in The Ugly, mixed with the mockumentary stylings of Man Bites Dog and The Last Horror Movie, but told in a fiction film. However, it's done quite well with an awesome performance by Borkowski as the serial killer torured by personal demons and a (shudder) documentarian. For his performance alone, this film is worth seeing. Still, it moves at a pretty brisk pace and is never slow. If you're a fan of the serial killer genre, this is one of the better ones.
Christopher Brown
Super Reviewer
The Perfect Witness Quotes
There are no approved quotes yet for this movie.