The Pervert's Guide To Ideology
(2013)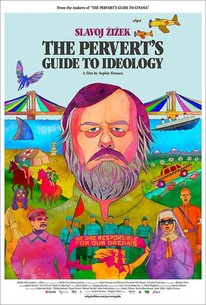 The Pervert's Guide To Ideology Photos
Movie Info
Cultural theorist superstar Slavoj iek re-teams with director Sophie Fiennes (The Pervert's Guide to Cinema) for another wildly entertaining romp through the crossroads of cinema and philosophy. With infectious zeal and a voracious appetite for popular culture, iek literally goes inside some truly epochal movies, all the better to explore and expose how they reinforce prevailing ideologies. As the ideology that undergirds our cinematic fantasies is revealed, striking associations emerge: What hidden Catholic teachings lurk at the heart of The Sound of Music? What are the fascist political dimensions of Jaws? Taxi Driver, Zabriskie Point, The Searchers, The Dark Knight, John Carpenter's They Live ("one of the forgotten masterpieces of the Hollywood Left"), Titanic, Kinder Eggs, verité news footage, Beethoven's "Ode to Joy" and propaganda epics from Nazi Germany and Soviet Russia all inform iek's stimulating, provocative and often hilarious psychoanalytic-cinematic rant.
News & Interviews for The Pervert's Guide To Ideology
Critic Reviews for The Pervert's Guide To Ideology
Audience Reviews for The Pervert's Guide To Ideology
While I cannot understand why Slavoj is considered a pervert, this is a fun look at different takes on film and how ideology of a society can change the meaning of how we look at iconic movies. While a tad bit of an overthinker, this is nonetheless amusing and well filmed.
John Ballantine
Super Reviewer
½
Zizek's many ideas are really fascinating and always fun to watch, but once again he has trouble organizing all of them in a cohesive argument, even if now the result is less rambling than the first film due to the narrowed down focus of what he wants to say.
Carlos Magalhães
Super Reviewer
½
Even if political philosopher extroardinaire Slavoj Zizek stopped with inserting himself into movies and lighting a blowtorch to "Titanic"(3 1/2 hours of my life I am never getting back while "A Night to Remember" has a great scene of steerage passengers running through the ship for their lives before being stopped in their tracks by the grandeur of first class) and venerating "Seconds"(1966), I would probably still give a recommendation to "The Pervert's Guide to Ideology." Thankfully, he has bigger fish to fry(more on them later), as along with showing more of an interest in musicals this time around, he also examines propaganda in movies and its danger to the real world. It is not just from the usual suspects like the Soviet Union and Nazi Germany that he draws from but less likier places such as "They Live" starring Roddy Piper. While this is one example of a film that subverts the status quo, there are also others that support it such as "The Dark Knight" which argues that a government should lie to its people for their own good which can turn out very badly for all concerned like during the second Iraq War. Then, there are also examples that have been employed by both right and left, like Beethoven's 'Ode to Joy'(I usually associte this with Alex not being considered a complete waste in "A Clockwork Orange") and the shark in "Jaws." In this later case, I have always thought the shark was just minding its own business while most of the analogies that I am familiar with concern the human authorities' response.
The Pervert's Guide To Ideology Quotes
There are no approved quotes yet for this movie.