The Philadelphia Experiment
(2012)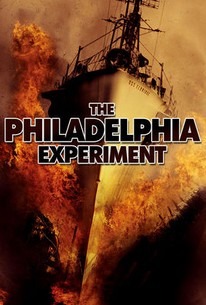 AUDIENCE SCORE
Critic Consensus: No consensus yet.
The Philadelphia Experiment Photos
Movie Info
70 years after a U.S. warship vanished during a top-secret cloaking experiment, its sudden reappearance on a Pennsylvania runway sparks a global panic in this remake of the 1984 science fiction classic. Back in 1943, the U.S. government was carrying out a clandestine exercise in cloaking when the USS Eldridge disappeared into thin air. Seven decades later, the Navy destroyer reappears momentarily. As the sole surviving crewmember flees for safety, a lawman boards the ship and becomes caught in the mysterious time/space rift. Meanwhile, scientists and military personnel race to determine where the shill will appear next. Michael Paré, Nicholas Lea, and Malcolm McDowell star.
Critic Reviews for The Philadelphia Experiment
There are no critic reviews yet for The Philadelphia Experiment. Keep checking Rotten Tomatoes for updates!
Audience Reviews for The Philadelphia Experiment
½
Some films just shouldn't be re-made, however Hollywood seldom agrees with that statement. In the case of the Philadelphia Experiment, there was oddly a consensus not to remake it. For almost a decade, people tried and failed to get it done. After almost every star and major film company rejected them, the re-make came out in 2012, as a direct-to-video feature, with a much smaller budget and a cast that just left people scratching their heads. For those unfamiliar with the story, The Philadelphia Experiment was a military operation, intended to transport matter, much in the same way as they do on Star Trek. It was first attempted in the 1940s and failed, as a ship was lost with all hands on board. In 1984, a private contractor attempts to revive the project and the ship, with one surviving crewman, miraculously returned. I always found this to be a clever story and I enjoyed the original, but to do a b-movie remake of the film was just ridiculous. For starters, the special effects in this film were worse than the ones they had in 1984, and they couldn't get anyone to star in this thing. Aside from Malcolm McDowell, who I'm convinced will do anything for a check, the cast is nothing more than a bunch of TV show extras, literally. Nicolas Lea, surprisingly does a very good job with the lead role, but what's one good performance, when combined with an inexperienced cast and no budget? For what it was, the re-make of the Philadelphia Experiment wasn't as bad as it could have been, mainly due to Nicolas Lea, but it certainly fails to live up to the original in every way possible.
Todd Smith
Super Reviewer
The Philadelphia Experiment Quotes
There are no approved quotes yet for this movie.
Discussion Forum
Discuss The Philadelphia Experiment on our Movie forum!