The Place Promised in Our Early Days
(2004)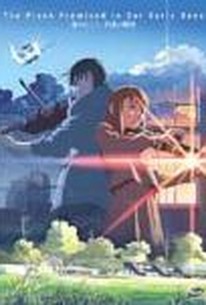 The Place Promised in Our Early Days Photos
Movie Info
The Place Promised in Our Early Days concerns a pair of best friends who built a plane together while they were in school. They are also both obsessed with a girl named Sayuri. When they become adults, the world is teetering on the brink of a cataclysmic world war, and the only way to save the world is to fly that old plane toward a tower...an act that will directly impact Sayuri.
Critic Reviews for The Place Promised in Our Early Days
Audience Reviews for The Place Promised in Our Early Days
½
In "The Place Promised in Our Early Days," Hiroki and Takuya are a couple of childhood friends who go to work at a junkyard in the middle of nowhere in exchange for parts, so they can repair an airplane that they intend to fly in order to explore a mysterious tower just across the border. Soon after, they are joined by Sayuri, another friend. After which, "The Place Promised in Our Early Days" jumps ahead seven years. And what I had initially thought of as a movie about the near future(unless I missed something), becomes something much more interesting and weirder in simultaneously taking on the topics of dreams and parallel realities, in this case a plausible sounding one where Japan like Korea and Germany is divided after World War II. So while this is the rare science fiction movie, albeit an animated one, that is truly evocative, it also proves that alternate realities can be just as headache inducing as time travel and I mean that as the highest compliment. Now, if the ending had only made a little more sense...
½
From Makoto Shinkai's three best-known pieces, The Place Promised in Our Early Days possesses the most pronouncedly plot-oriented narrative: An ambiguous love triangle, a symbolic separation of worlds, and characteristic to Makoto, an open-ended and beautifully depressing conclusion. The characters of The Place Promised in Our Early Days are rather stationary and similar to those in Shinkai's other productions, are young, quiet, wounded, idealistic, and marvellously uninteresting. The characters are simple but their raw emotions are beautifully portrayed. Above other merits, characters in this movie are representative of good sense, human integrity, and beautiful resilience to losing love, being alone and growing up.
Steven Vincent Gee
Super Reviewer
The only part I enjoyed is the ending. And the whole movie was so boring man!
Dead Angel
Super Reviewer
The Place Promised in Our Early Days Quotes
There are no approved quotes yet for this movie.