The Predator
(2018)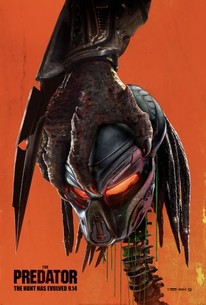 TOMATOMETER
AUDIENCE SCORE
Critic Consensus: The Predator has violence and quips to spare, but its chaotically hollow action adds up to another missed opportunity for a franchise increasingly defined by disappointment.
Movie Info
From the outer reaches of space to the small-town streets of suburbia, the hunt comes home in Shane Black's explosive reinvention of the Predator series. Now, the universe's most lethal hunters are stronger, smarter and deadlier than ever before, having genetically upgraded themselves with DNA from other species. When a young boy accidentally triggers their return to Earth, only a ragtag crew of ex-soldiers and a disgruntled science teacher can prevent the end of the human race.
News & Interviews for The Predator
Critic Reviews for The Predator
Audience Reviews for The Predator
It's been 31 years since the first Predator strutted its camouflaged self onto the big screen and bedeviled Arnold Schwarzenegger and company. Since then the dreadlock-sporting intergalactic sportsman has become a familiar vaginal face to movie audiences around the world. One of those company deaths in the original movie was none other than Shane Black, years before the writer/director became a bankable Hollywood commodity. Black is going back home to revive the dormant franchise with The Predator, a big-budget sequel/reboot that aims for the stars and falls far, far too short. An alien spaceship belonging to a rogue Predator crashes on Earth, scattering important debris. Quinn McKenna (Boyd Holbrook) is a black ops sniper and the only surviving member of his team who happened to be on site when the ship crashed. The government says he's crazy and transfers him onto a bus filled with other mentally disturbed military vets who call themselves "the Loonies" (Trevante Rhodes, Keegan-Michael Key, Thomas Jane, Alfie Allen, Augusto Aguilera). A tough-talking government agent, Traeger (Sterling K. Brown), seeks out a biological specialist, Dr. Brackett (Olivia Munn), to examine their interstellar prize. At the secret lab, the Predator breaks free, Dr. Brackett chases after the specimen, and she teams up with the "Loonies" to track down the alien. After his initial Predator encounter, Quinn mailed the alien helmet and other evidence to his son, Rory McKenna (Jacob Tremblay), a young boy with autism who cracks the alien code and becomes the target of a Predator, a Super Predator, and the government. The Predator is a supremely messy movie, often feeling like two separate screenplays inelegantly stitched together, one a big bloody action thriller, the other a winky Shane Black vehicle with a cavalier, macabre sense of humor. It doesn't quite work because the movie can't fully settle on a tone, or a direction, and thus it keeps providing glimpses of the many versions of the kind of movie it could have been instead. I'll openly admit to being a Shane Black fan when he embraces his sly instincts, command of genre, and ribald wit (Kiss Kiss Bang Bang is a modern comic masterpiece; The Nice Guys is... pretty good), so the Black touches were my favorite part especially because they stood out the most. I enjoyed the characters entering into scene-breaking asides, like Dr. Brackett questioning why the alien would be named a "predator" given its behavior is more akin to a hunter or a fisherman, and Traeger shrugging, "Yeah, well, we took a vote and 'predator' was cooler. Right guys?" Or when a character is being held at tranquilizer gunpoint and mocks the danger, only to be tranqued point blank in the eye, killing him. Or a bully suddenly getting drilled by the defense mechanisms of the Predator helmet and murdered. It's these moments that kept me most entertained, demonstrating Black's unique voice that can take genre filmmaking within a studio sphere and turn it on its head with a devilish grin. If The Predator had been more a Shane Black vehicle than a Shane Black studio reboot, then perhaps the final product would have risen above the mediocrity that sinks it. Much of that mediocrity comes from the middling plotting, mostly after the first act. For a solid half hour, I think Black has something promising, having set up the various characters and gotten them to intersect and go on the run together as a merry band of outlaws and amateur alien hunters. Once the "Loonies" break free with Dr. Brackett is where the movie loses its sense of direction. The plot just stumbles from one set piece to another, rarely with good reason. One minute they're running away from a Predator creature and the next they run into an apparently unlocked high school building rather than flee in cars and RVs. Most of the plot movement follows little Rory, first reaching him before the bad men do, then rescuing him from Predator dogs, and Predator, and then he's kidnapped by the bad guys, then he's hunted by the Super Predator and I'm tired. This kid is a spectrum-walking, spectrum-talking plot device (more on that below). It feels decidedly odd to have a super sniper paired with a renegade group of mentally disturbed and dangerous military castoffs and instead of them primarily hunting and killing a space alien they are rescuing a little boy with special needs. It would be like having a Tarantino rouges gallery teaming up to teach a child how to read. It feels like a misapplication of the character dynamics onscreen, which again gets to my central criticism of the final film feeling too much like separate movies in conflict. The studio elements (supportive yet feisty ex-wife, autistic savant, Predator dogs) feel too obvious. The action is serviceable with a few dandy practical gore effects. There's a nasty, visceral quality of the action that proudly wears its R-rating as a badge of honor, as a PG-13 Predator movie would be a disservice to the universe's most fearsome hunter (the first Alien vs. Predator was PG-13; I suppose acid and florescent blood are less traumatic to be seen gushing from hacked limbs?). The action gets a lot more boring once the Super Predator is introduced, an eleven-foot all-CGI monstrosity that needed a bit more work. Beforehand the Predator is a combination of makeup and practical effects, allowing longer interaction with its environment. I enjoyed the Predator breaking out of the lab. I did not enjoy the team taking on the Super Predator at night in the middle of the woods because it decided to go... sporting. Seriously, the second-to-last action set piece has the flimsiest formation. Rather than accomplish its mission, the Super Predator invites all the humans to one more game, though the alien acknowledges that "McKenna" is their only true champion. It devolves to jump scares in the spooky woods, but hey, at least characters can start being eliminated (some of them so abruptly that it's a blink-and-you'll-miss-it exit). There are touches throughout the action that keep things lively before ultimately succumbing yet again to the freefall of the project's creative dissonance. The actors are enjoyable but I felt bad they weren't given more. Holbrook (Logan) is consistently upstaged by his eccentric band of compatriots, but only Jane, Key, and Rhodes get any personality. The other guys are just kind of there. I don't think I laughed once at Key's (Netflix's Friends from College) many, many wisecracks. The Tourette's syndrome tic given to Jane (TV's The Expanse) is rarely funny, and yet Black goes back to it again and again (the adolescent kid behind me in my theater thought every profanity was the funniest thing ever committed to film). The actors glide by on Black's signature macho, cocksure style, clinging to every new quip like a lifeline. Munn (X-Men: Apocalypse) has a few fun, feisty moments but is still basically featured as The Girl. Tremblay (Wonder) is making me rethink my evaluation of him after Room. The best actor in the movie, by far, is Brown (Black Panther) who has a malevolent charm that connects most fluidly with Black's sensibilities. Even his self-satisfied laughter made me laugh. We need to talk about the film's views on autism (there will be some spoilers in this paragraph, so skip ahead if desired). Rory McKenna is of that kind of Hollywood Autism, the kind we see on TV (The Good Doctor) or of classic movies (Rain Man). It's the designation of autism as a gateway to super powers (never mind that having savant abilities only impacts ten percent at best). Whatever, it's an unrealistic depiction in an age of better, more nuanced depictions of mental health and disabilities. Where The Predator gets crazy is when Dr. Brackett offers this nugget: "You know many people think autism is just the next step in human evolution." No. Nobody thinks this. As someone who has worked extensively with children with autism, this is not a thing. I'm not saying by any rationale that those with autism are lesser by any means but they're no more the next stage in human evolution than any other condition. Ask a person with autism if they feel like the next stage in human evolution, like an X-Men mutant. What makes matters worse is that Black confirms this strange notion when the Super Predator, surprise surprise, was most impressed with Rory McKenna and not his big bad dad. The Super Predator plans to take the kid back to, presumably, harvest his autism DNA so the future predators will... know how to fly their spaceships that they already know how to fly? I don't know. The Predator is part sequel, part reboot, part Shane Black genre riff, part muscular R-rated action movie, part chase movie, and part Hollywood mishmash. Apparently the film underwent extensive reshoots as well, retooling the entire third act, which seems obvious in hindsight and only magnifies the disconnect between the central story elements. Shane Black's signature elements are but glimmers of what could have been. It needed to be more of a genre send-up of 80s-action farce, or a more straight-up action movie, or something where the plot generally made sense and had characters we liked. Was Shane Black playing a joke on the studio? The Predator will probably be most known for editing out a real-life sexual predator, or from its dreadlocked alien dog being domesticated after getting shot in the head, or its depiction of autism, or anything that isn't really the entertainment level of a mediocre rehash. Check out Predators instead. Nate's Grade: C
Nate Zoebl
Super Reviewer
½
The Predator is a success and failure for the long running franchise. The best part of the film is the humour, something that hasn't been explored since the very first film. SHane Black brings some of the fun back into the franchise after two sequels detoured the more serious storylines of the cinematic universe. The rag tag crew is more Dirty Dozen than marines from the very first film, the lack of another Arnold has been a long standing question for the fans. The Predator is loaded with action and gore, the creature is still one of the most interesting studio franchises around, much like Alien. The issue I have with the film is the central storyline, it just ticks along with only the humans guessing the plotline. When I first heard Shane Black was the filmmaker bringing us back to the universe, I had a very positive reaction, the guy has created some of the most interesting buddy cop films no watches. he succeeds at shaking the franchise but he fails on a coherent film that will be loved by fans of the original. The final scene reminded me of Independence Day 2, with the revelation being a new weapon against the bad guys, this was a let down for me, maybe something like a cliff-hanger was going to be more interesting. The film is fun and time will tell how it grows. I will say it answers a few of the long standing questions about The Predators, like how they can track us using their technology and the interstellar travel they utilise, this fixes some of my issues with Predator 2. 18/09/2018.
Brendan Nicholls
Super Reviewer
The Predator franchise isn't something that's remembered fondly by filmgoers, but rather the original on its own. For that reason alone, I didn't have many expectations when going into this latest installment, other than the fact that Shane Black wrote and directed it. He has been a favourite filmmaker of mine for quite some time. He has always been known for adding a friendship storyline to his films, so I was curious to see what he would do with an ensemble. While I can't quite say I had a blast with this movie, it's a fine addition to the franchise and fans of Shane Black's style will probably get a kick out of multiple moments. Personally, this movie didn't really work for me when looking at it as a Predator film, but it was an average outing for Shane Black as a whole. After Quinn (Boyd Holbrook) goes toe to toe with a creature, he is able to escape with elements of this "newly discovered" race. Being discovered by a little boy in Rory (Jacob Tremblay), he accidentally calls their race to Earth. From there, as you would expect, chaos ensues and death definitely occurs. In terms of the action involving the Predator, I never found that anything new was brought to the table. Sure, there are a few very clever moments in which blood is utilized, but the Predator itself was as generic as ever. That being said, there are a few aspects of the movie that worked against that notion. Never in my life would I think I'd look at a franchise that's known for testosterone-fueled men and say that the best part of a sequel is a little kid. Jacob Tremblay has always proven himself to be a fantastic young actor, and not only does he give his all here, but he, along with Boyd Holbrook, are the true standouts in terms of characterization and performances in general. If you find yourself cringing at times, just know that a great scene with Rory or Quinn is on the horizon. Sadly, aside from Olivia Munn, this cast isn't given enough to do here. There are quite a few times where it felt as though they were present for the sole purpose of providing comedic relief, which leads me to my biggest complaint about this movie as a whole. The Predator is a hilarious movie. Yes, I found myself laughing pretty hard on multiple occasions, but that was the film's largest downside in retrospect. The Predator franchise has been known for the cheesy action and light-hearted dialogue, but this movie was a straight up comedy at times, while the action seemed like it was trying to come off as genuine and trying to provide the audience with stakes. This contrast didn't quite work for me and I found myself scratching my head on multiple occasions. The action was fun and the comedy was great in certain moments, but those two specific elements felt like they belonged in a different film. In the end, Shane Black has directed a fun blockbuster, if it wasn't called The Predator. If this movie had swapped out the Predators and replaced them with a different alien race, I think people would've been able to look at this film like a solid alien action/comedy from Shane Black's creative mind. Instead, this movie is a showcase of his talents, while being a very muddled and lukewarm addition to this franchise. As I mentioned, there wasn't anything new brought to the table here for this universe. From the score to the overall execution of the action, everything felt very familiar. I had fun watching this movie for what it was, but the meshing of the aforementioned elements just didn't quite work for me. I left this film disappointed, but still having had a decent experience.
The Predator Quotes
There are no approved quotes yet for this movie.