The First Purge
(2018)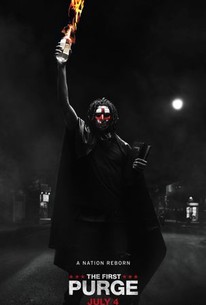 TOMATOMETER
AUDIENCE SCORE
Critic Consensus: The First Purge should satisfy fans of the franchise and filmgoers in the mood for violent vicarious thrills, even if its subtextual reach exceeds its grasp.
Movie Info
Behind every tradition lies a revolution. Next Independence Day, witness the rise of our country's 12 hours of annual lawlessness. Welcome to the movement that began as a simple experiment: The First Purge. To push the crime rate below one percent for the rest of the year, the New Founding Fathers of America (NFFA) test a sociological theory that vents aggression for one night in one isolated community. But when the violence of oppressors meets the rage of the marginalized, the contagion will explode from the trial-city borders and spread across the nation.
News & Interviews for The First Purge
Critic Reviews for The First Purge
Audience Reviews for The First Purge
I'm not the biggest fan of The Purge franchise, it is one of those interesting concepts that was mishandled. I liked this film much to the displeasure of others by looking at the audience score currently at 2.5. The film was a little more interesting compared to the other films, mainly because of the political background and the lengths they will go to achieve an ideal. The film is full of violence and the third half of the film transcends into the roots of the franchise. This is probably the last in the franchise but considering the money it made, maybe not. If you're new to the franchise, this is a good jumping in point. 23/09/2018.
Brendan Nicholls
Super Reviewer
This is the first Purge movie to exist in the era of President Donald J. Trump, and that has made the films more political and even more oddly relevant. The movies have been pretty upfront about the political machinations of the Purge events from the start, the rich elites (read: white males) using the annual occasion to sweep the world of undesirables (read: poor, minorities). The fourth film, The First Purge, goes back to the origins and it's even more bluntly political with its commentary. However, when we see children being held in cages in our daily headlines, it's an affirmation that we may live in blunt times and perhaps we need blunt instruments of dark social satire to get the message across. The residents of Staten Island have been selected for a social experiment from the governing party of the New Founding Fathers (NFF). For twelve hours, all crime will be legal. Dmitri (Y'lan Noel) is a local gang leader with his eye on his community, making sure his people will be taken care of and protected. His ex-girlfriend Nya (Lex Scott Davis) rejects his outreach, and little brother Isaiah (Jovian Wade) is looking for vengeance against a psychopathic loner in the neighborhood. The creator of the Purge, social scientist Dr. Updale (Marisa Tomei), only wants to see where the data leads. The NFF, on the other hand, have their own motives and will make sure the experiment succeeds at all costs. Never has the Purge universe felt closer to our own than with this new movie, and that's a testament to the film franchise finding new ways to spin its stories, but it's also an indictment on our own modern times. When we have a president who on a whim, as recently reported, asked why we can't just invade Venezuela or why we can't just use nuclear weapons, it doesn't seem too far away that he might, without a moment's notice or hesitation, champion a real Purge program. The new movie reflects this reality with even more explicit relevance. The figures of oppression and white supremacy are preying upon vulnerable black and brown Americans. We have militiamen dressed in Klansmen garb, shiny Nazi outfits, police uniforms, and even masks that evoke blackface. These same creatures of hatred have been given a new platform of legitimacy from a president who has trouble saying anything bad about his fans, thus ennobling and enabling the fringe elements into renewed visibility. This is a movie where the citizens of a poor neighborhood have to fight back against the racist elements set to kill them and empowered by the government. If that doesn't sound eerily relevant today, you haven't been keeping up with the omnipresent news cycle of outrageous offenses. Another interesting turn of events is that this might be the first Purge movie that is hopeful about the human race. For three movies, the Purge has celebrated our darker natures, positing that mankind when stripped of responsibility for its actions would inevitably trend toward brutish violence because they could. The core belief of the Purge is that people need a release of the evil inside them, as if there was a finite level. We've watched crazy people do wantonly destructive and murderous acts for three movies. The First Purge offers a completely different perspective. Once the event happens, the majority of the "participants" will elect not to engage in casual mayhem and murder. There will be the occasional few acts of vandalism and theft, and an outlying psycho or so (more of that dude later), but the majority of State Island residents just stay indoors, find refuge in their church, or simply attend a block party. They actively disengage. It's then that the NFF fret that the social experiment they've bet so much political capital on will not turn out with the preferred results they need. They need Americans to be afraid, and it also helps eliminate the minority voting bases for their rival political parties. This reality is not to their liking, so they will simply repackage the news to their liking. That's when the NFF push the reactionary elements (paramilitary white supremacists) to infiltrate and instigate mass death to ensure the Purge experiment is successful. The numbers are skewed, and paying people based upon their level of violent participation may start the process skewed to begin with. In an unexpected bout of optimism,The First Purge argues for the morality of humanity. Because of this very purposeful perspective, it also means that the movie is a bit slow and dull for the first hour. The First Purge has the same flaws as the other films, notably an over reliance on jump scares and less-than-interesting peripheral characters. One female supporting player (Mugga) is meant to be comic relief but I found her to be exceptionally grating, like she had been ported in from the sitcom version of the Purge (There is a TV show headed for USA and a commercial for it in the end credits, the first I've ever seen that happen). The glowing iris contact lenses of the participants created an eerie mood in place of larger set pieces. Some of the run-ins are actually rather lame, like an armed holdup where the gun is revealed to be... a water pistol. Who is running around pranking people with a toy when actual murder, with actual murder-capable guns, is sanctioned? That's just beyond stupid. Likewise there's a crew of people waiting in the sewers to... sexually assault women by grabbing their crotches. It's a bit odd considering all of the uncomfortable waiting they must endure. I did find the lead character Dmitri to be quietly compelling as he tries to protect his neighborhood. When the final act comes, and Dmitri becomes a one-man wrecking crew taking down murderers in Nazi regalia, that's when the movie transitions into the action spectacle we've been craving. The final fight is righteous and satisfying, and it even brings back a wildcard character you may have forgotten. By its conclusion, The First Purge has packed its best, most exciting stuff, but until then it's a somewhat somber, somewhat restrained experience that may rankle the blood-lusting audience that had grown familiar with the series' depravity. And now we have to talk about the best character in the whole movie, and maybe second best after Frank Grillo's grizzled badass hero. Skeletor (Rotimi Paul) is a local criminal who seems pretty unstable, prone to violent outbursts and self-aggrandizing talk. Whenever he talks it feels like you need a spittle guard as protection. He either has facial implants of scars running along his exterior, though I'd bet they were self-induced scars. He is, as my friend Ben Bailey attributed, the human equivalent of Roberto from Futurama, a psychopathic stabby robot that would mumble to himself and, very often, stab repeatedly. That is Skeletor, who is so brazenly crazy that he circles around from threat to figure of entertainment, like some 80s slasher villain elevated by personality and execution (not literally). When he reappeared I would chuckle to myself and say, "Oh, what's that Skeletor going to get up to next?" The First Purge is the latest in an unsubtle sci-fi thriller franchise, though this is the first Purge movie to separate itself from its grisly ilk in interesting and thematically relevant ways. It rejects the core pessimistic belief system that human beings, when given the freedom to be violent, will exercise that opportunity. This is the first questionably (naively?) optimistic Purge movie, even though we know what comes after. It's a bit slow and still beholden to the overall staid formula of the franchise, but this is a Purge film with enough sharp contrasts and a streamlined thematic perspective that it stands out. I won't say it hits the peak of 2014's Purge: Anarchy, but I would easily call this the second best entry in the franchise. In Trump America, it's scary how relevant these movies have become and it's refreshing they haven't shrunk from that unexpected relevance. Nate's Grade: B
Nate Zoebl
Super Reviewer
I'm not a big horror fan, but I always appreciate when a great horror flick comes along. When The Purge was released back in 2013, I was very underwhelmed by it, as the premise itself intrigued me enough to warrant a viewing. The biggest issue I had with that film is that it was a country-wide event that was self-contained in one house. When the second film came along I was inclined to give it a chance because it did what I hoped the first film was going to. Now, this franchise has gone n for far too long and we have arrived at a prequel in The First Purge. The idea of going back to the very first purge has potential, but this film lives up to nothing of the sort. Anything good to speak of this franchise has now been killed in my eyes. This is easily the worst film in the franchise and one of the worst films I've seen in 2018, period. Taking place years before the events of the original film, an experimental purge is held on Staton Island in New York. Dealing with gangs, families, and people who just have the urge to murder, this film focusses on many different people, making it a jumbled mess of a movie. The plot of this film is no different than any of the previous installments, aside from not quite making a valid argument as to why these events even take place each year, which is what I felt this film's only job was in the first place. Failing to provide insight as to why this event continues on is just the icing on the cake of what makes this film so dreadfully bad though. Although I'm not a huge fan of the franchise, each consecutive film was at least able to provide characters that had a backstory for you to follow and while this film attempts to, it comes off as lazy writing, stereotyping people and giving them nothing but clichéd backstories all across the board. If you literally go to watch these films based on the fact that people murder each other and you don't mind having zero depth to the characters involved, then this film may slightly please you, but at least in my opinion, your bar for entertainment might have to be pretty low for this one to impress you. On top of these elements, this is a very easy film to nitpick. The First Purge is riddled with jump scares that come out of nowhere (which I can't stand), some of the blandest dialogue I've heard all year, and quite frankly some very lazy editing techniques. This film has a relatively low budget, just like its predecessors, but it's no excuse when the editing and visual effects would be noticeable in a movie that cost a studio ten bucks. As I mentioned, this movie can be nitpicked until the end of time, but there is one particular scene that ruined any hope I had for this film. Surprisingly, this scene involves a character played by Marisa Tomei. I love her as an actress, but I was shocked to see her appear in this film. Her character is only present to spew expositional dialogue that will even seem dumb to young kids. There is a sequence in this film that is shown through a video feed to her character and after the audience witnesses that they're all wearing masks, she literally exclaims that they're wearing masks, so that the viewers will understand those are the people who are choosing to purge. This film has quite a few moments like this and it just had me shaking my head in disappointment. The First Purge hardly has a single redeeming quality, aside from maybe a visual choice of giving glowing contact lenses to the people who choose to purge. That element was cool visually, but that had no effect on the overall movie. When your film fails to have your audience care about who lives and who dies, there's something seriously wrong. I truly felt that one of the most unlikeable characters was one that you're meant to be rooting for, which gave me a very uncomfortable viewing experience. In the end, this movie fails on more levels than its predecessors, so even if you're a slight fan of the franchise, I still don't know if this one warrants a recommendation. The First Purge is garbage entertainment.
The First Purge Quotes
There are no approved quotes yet for this movie.