The Pyramid
(2014)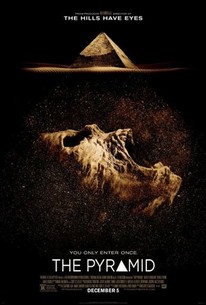 TOMATOMETER
AUDIENCE SCORE
Critic Consensus: Poorly lit and thinly writ, The Pyramid houses little more than clunky dialogue, amateurish acting, and dusty found-footage scares.
Movie Info
The ancient wonders of the world have long cursed explorers who've dared to uncover their secrets. But a team of U.S. archaeologists gets more than they bargained for when they discover a lost pyramid unlike any other in the Egyptian desert. As they unlock the horrific secrets buried within, they realize they aren't just trapped, they are being hunted. (C) Fox
People Who Like this movie also like
News & Interviews for The Pyramid
Critic Reviews for The Pyramid
Audience Reviews for The Pyramid
The only thing worse than Found Footage Horror, is lazy Found Footage Horror. You know? The kind where the camera is inexplicably in a room the crew have never been in before filming every single character while non-diegetic music plays and awful, awful CGI scarpers by? Yeah, that kind. I didn't just think that The Pyramid wasn't a good movie, it honestly made me genuinely mad.
A found footage thriller that should've gone lost during the development stage of production, The Pyramid schemes moviegoers into more paranormal inactivity. It's not even scary, dammit. Worse, audiences just saw similar - and, sadly, more frightening - goings-on in As Above, So Below, a trashy scarer that suddenly seems as A-Level as The Exorcist following a viewing of this creaky feature. In regards to it being a faux documentary, they don't even try. In one scene, all of the cameraman stand on a floor and suddenly there's a POV from the ceiling. Funny, it doesn't look like recently discovered footage from a documentary crew. It just looks like the cameramen have the shakes. Then, the camera turns on them...the only ones WITH bloody cameras. Yes, continuity ends up to be the scariest aggregate of The Pyramid...until CGI sphinxes get thrown into the mix, that is. These NES-quality pixelations convince no one that terror lurks in these cinematic catacombs. In fact, they invite many rounds of laughs instead. In this R-rated horror flick, an archaeological team (Hinshaw, Buckley) attempts to unlock the secrets of a lost pyramid only to find themselves hunted by an insidious creature. It truly becomes a pleasure watching these uninteresting characters get picked apart one by one. If only it happened faster. Even at a trim 90 minutes, the end of this horror-bull can't come fast enough. In what's perhaps the dumbest misstep of the movie, the producers cast a recognizable face in Denis O'Hare. Even though he doesn't equal the familiarity of, say, George Clooney, you definitely know the face which takes you light years away from suspending any disbelief for this cheap piece of Barnum. Bottom line: Dumb of the Dragon Emperor
The Pyramid Quotes
There are no approved quotes yet for this movie.