The Reception
(2005)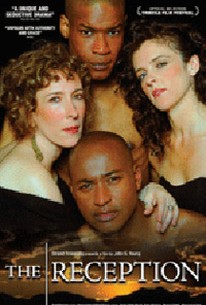 Movie Info
After a long time apart, a daughter travels with her new husband to meet her mother and her mother's gay companion at their house in upstate New York. Through a series of drunken evenings and daytime squabbles, it becomes apparent that no one involved is what they seem.
Critic Reviews for The Reception
Audience Reviews for The Reception
In "The Reception", Jeanette(Pamela Stewart) and Martin(Wayne Lamont Sims) live on 300 acres in upstate New York but it's not really what you think. Jeanette is a wealthy French emigre while Martin is an artist who paints in the farmhouse and carries out odd tasks on the land. Martin also takes care of Jeanette who is in a fragile state and is pretty much through physically with men. Martin is gay. Their existence is pretty much routine until Jeanette's daughter, Sierra(Margaret Burkwit) shows up with her recently married husband, Andrew(Darren Sills-Evans) in tow for Jeanette's birthday.(Andrew is a law student.) Jeanette and Sierra have not seen each other in about three years and are very much estranged.(Jeanette had Sierra at a very early age and was admittedly not a very good mother.) Needless to say, revelations and complications fly fast and furious. "The Reception" does cover some familiar ground but it is well-acted by a very capable cast, especially Wayne Lamont Sims. And it certainly helps that Stewart and Burkwit do look like they could be mother and daughter.
The Reception Quotes
There are no approved quotes yet for this movie.