The Secret Disco Revolution
(2013)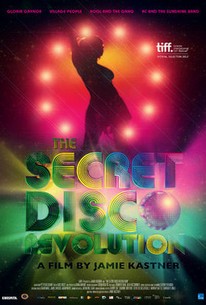 The Secret Disco Revolution Videos
The Secret Disco Revolution Photos
Movie Info
The disco era, long dismissed as a time of hedonistic excess, has been gravely misunderstood. Revisionist historians now argue the era was in fact an important time of protest: liberating gays, blacks and women. THE SECRET DISCO REVOLUTION juxtaposes disco revisionists against revealing new interviews with the era's biggest stars: Gloria Gaynor (I Will Survive), Village People (YMCA, In The Navy), Robert "Kool" Bell from Kool and the Gang, and Harry Wayne "K.C." Casey - KC and the Sunshine Band. ... A goldmine of rarely seen stock footage, and enough disco hits to shake your booty straight back to 1978. But the film's form is as revolutionary as its content: This quietly hilarious doc-satire also features an unreliable Nabokovian narrator; "reenactments" that are speculative to the point of complete fantasy; and a unique tone of sustained irony that both presents a fresh look at a well-known era, and compels audiences to question it, without ever allowing them off the dancefloor Written, produced, and directed by Jamie Kastner,a Toronto-based filmmaker and writer whose work has received international acclaim (Kike Like Me, Recessionize! For Fun And Profit! , Free Trade is Killing My Mother, Djangomania!) (c) E One
Critic Reviews for The Secret Disco Revolution
Audience Reviews for The Secret Disco Revolution
½
Maybe disco was really just about having a good time. Getting all academic about it seemed over the top for me. Although the whole gay liberation perspective actually made sense to me. I was too young during the disco era to be aware of anything like that.
Miz B Wallace
½
I watched it sober. Not the recommended approach to an argument that disco is the musical embodiment of the feminist critique of patriarchy. In a different mood I might have been able to consider Donna Summer's Love to Love you Baby as a rejection of the three-minute sex act!
Robert Underwood
½
THE SECRET DISCO REVOLUTION has a great premise at its core--investigating disco fever from a socio-political perspective--something disco truly deserves. Sadly, DISCO gets all wrapped up in the music biz and hedonism and loses its way. A VH-1 doc at best. Another missed opp at the bijou :(
Michael Lupetin
The Secret Disco Revolution Quotes
There are no approved quotes yet for this movie.
Discussion Forum
Discuss The Secret Disco Revolution on our Movie forum!