The Shallows
(2016)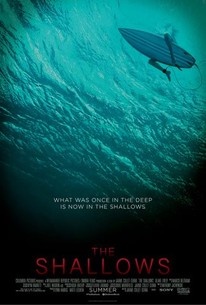 TOMATOMETER
AUDIENCE SCORE
Critic Consensus: Lean and solidly crafted, The Shallows transcends tired shark-attack tropes with nasty thrills and a powerful performance from Blake Lively.
Movie Info
In the taut thriller The Shallows, when Nancy (Blake Lively) is surfing on a secluded beach, she finds herself on the feeding ground of a great white shark. Though she is stranded only 200 yards from shore, survival proves to be the ultimate test of wills, requiring all of Nancy's ingenuity, resourcefulness, and fortitude.
News & Interviews for The Shallows
Critic Reviews for The Shallows
Audience Reviews for The Shallows
½
One-location thrillers usually have mixed reviews, due to their lack of sucking every average moviegoer. They will either become entranced by the performances and be along for the ride, or they will end up hating the film for being too boring and not exploring. Being a film fan in general, I always look forward to these types of films, due to the fact that I want them to surprise me. I can say without a doubt that The Shallows impressed me. I will get to just how much a little later. If you have any intention in watching this film, I highly recommend staying away from most of the trailers. It makes the film look much cheesier than it actually is and also gives away the most exciting moments of the film. Here is why The Shallows is better than any of its trailers suggested. Following a die hard surfer (Nancy), played by Blake Lively, she arrives at the beach to ride some of the most beautiful tides on the planet. Her mother, who had died of cancer not too long ago, mentioned this place to her, so she felt the need to explore these waters. Not knowing that a shark has emerged, she will eventually have to learn to either fight back or find a way back to shore after being stranded without her board or any forms of communication. As simple as this premise is, this 80 minute film is filled with much more character depth than one might expect when going in, but it truly makes the tension that much better. While simple films like this will not be remembered (to the average moviegoer) for how they were made or how they were shot, I personally found myself more engaged, because of the way this film was shot. The sweeping shots of the ocean, the close-ups on Blake Lively's face when it is most important to see her reactions, and the (with every pun intended) depth of the ocean shots. The camerawork throughout this film really pulls you into the overall picture. Being shot almost entirely on the beach and in the water, the task of making you feel like you are there with Nancy must have been a daunting task for everyone involved. That being said, they pulled it off with ease in the end. While you shouldn't go into this film expecting the most practical effects or to be blown away by incredible storytelling, it is without question that there are some great thrills to be had. My biggest complaint would have to be in the storytelling area. Sure, as I mentioned, there is no need for a popcorn flick like this to be incredible deep, but the dialogue that comes out of Blake Lively throughout this film made me chuckle at times. She is definitely giving it her all here, but the script does treat the viewers like they are 10 years old. That bothered me throughout the entire film, but everything else was pretty effective. From the CGI on the shark, to the CGI on Lively's face when she's riding her waves, to the overblown climax, you can tell that you are watching a film that was intended to be seen as a B-movie. What I loved is that it felt like a B-movie with class. In the end, The Shallows does not break any new ground for its genre, but when you are up against films like Jaws or films of the like, it is hard to impress everyone. Blake Lively gives it everything she has and the action sequence in the finale does not disappoint, as long as you can suspend a bit of disbelief. While it does have a cheesy screenplay at times, the fun elements and thrilling moments more than make up for it. The core story and underlying backstories play into this film more than I expected them too, making for a very enjoyable film. At just over 80 minutes, this film is an easy watch, so I would definitely recommend giving it a rent. The Shallows is by no means great, but it is a fun little thriller.
½
This solid and effective survival thriller may not be Jaws, but it delivers quite well the thrills it aims for and has an exciting climax. Full review on filmotrope. com
Carlos Magalhães
Super Reviewer
Let me take a moment to dispel an expectation amplified by the movie's first trailer: The Shallows is not the Blake Lively Butt movie you may have imagined. It would not be uncommon for this kind of setup to indulge in the forays of exploitation cinema, but aside from a few shots of Lively on her surfboard, The Shallows is surprisingly free of anything that would constitute leering T&A. Lively even wears her swimming vest to stay warm for the far majority of the movie. I cite this because I want to congratulate the movie on its accomplishments but also assure those wary from the trailer that The Shallows is much more than a tawdry genre movie with a bikini-clad blonde in sexy peril. After losing her mother to cancer, Nancy (Lively) drops out of school and runs off to Mexico to retreat from her cruel reality. She finds a hidden beach few others know about but was a special place to her dearly departed mother. Nancy takes her surfboard out and happily soaks up the beautiful scenery. Her respite from reality is broken when a shark bites her in her thigh. Panicked, she finds refuge on a small rock sticking out of the water, though vulnerable to high tides. Nancy has to use all her strength and wits to observe the shark and her surroundings and make an escape before her injury gets too bad. The Shallows is an excellently paced and plotted survival thriller that keeps its audience involved from the start. I greatly enjoy survival thrillers that think step-by-step with the characters in their on screen predicaments, and every move made in The Shallows follows a logical progression that is intellectually satisfying. It helps that Nancy is a med school dropout and thinks through how best to keep herself alive with the tools that she has. She uses a pair of earrings as sutures. She uses her swimming vest as a tourniquet. She uses her watch to time the seconds it takes for the shark to swim in a perimeter. She is a smart and able heroine who assesses the situation in a manner that makes her a strong protagonist we root for until the very end. It's also a smart device to have her calmly narrate her desperate medical improvisations as if she were treating a patient, a role-playing exercise meant to make her more objective and to ease her fear. It also provides a credible reason for Nancy to talk out loud. There's also a seagull that Nancy bonds with, an injured bird marooned on the same small strip of rock. The bird deserves second billing as it has more screen time than any other human short of Lively. It's not exactly a Wilson-kind of relationship necessity but if you're like me you'll feel enough bouts of dread and distress whenever that dumb bird is placed in dangerous scenarios. Screenwriter Anthony Jawswinski (Kristy) makes every part of his story in play, and he even provides acceptable answers when plot holes do seem to appear. Take for instance my biggest initial question: why is this shark so obsessed with Nancy when it has a massive whale carcass to feast upon? I have a similar complain in all sorts of movies where the predator gives up the larger meal for the possibility of the smaller meal (the new King Kong and Star Trek both come to mind). Why give up a guaranteed food source? I could successfully ignore this plot hole for the most part since it's essential to the conflict of human vs. shark, and then the script produces an answer. She's in its feeding ground; this isn't about food, this is about territory. That's fair. I felt a similar quibble when this one seagull never flew away from Nancy's rock. It makes sense to give her a companion to at least allow some one-way dialogue. Then it's revealed the bird as a separated shoulder and is flightless, stranded too like its new friend. This presents a mini-goal for Nancy to accomplish and provides an accomplishment to carry her over. The only plot hole that stuck was Nancy explaining she'd just hail an Uber to get home from this secret beach in Mexico. I don't think hey have many drivers in the area, lady. I was impressed with Jawswinski's ability to develop his conflicts and utilize his surroundings. Every item introduced in this small location will be used at some point. Making use of previously introduced materials produces a string of payoffs, ensuring more fun. The technical elements are stunning, adding extra impact to the well-crafted suspense. Director Jaume Collett-Sera (Non-Stop, Run All Night) really draws out the tension, letting an audience simmer in discomfort. I know a movie has me when I start nervously tapping my leg, anticipating something bad at any moment. I was tapping often with The Shallows. The initial first strike is chaotic and frightening, leaving Nancy the morbid option of climbing atop a rotting whale body for momentary safety. Then there's timing the shark's laps to determine how much time she has retrieving floating items from her rock. We're given the setup and Collett-Sera nicely goes from there. Even the requisite "chatting with the family" scene meant to impart enough exposition for our character's starting point is given some flash thanks to onscreen graphics. The cinematography is absolutely gorgeous, especially the prolonged underwater sequences. If it wasn't for the perturbed killer shark this could work as a vacation ad for this Mexican beach (it was really filmed in Australia). The editing, the music, the special effects, it all blends seamlessly together to construct a thrilling and stylish summer movie. I'll admit that there was a long dry spell for Lively after her mesmerizing turn in 2010's The Town, enough so that I wondered if she was just coasting for good. Then with last year's underrated Age of Adaline she reminded me there's a capable actress here. It's a one-woman show and Lively does a terrific job of anchoring her character while playing to all the shrieks and startles of the genre requirements. Her depleted mental and physical state is effectively communicated and her surge of purpose in Act Three is infectious. Her tearful "final message" in case she didn't make it had me almost dabbing my eyes. It's heartfelt and sorrowful without being too corny. There is an actual character here and a performance that treats her seriously and not merely as a tasty afterthought. There are far worse people in Hollywood to be stuck on a rock with than Bake Lively. In a summer of disappointments, I'll gladly take the simple pleasures of a contained thriller that's this well developed, this exciting, and this satisfying as The Shallows. It's smart, often suspenseful, and boasting great technical accolades to make this harrowing survival drama all the more immersive and enjoyable. There is an escalation of tension and director Collett-Sera keeps the audience oriented throughout the terror so we know exactly what the stakes are of every life and death decision. It taps into a primal fear of humans versus Mother Nature in a way that feels smothering. Lively anchors the film and provides a thinking heroine who can also get the job done when the action calls upon her. The ending confrontation gets a little extreme and curiously vindictive for an animal, but by that point I was enjoying the movie far too much to argue. The Shallows isn't too deep but it's the kind of slickly produced and developed B-movie that I'll happily indulge. Nate's Grade: B+
Nate Zoebl
Super Reviewer
Discussion Forum
Discuss The Shallows on our Movie forum!