The Shock Labyrinth 3d (senritsu Meikyu 3d)
(2009)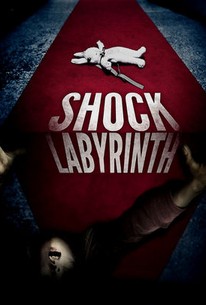 AUDIENCE SCORE
Critic Consensus: No consensus yet.
Movie Info
Japanese horror auteur Takashi Shimizu (best known for his international success Ju-On: The Grudge) leads viewers through a puzzle of fear and suspense in this thriller. Ken (Yuya Yagira) and Motoko (Ryo Katsuji) are a pair of old friends who haven't seen each other in over a decade, and when they run into one another, Motoko suggests they pay a visit to Rin (Ai Maeda), his girlfriend who knew Ken back in the day. When they arrive at Rin's place, everyone is surprised that their pal Yuki (Misako Renbutsu) has stopped by -- particularly because Yuki has been dead for nearly ten years, having perished in an accident at an amusement park. When Yuki suddenly falls ill, the three friends insist on taking her to the hospital. However, when they arrive, they discover the hospital is abandoned, and it soon transforms itself into an enormous haunted maze, where Yuki is determined to take revenge against her former friends. Senritsu Meikyu (aka Shock Labyrinth) was the first Japanese film to be shot in High Definition 3D. ~ Mark Deming, Rovi
Critic Reviews for The Shock Labyrinth 3d (senritsu Meikyu 3d)
All Critics (2) | Fresh (2) | Rotten (0) | DVD (2)
Shock Labyrinth is rarely if at all scary, but it certainly achieves all the tawdry razzamatazz of a funfair, and more importantly all the confounding disorientation of a hall of mirrors.

Audience Reviews for The Shock Labyrinth 3d (senritsu Meikyu 3d)
Easily the equal of his Ju-On/The Grudge films, can anyone tell a story of a revenge curse as well as Shimizu? Shock Labyrinth take a bit to warm up, but then the story circles around itself as wonderfully and visually amazing as the centerpiece staircase.
John Wagner
Senritsu Meikyû (The Shock Labyrinth) (Takashi Shimizu, 2009) Takashi Shimizu has an overblown and entirely undeserved reputation on this side of the pond thanks to having directed the Grudge series of films, which are overrated garbage in the Japanese iteration of the series and overrated even more unwatchable garbage in their American remakes; the only good thing to have come out of the entire series is that it showed Hollywood that it was a financially viable idea to have directors come over to Hollywood and remake their own films (in other words, you have Shimizu to thank for Gela Babulani directing 13). While I will admit that Shimizu has directed one mildly watchable feature (Marebito), everything else I've seen from the man is awful. The Shock Labyrinth, which came and went with nary a whisper, may finally be the film that shows the public that his reputation is entirely undeserved. I would attempt to give you a plot synopsis, as I usually do in the middle paragraph of a review, but this movie is plotless as well as pointless, to the extent that Shimizu, in the closing fifteen minutes of the film, had to add a Poirot scene, where a character finally puts all the pieces together and then narrates the story for the audience. Here's a rule of thumb, aspiring filmmakers: if your script requires a Poirot scene, it's shit, rewrite it. A Poirot scene is an automatic fail. The best I can do: a bunch of young-and-beautifuls take a sick friend to the hospital and discover it is not a hospital. All of them save one were involved in some sort of supernatural happening in the past, but why is that guy involved? (I am treating that like a spoiler, though by the first few flashbacks to Ken's early life, you will have figured out his connection to the other flashback events if you've seen any three random mysteries made in the past century.) The Shock Labyrinth is distributed in this country by a company called Well Go USA Entertainment, also responsible for the execrable Zombie Hunter. In that case, at least they got the "USA" part right. Here, well, even though this is a Japanese film, that may still be the most accurate of the four words. It is not well, it does not go, and it is in no way entertainment. *
Robert Beveridge
Great creepy little nightmarish Japanese horror; as good as the director's famous Ju-On series.The 3D effects really worked well I thought. The dream sequences were as spooky and reality-bending as a Nightmare on Elm Street film. It was fun like the famous 1977 "Hausu" film. The "Shock Labyrinth" setting of the haunted theme park hospital with its melted mannequins was awesome. The 3D depth really helped show off its creepy corridors and rooms. I could understand the developing story, and thought it all fit together nicely by the ending.
Lafe Fredbjornson
Super Reviewer
The Shock Labyrinth 3d (senritsu Meikyu 3d) Quotes
There are no approved quotes yet for this movie.
Discussion Forum
Discuss The Shock Labyrinth 3d (senritsu Meikyu 3d) on our Movie forum!