The Silent House
(2011)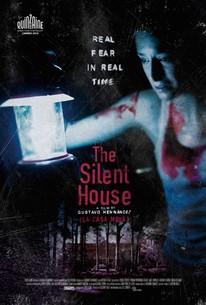 Movie Info
Laura and her father Wilson settle down in an old farmhouse to make some repairs and update it prior to its sale. But after they spend the night there, things start to get strange. Laura hears a sound that gets louder and louder on the upper floor of the house. Wilson goes up to see what is going on while she remains downstairs, waiting for her father's return.
Critic Reviews for The Silent House
Audience Reviews for The Silent House
½
Very well made as a single long take, it impresses for the elegance and technique employed, but the script is just awful, with stupid characters, over-calculated chills (always forewarned by an intrusive score) and a ridiculous, illogical ending.
Carlos Magalhães
Super Reviewer
Brilliantly filmed and edited, with one or two decent scares. But the weak script lets it down, meaning that watching this film is a largely dull experience.
Graham Willis
Super Reviewer
The Silent House was a movie of highs and lows for me. Parts of it were suspenseful and terrifying, while other parts were outright boring. And the overall plot is one that will probably turn off some as its revealed. Despite how uneven it is, though, I still recommend it. I love the ideas that went into making The Silent House, I just wish the final result was a little more consistent.
The Silent House Quotes
There are no approved quotes yet for this movie.