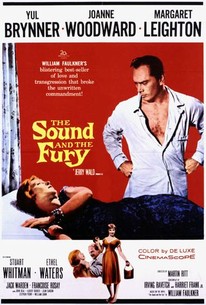 The Sound and the Fury
1959, Drama, 1h 55m
4 Reviews
Fewer than 50 Ratings
Rate And Review
The Sound and the Fury Photos
Movie Info
The once-prominent Compson family of Jefferson, Miss., has been reduced to near-penury by generations of alcoholism and sin. Levelheaded Jason (Yul Brynner) struggles to keep the family together, but his teenage stepsister, Quentin (Joanne Woodward), chafes against his strictures. When Quentin's estranged mother (Margaret Leighton) reappears in town and carnival worker Charles (Stuart Whitman) attempts to seduce the virginal teen, the family may finally be headed for complete collapse.
Audience Reviews for The Sound and the Fury
More time spent in the sultry South, where sex is so alluring simply because there's not a heck of a lot much else to do. Joanne Woodward is a young woman feeling bored by the sameness of her life and by the slow decline of her once respected family and thusly looking for a little pick-me-up, nudge, nudge, wink, wink. Yul Brynner is an outsider, but now running the whole show, if only because he's the only one who cares to. Sure, his Southern accent is for the birds, but he delivers the usual strong performance that holds down the usual languid proceedings Southern Gothic usually takes. Not boring, if ever so predictable.
See Details