The Thrill of It All
(1963)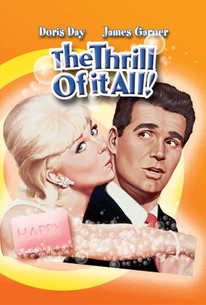 The Thrill of It All Photos
Movie Info
This amusing romantic comedy concerns Dr. Gerald Boyer (James Garner), a successful gynecologist with a wife and two children. Wife Beverly (Doris Day) focuses on maintaining the household and watching the kids. One of Gerald's patients, Mrs. Fraleigh (Arlene Francis), overhears Beverly talking up a new product she's discovered called 'Happy Soap' - whose manufacturer just happens to be Mrs. Fraleigh's father-in-law, Old Tom Fraleigh (Reginald Owen). She introduces Beverly to him; hugely impressed, the old man offers her $80,000 a year to pitch a new product called "Happy Soap." Beverly's career takes her away from her family responsibilities and causes a series of comedic commotions for Gerald and the kids. He comes home from work one morning and accidentally drives his convertible into a freshly dug swimming pool ordered by Beverly without his knowledge. The furious physician throws a bevy of boxes of Happy Soap into the pool, causing the house to be engulfed in suds by morning (which the kids mistake for snow). The family maid Olivia (Zasu Pitts) is nearly driven crazy with the events and has many harried scenes of comedic frustration. Directed by Norman Jewison, this thouroughly engaging comedy was written by Larry Gelbart and Carl Reiner. Reiner provides the screenplay for the feature which turned out to be the last film appearance of Zasu Pitts. With her passing marked the end of a long and successful career as a comedic and well respected actress that began in 1917.
Critic Reviews for The Thrill of It All
Audience Reviews for The Thrill of It All
Doris Day made a lot of movies that were a lot better than people knew and so many of them went practically unnoticed. A prime example was the 1963 comedy THE THRILL OF IT ALL, which starred Doris as Beverly Boyer, the wife of a doctor (James Garner), who, quite accidentally, becomes a television spokesperson for a product called "Happy Soap" and becomes an overnight celebrity much to the consternation of her husband. Day is at the height of her charm here as she is completely winning as the housewife thrown into the celebrity spotlight and doesn't really know how to handle it. Garner matches her note for note as the slightly chauvinistic husband who would rather have his wife at home. There is also a lovely supporting turn by Arlene Francis as a friend of Doris' who Doris actually helps to give birth in a cab and Carl Reiner (who also co-wrote the screenplay) has an amusing set of cameos as the star of the show where Happy Soap is advertised. A warm family comedy that showcases brilliantly why the world loved Doris Day...and still does. 3 Stars 10-14-13
Bruce Bruce
Super Reviewer
Cute, but not as amazing as I'd hoped coming from the pen of Carl Reiner and Larry Gelbart. However, the bubbles gag is hilarious.
Ken Stachnik
Super Reviewer
Oh my goodness, this is such an adorable, underrated movie! You wouldn't expect a wholesome Doris Day film to be this clever and refreshing. It addresses the concept of female empowerment in a very mom-and-pop quaint kinda way. I love the mod-retro look of this movie too. Honestly, you can't create that kind of atmosphere anymore. I account this to Jewison's revolutionary filmmaking attitude of the time.
Jennifer Xu
Super Reviewer
The Thrill of It All Quotes
There are no approved quotes yet for this movie.