The Viral Factor
(2012)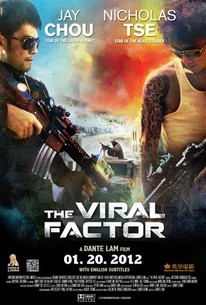 Movie Info
IDC Agent Jon (Jay Chou) sustains grave injuries on a mission and decides to spend his final days with his mother. She tells him a long-held secret. To fulfill her wishes, Jon goes to Southeast Asia. He befriends medical specialist Rachel (Lin Peng). When she is forced into the schemes of a criminal organization, Jon attempts rescue and becomes the target of the organization that includes his estranged brother Yeung (Nicholas Tse)! When the organization betrays Yeung and kidnaps his daughter Sheng, the brothers join forces to rescue Rachel and Sheng. -- (C) Official Site
Critic Reviews for The Viral Factor
Audience Reviews for The Viral Factor
As much action as you can pack into one film, If you like crime drama this is your film. Could watch this one over and over, English and subtitles. 5 stars 12-10=12
Bruce Bruce
Super Reviewer
It`s one of the best action movies of 2012, It stands with The Expendables 2 and The Raid: Redemption. A adrenaline-pumping and mind-blowing edge of your seat action-pacjed thriller. An explosive tour de force of an action movie. A totally wild and exhilerating roller-coaster ride from start to finish. Director, Dante Lam is a slam of John Woo and Michael Bay and he just blows you away. Lam crafts another triumph. It`s packed with stylish and exciting action sequences, riveting drama, well-crafted set pieces and two strong performances from its two great leads Jay Chou and Nicholas Tse are pure dynamite, they set the screen on fire with their fury and strong charisma. A spectacular thrill-ride that is deeply moving with emotionally charged characters.
½
The Viral Factor is indeed viral and Dante Lam has another winner on his hands.
After an explosive start, the story that defines this picture goes low and slow for it's character buildup and plot setup; however, once things pick up, they stay that way without much in the way of interruption.
The action is highly destructive, in abundance, and the choreography of the shootings are nicely done. The whole second half of the film continuously moves from segment to segment to push things along.
Jay Chou finds himself with a character that he can work with, all the while sharing the spotlight with Nicholas Tse. Both work well together, although Tse's character isn't as easy to like as Chou. Andy On suffers because of his constant English dialogue. Ling Peng is a nice touch to the film.
The Viral Factor lives up with its action. The story has room for refinement, but all in all, it is a solid 2 hour watch.
The Viral Factor Quotes
There are no approved quotes yet for this movie.