The Visit: An Alien Encounter (The Visit)
(2015)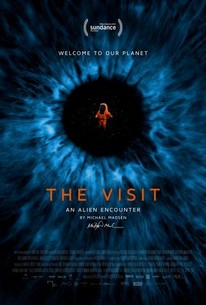 Movie Info
This film documents an event that has never taken place - man's first encounter with intelligent life from space", but ever since the invention of radio, humans have been sending signals into space, announcing their existence to other civilizations. With unprecedented access to the UN Office for Outer Space Affairs, the military, and experts from leading space agencies, the film explores a first contact scenario, beginning with the simplest of questions: Why are you here? How do you think? What do you see in humans that we don't see in ourselves? A journey beyond a terrestrial perspective, revealing the fears, hopes, and rituals of a species forced not only to confront alien life forms, but also its own self image.
Critic Reviews for The Visit: An Alien Encounter (The Visit)
Audience Reviews for The Visit: An Alien Encounter (The Visit)
I saw this at the 2015 Cleveland International Film Festival. This documentary-style film, not a true documentary, is unique. It asks what if! Madsen interviews various government, military, and scientific personnel, mostly focusing on European space organizations and western peace organizations like NATO and the UN. What if alien life did land on Earth!? What is the official planned response of our leaders? Do we expect aliens to come in peace or to bring destruction? Will we show our baser violent nature or our higher compassionate nature to these unknown visitors? Of course this is all hypothetical and many scenes are quite surreal without ever showing an alien encounter. Like science fiction, this is all still left to our vivid imaginations. Several of the interviewees suggest a "hope for the best, but plan for the worst" scenario. It is somewhat disheartening to witness some interviewees dumbfounded in expressing their fear of this unknown. My favorite feature of this film was all the slow motion shots, some involving superimposed subjects seeming to float in the void, others simply showing everyday life interrupted when people turn to stare at something they have never seen before. My wife disliked the hypothetical and slow moving aspects of this film. The fact that there are practically no facts to stand on and no plot bothered her more than it bothered me. The narrator asks questions that an alien might ask to better understand us humans, some questions that the interview subjects also ponder about alien life, so, you see, in trying to imagine life "out there" we are really faced with looking within and attempting to make sense of ourselves.
Byron Brubaker
Super Reviewer
The Visit: An Alien Encounter (The Visit) Quotes
There are no approved quotes yet for this movie.