The Watsons Go to Birmingham
(2013)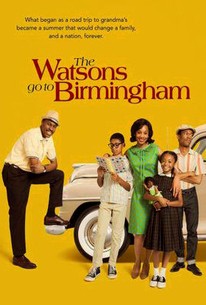 AUDIENCE SCORE
Critic Consensus: No consensus yet.
The Watsons Go to Birmingham Photos
Movie Info
The Watsons set out on a family road trip where their experiences give them a newfound courage to stand up for what is right and helps them grow stronger as a family in the process.
Audience Reviews for The Watsons Go to Birmingham
Despite the decent performances by a select few (Namely Anika Rose, Wood Harris, and LaTanya Richardson), this movie did it's best to keep shooting itself in the foot whenever it could. To the film's credit, the costumes and some of the scenery sets that distinct 1950's atmosphere. However, as a native of Birmingham I was expecting a little more of my beloved city than what I saw in the movie. But, I was willing to put that little nuance behind me. What I couldn't forgive were the moments that were suppose to be emotional, moving, tearjerking, moment of silence for our fallen heroes moments; terrible. It's a good idea to take a subject like the Great Civil Right's Movement and make it somewhat upbeat so it doesn't completely disconnect to the young adult audience of today. However, when you want to convey the seriousness of a situation you cannot be Happy-go-lucky. I apologize for spoiling this film for a few people but there are 2 distinct points of the movie which I will touch upon. 1) When the Watson children are talking to their cousins about the march for freedom in the school's the music is way off in terms of conveying the hurt, pain and torture that my people went through. 2) The scene where Kenny is looking for his sister, to be honest Bryce (Kenny) didn't look like he received any instruction whatsoever in trying to convey the fear or terror that the real Kenny Watson had at that point. And they botch the scene up more by having Kenny's mythical fear of a Whirpool (whatever that was suppose to be) pop out of nowhere and completely tear the audience from any feeling that we were suppose to have for him. Though this film has it's bright spots the bad far outweighs the good. It's not a complete waste of time. But I won't be watching it again anytime soon.
Cedar Digital
Really good flick. Fiction mixed with non-fiction. I'm sure many families had similar stories in the 60's when they visited relatives in south. Good movie for pre-teens and teens I think especially. Not the little ones though.
Tracy Fortenberry
½
Before watching the movie and looking at the bright yellow cover on the packaging, I thought it is just a happy, bubbly coming-of-age family comedy... how wrong I was! This Hallmark movie based on the book The Watsons Go to Birmingham by Christopher Paul Curtis is a movie which can fall into coming-of-age category or political drama or even a family drama, but will never fall into comedy! Directed by Kenny Leon and written by Caliope Brattlestreet and Stephen Glantz, it needs improvements on few different fronts - but some of the later powerful emotional scenes will make you forget most of the imperfections and faults seen in the first two thirds of the movie. The stars of this film had noticeable performances... Bryce Clyde Jenkins, Harrison Knight, Skai Jackson, Anika Noni Rose, Wood Harris and David Alan Grier included! The story is set in the Flint, Michigan during the summer of 1963, in the Wattsons "All American Family" made up of Daniel and Wilona Watson, (Harris and Rose) and their three kids, 15 year-old juvenile delinquent Byron (Knight), nerdy 11 year-old Kenny (Jenkins) and eight year-old adorable sister Joetta (Jackson). When the oldest son Byron goes over the top with his behviour, his parents decide the family needs a dose of Grandma Sands (Richardson) no nonsense approach in Birmingham, Alabama... Because the movie covers the period of time which happens when Alabama was in the midst of the civil rights struggle, this warm, relatable family drama will revive the civil rights era on the screen where there is not much beauty! Scenes of period-accurate racism and discrimination could be disturbing to some viewers and parents should know that the Birmingham church bombing in which four girls lost their lives, is depicted, and one main character nearly loses her life. My verdict is - Surprisingly good.
The Watsons Go to Birmingham Quotes
There are no approved quotes yet for this movie.
Discussion Forum
Discuss The Watsons Go to Birmingham on our Movie forum!