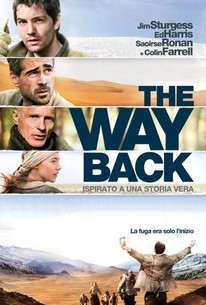 The Way Back
2010, Drama, 2h 13m
139 Reviews
25,000+ Ratings
What to know
critics consensus
It isn't as emotionally involving as it should be, but this Peter Weir epic offers sweeping ambition and strong performances to go with its grand visual spectacle. Read critic reviews
Where to watch
Rent/buy
Rent/buy
Rent/buy
Rate And Review
Movie Info
Denounced by his wife as a possible spy in 1939, Janusz (Jim Sturgess) finds himself in a remote Siberian labor camp. Faced with brutal conditions inside and out, Janusz is determined to escape. A blizzard provides him with the perfect opportunity, and he and a small group of fellow prisoners make a break for it. Escape, however, is the easy part, for Janusz and his companions face a 4,000 mile trek on foot through the frozen Himalayas before they can truly be free.
News & Interviews for The Way Back
Audience Reviews for The Way Back
Peter Weir is a fine filmmaker and he has crafted some truly terrific films. His work is truly engaging. He always manages to assemble great casts that feature prominently in his films. This is a strong effort with a great story and terrific talent involved. I much preferred this film over Master & Commander and it is a movie that is one of the finer directorial efforts from Weir. The cast make the material work well enough from start to finish. Based on true events, this film is a standout tale of survival in the harshest of times and can make it through with perseverance and determination. This is a great film from the first moment and if you love these types of movies, then give it a shot, you'll surely enjoy it. The Way Back is one of Peter Weir's strongest efforts and it is a movie that delivers some genuine tension and excitement. All of the cast members bring something unique to the screen, but it is Weir's eye to create a story worth telling that sets this picture apart from others in his filmography. I thoroughly enjoyed the film and if you love a good survival story, then this is the film to watch. Peter Weir has made some fine movies in the past, but The Way Back is a movie that is a brilliant return to form to what he used to do and he delivers something truly memorable and almost flawless in terms of storytelling. Weir is a fine filmmaker and with this film he proves that once again. With a great script and cast, Peter Weir was able to craft a movie that is thrilling from start to finish.

I can't tell if these people are trying to escape to freedom or trying to escape from their accents. Well, Ed Harris is American, and is stuck as one in this film, because most of us couldn't keep up a convincing accent to save our lives, yet the more distinctly accented people, however, can do any accent they please, and rarely let you forget that. Seriously, the Irish, in particular, often stay clear of staying home, even when they're patriotic, and here we are with, not one, but two self-respecting Irsh people, one of whom hasn't gone Irish for as long as we can remember (Well, there is "Ondine", so Colin Farrell has at least not done his natural accent in a film that people actually saw for as long as we can remember), with the other having not gone Irish, well, at all. Maybe Saoirse Ronan has more of a love-hate relationship with her culture than she lets on, and her little lashes at motherland Ireland include her continuation to change accents, as well as her going against Irish tradition and pronouncing her name Sir-sha and not the proper Seer-sha. Well, either she prefers to pronounce her name differently as a lash at Irish tradition, or because not even she could figure out how to pronounce her name, and when someone called her on it, she got embarassed and just made up the excuse that she prefers to pronounce her name differently. Wow, looking at the pronunciation of a name like Saoirse, as well as the pronunciation of other crazy Irish words, it seems as though the Irish are such big drinkers that they actually invented a language out of drunken slurs, and yet, even they've still got thickly accented natives who can break into other accents more easily than us Americans can. Well, to be fair, Farrell and Ronan are some pretty awesome and convincing performers, though not the only talents within this colorful cast, as this film very much reminds you, yet not exactly to where you're left forgetting the less rewarding aspects of Peter Weir's latest good but sadly held-back effort. As with just about every Peter Weir effort, this film often moves along slowly and quietly, limping along in a fashion that really doesn't dull things down terribly often, but slows the film down almost to a standstill when dullness does set in and knocks you clean out of the film, if not occasionally comes close to just plain knocking you out. This problem is of course exacerbated heavily by the fact that the story structure is looser than Paris Hilton's morals, boasting excessive nothingness, not in some spots, but throughout the film, thus leaving the sting of the film's slowness to strike the more deeply and pacing to dissipate, leaving you to feel every overdrawn minute in this film of limited plot. The 133-minute runtime sounds comfortable, given the subject matter, but really, Weir achieves such a length forcibly, composing the film with expendable material almost more than actual plot, perhaps as a strategy of fleshing out and meditating upon the characters and story, which is great and all, but doesn't quite work, as the film is just so slow and the nothingness is just so excessive that the attempts as meditation simply come out as much more detrimental to the story's engagement value than supplementary, which is especially bad when you consider that this story definately needs more kick in its execution. Truly, the film's story is indeed remarkable and worthy, yet rather risky, promising either unique sweep and depth in execution or a potentially problematical conventionalism in execution, and sadly, this film goes the latter route, structuring the story in a fashion that we've seen time and again in escape films of this type, and Peter Weir's direction could have transcended that, yet simply doesn't. There's just not quite enough punch in Weir's directorial execution, and that lack of oomph is of course intensified by the film's being just slow, padded and conventional, and what could have made for a remarkable cinematic triumph ultimately comes out to be too "Peter Weir" for its own good. In reference to this film, a criticising Roger Ebert proclaimed that "not every incredible story makes a compelling movie", and while I do won't go as far as to say that this film isn't compelling, I certainly agree with the consensus' statement that this film "isn't as emotionally involving as it should be", as it's lacking the sweep, intrige, entertainment value, originality, dynamicity and overall resonance that could have made it an extraordinary effort. As it stands, however, it's still a rewarding film, for although it fails to consistently capture your attention and certainly fails to fulfull its very promising potential, there's enough here to catch your investment, or at least your eyes. Russell Boyd's cinematography isn't especially stunning, though it is attractively well-lit and colored, with a moderate degree of broadness in scope to capture the environment and compliment the fine locations that give you a reasonably strong feel for the progression and grandness of the adventure upon which this film is centered. Still, it's not entirely like this film needs sweeping photography or dynamic locations to leave you feeling for the adventure to a certain extent, as the premise of the film, alone, is strong enough to earn your attention and investment, for although the structuring of the storyline is hardly inventive, with an execution that isn't terribly thrilling, the story is still fascinating by its own right and creates an immediate degree of intrigue, enhanced by what Peter Weir does do right. His storytelling plagued by limpness and more nothingness than exposition, Peter Weir moves this story along ever so slowly, but surely nonetheless, for although this film really does deserve a better director and writer, and would have been better for it, it would have very easily collapsed as underwhelming in the hands of a lesser filmmaker, and in the experienced hands of Weir, this film boasts commendable inspiration and ambition throughout, with moderate sweep and charm, broken up by moments of genuine effectiveness, whether it be intrigue, or entertainment, or even in emotional depth (There's a particularly emotional scene just before the 100-minute mark that pretty much broke my heart). The film is just too much of a mess, so Weir's inspired directorial aspects just barely raise the final product past underwhelming, yet gets it to genuinely either way, and does so with the help with a strong cast of talents, all of whom deliver, though not terribly impressively, as material is shockingly limited, yet not to the point of rendering our cast incapable of compelling by doing well what they do have to do. Jim Sturgess is engagingly inspired in his charismatic and sometimes even emotional portrayal of the young but, well, engagingly inspired Janusz Wieszczek character, and Ed Harris earns your investment in him as the competent and experienced trustworthy figure who still goes haunted by some uncertainties, as well as the demons that came with his gaining experience. As for our two Irish talents, Colin Farrell is charismatic and effective as the willing but somewhat uneasingly hardened Valka character, into whom Farrell almost transforms, partially through his nailing of a Russian accent and largely through his effortless emitting of an atmosphere so comfortably self-contradictory and fitting for the role that Farrell bonds with his character almost more than he bonds with himself as an actor, while the lovely (When she finally gets her hair out of that cloth) Saoirse Ronan's charming, rather layered and occasionally even subtly poignant portrayal of someone as innocent yet still somewhat mysterious, uncertain and haunted as the too-young-for-these-struggles Irena character practically steals the show (What, Saoirse Ronan stealing the show, even with limited material to work with? That's unheard of!). Individually, each performer is distinctly charismatic and with the occasional high point in more advanced acting, and together, the cast boasts glowing chemistry and a sense of layered comradery that brings the character aspects to this character study to life, and with the fine style and general inspiration behind Peter Weir's direction further breathing life into the story execution, what we're ultimately left with is potential still squandered, yet backed up enough with strong moves that are very strong for the final product to ultimately triumph as an ultimately rewarding watch. To bring things "back" around, the film definately proves itself worthy of keeping its source material's original title of "The Long Walk", as it finds itself overdrawn with excessive nothingness and expendable material, made all the more pronounced by pacelessness and consistently slow quietness that renders the film rather dull, if not momentarily disengaging, while a lack of originality in Peter Weir's and Keith Clarke's screenplay, as well as limited bite in Weir's storytelling, leaves the high potential of this story to go rather unfulfilled, though not to the point of leaving the film underwhelming, as its story is so very strongly interesting, with immediate intrigue enhanced by handsome and somtimes sweeping photography and locations, as well as by genuinely affecting moments in Weir's direction to break up consistent charm and inspiration, made all the stronger by the chemistry and myriad of memorable, charismatic and occasionally even deep performances within the colorful cast, thus leaving "The Way Back" to power on as an enjoyable, compelling and ultimately worthwhile watch, even if it isn't as worthwhile as should be. 3/5 - Good

A group of refugees walk from Siberia to India. If only the beginning title cards didn't give away the end of the film, I might have thought it more suspenseful and compelling. As it is, I could guess the ending easily, and the film lost its luster for me. Additionally, it is affected by <i>Lord of the Rings</i> syndrome: the mistaken belief that beautiful shots of people walking makes for compelling cinema. Peter Weir, whose films all include the plights of common people against repressive politics, should have taken some notes from Danny Boyle, whose <i>127 Hours</i> made a guy stuck under a rock more compelling than this peripatetic film. But if you look at a map and trace the incredible distance these people traveled, you can understand why the story is so incredible. The characters are certainly courageous and admirable, and the performances by the cast - even by the insufferable Colin Farrell - are all up to par. Overall, it's a compelling idea with compelling characters, but the film lacks a stylistic flair to keep it interesting.

The (still contentious) real events behind the story of the film, where a group of escapees from a Siberian gulag travel by foot across vast distances to India, are incredibly inspiring, and this motivation pushes the collective involved in this film to attain top form. From the immense detail in cinematography to the intricacies in staging and direction, "The Way Back" is quite a spectacular feat. The trials and tribulations of weathering the natural elements and the affairs of mind and mood as the party treks to freedom is deftly captured by the acting caliber of the ensemble cast and the makeup team. Jim Sturgess, Ed Harris, Colin Farrell, and one of the best of her age, Saoirse Ronan, give performances that resonate with what it is to be human under these very trying circumstances.
See Details