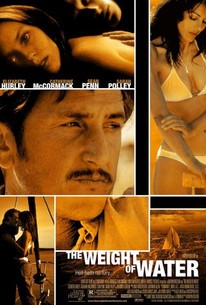 The Weight of Water
2000, Mystery & thriller, 1h 53m
64 Reviews
500+ Ratings
Rate And Review
The Weight of Water Photos
Movie Info
Kathryn Bigelow's intense and sexually charged drama of repression, love and loss. Juxtaposing the past and the present, "The Weight of Water" is about a 19th century murder and a contemporary woman whose obsession with a notorious unsolved crime leads her to confront devastating truths in her own life.
Audience Reviews for The Weight of Water
Either one of the two stories might have been engaging on their own, if they hadn't shown their hand from the very start. A disappointment to know this comes from Kathryn Bigelow.

You would have expected more from Bigelow's directorial debut particularly when she had Sean Penn and Sarah Polley to use but this is a boat that seems to drift endlessly with the unlikely revelation of a centuries old murder. A head scratcher by the time the credits roll.

The Weight of Water follows two stories, one about a mysterious double murder in the 1870s, the other a modern day story line that seeks answers to the first. Both are interesting, but the older one much more so. The biggest problem the movie are the shifts between the two, which undercut the effectiveness of both narratives, giving the film a disjointed feel. There's enough to like about both plot lines to keep it interesting, especially the acting, but unfortunately kept down from some ineffective direction.

This movie switches between the lurid and sensational axe murder of two women in 1873 and the modern day story of a newspaper photographer, Jean (Catherine McCormack) who is researching the crime over 100 years later. Sarah Polley's performance as Maren Hontredt, a young and hard-working Norwegian woman bought to this land far away from her family and married to a much older man is compelling and gripping. She struggles with a cold marriage, a desperate secret and a building internal rage that threatens her sanity. The past sequences were awesome, but I found the present day scene was predictable and lacked character development and continuity. Nevertheless Sean Penn is engaging to watch, and Liz Hurley is well cast as a flirty seductress. "Women's motives are always more concealed than men's," and this is revealed as we witness the powerful fury of violent emotions that sometimes overtake good people and move them to acts of horror.
See Details