Los Viajes del Viento (The Wind Journeys)
(2009)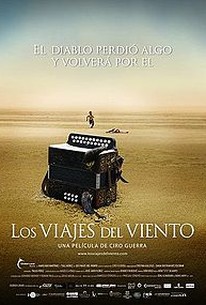 AUDIENCE SCORE
Critic Consensus: No consensus yet.
Movie Info
In this road movie from Colombian filmmaker Ciro Guerra, Ignacio Carrillo (Marciano Martinez) has been a traveling musician most of his adult life, playing his accordion for anyone who will listen as he wanders from town to town. But after the death of his wife, Ignacio has fallen into a deep depression, and he decided to give up music. As he gives up his old way of life, Ignacio sets out on a journey to give his instrument back to the man who taught him to play many years before, but a young man named Fermin Morales (Yull Nunez) invites himself along for the ride. Ignacio doesn't have much use for Fermin, and while the young man is eager to learn the accordion, it's obvious he has no aptitude for music. But Fermin is persistent, and when bandits steal Ignacio's instrument, the youngster sees an opportunity to prove himself by recovering the lost accordion. Los viajes del viento (aka The Wind Journeys) was an official selection at the 2009 Cannes Film Festival, where it was screened as part of the "Un Certain Regard" program. ~ Mark Deming, Rovi
Critic Reviews for Los Viajes del Viento (The Wind Journeys)
There are no critic reviews yet for Los Viajes del Viento (The Wind Journeys). Keep checking Rotten Tomatoes for updates!
Audience Reviews for Los Viajes del Viento (The Wind Journeys)
In "The Wind Journeys," young Fermin(Yull Nunez) chases after Ignacio Carrillo(Marciano Martinez) as he is riding out of town on a donkey, failing to get his attention at first. Then, he asks if that is the Devil's Accordion he has, which stops him in his tracks.(Don't laugh. It does have horns.) After finally acknowledging him, Ignacio reluctantly agrees to bring him along on his journey to return the accordion to its previous owner. Later, they encounter a group of cowboys and musicians who want to hear the famed Ignacio Carrillo play. Even though they are starving, Ignacio refuses to play for his supper and they are only fed when they hear his tale of woe before telling him about a contest where Ignacio suspects sorcery. "The Wind Journeys" is a beautifully filmed and meditative movie with some entertaining musical numbers that moves at its own deliberate rhythm, much the way Ignacio would prefer it. As he sees it, only good comes from hard work in this world, attempting to teach his protege this valuable lesson on the road.(I'll leave it up to you to decide whether or not they are father and son.) Ignacio now regrets the way his life turned out when playing the accordion superseded all else and wishes to put it behind him, but nothing is ever that easy. This is in a land of many different traditions and customs where magic lies just beneath the surface and no judgment is passed. When asked why a man lives on the top of a mountain, Ignacio replies nonchalantly that he was never that sociable.
Los Viajes del Viento (The Wind Journeys) Quotes
There are no approved quotes yet for this movie.