The Wind Will Carry Us
(2014)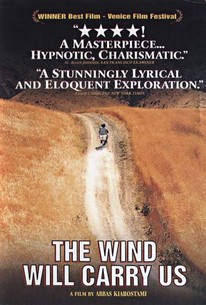 The Wind Will Carry Us Photos
Movie Info
This idiosyncratic drama from Iran begins as a jeep winds through the hills of Kurdistan, containing an engineer (Behzad Dourani) and his two assistants (whom we never see) as they search for a small village in the mountains. When they arrive, they are greeted by a young boy, who shows them a place they can stay and guides the engineer to the home of an old woman (also never seen) who seems to be dying. No one is sure what the engineer and his men are doing there; some locals think he's keeping watch of the old woman and wants to purchase her land when she dies, while others think he could be an archeologist searching for rare artifacts. Meanwhile, the engineer spends his days exploring the village and the people who live there -- most of them women, with the men away at jobs that occupy them night and day for several months out of the year. He also stays in touch with the boy, who watches over the old woman's health while keeping up with his schoolwork, working on his family's farm, and helping his mother with the household chores. Meanwhile, the engineer periodically gets calls on his cellular phone, which require him to drive to a graveyard on a hill to receive the call (most, however, are wrong numbers), while making contact with a man digging a deep hole (also unseen) and a girl in the village who milk's cows which are kept in a dark basement. Concentrating on what we don't see as often as what we do, Le Vent Nous Emportera bears the distinctive stamp of director Abbas Kiarostami and was embraced by critics in its screening at the 1999 Venice Film Festival. ~ Mark Deming, Rovi
Critic Reviews for The Wind Will Carry Us
Audience Reviews for The Wind Will Carry Us
The film is light, funny and very amusing in the way it shows the prosaic everyday life of common people as witnessed by an idle and increasingly impatient man visiting a Kurdish little village in Iran, even if the poignant result ranks among one of Kiarostami's minor works.
Carlos Magalhães
Super Reviewer
Another great Kiarostami visual that is brought all the more home by the wonderful glimpse of a funeeral in rural Iran. Another masterpiece from a master.
John Ballantine
Super Reviewer
½
Kiarostami, prova mais uma vez o seu grande talento num dos maiores cinemas do mundo: o cinema do Ira.
Lucas Martins
Super Reviewer
The Wind Will Carry Us Quotes
There are no approved quotes yet for this movie.