The Wizard of Oz
(1925)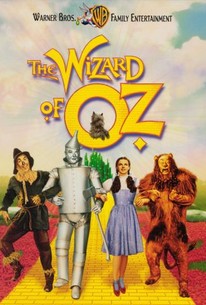 AUDIENCE SCORE
Critic Consensus: No consensus yet.
Movie Info
Although slightly more entertaining than its reputation, this silent slapstick version of L. Frank Baum's classic fairy tale is still not very good. Granted, producer/director/star Larry Semon had a great eye for the grotesque (he was, after all, a former cartoonist), but for some reason the veteran comedian chose to almost completely ignore Baum's original story -- and that after hiring the author's son, L. Frank Baum Jr. as one of his writers. In Semon's hands, the Merry Old Land of Oz exists somewhere east of Graustark and is inhabited by operetta-style cardboard characters named Prime Minister Kruel (Josef Swickard), Countess Vishuss (Virginia Pearson), Ambassador Wikked (Otto Lederer), Prince Kynd (Bryant Washburn), and the contender, Dorothea, having been kidnapped as a child. Meanwhile, back in Kansas, Dorothy (Dorothy Dwan) is about to learn how she was dumped as an infant on the doorstep of Aunt Em (Mary Carr) and Uncle Henry (Frank "Fatty" Alexander). After a great many reworkings of old Semon gags, the famous twister blows Dorothy, her obese uncle, and three farm hands (Semon, Oliver Hardy, and Spencer Bell) right back to Oz where they land at the feet of power hungry Prime Minister Kruel. Oz, of course, has its Wizard (Charlie Murray), and although he is a big humbug of a medicine showman, the Wiz saves the day for all and sundry. Semon, who had the word "restraint" cut out of his vocabulary, threw everything and the kitchen sink into this his proposed masterpiece, including lots of extras in fanciful costumes, quite a few potent special effects, and a Dorothy (Mrs. Semon in real life) who was perhaps more +Ziegfeld Follies than Kansas. Just like in the later MGM classic, the farm hands turn into Baum's famous characters but only briefly and without much enthusiasm. Semon himself is only fully done up as the Scarecrow for a couple of minutes and Babe Hardy is the Tin Woodsman even less time than that. But at least their transformation is somewhat explained. African-American comedian Spencer Bell, on the other hand, dons a lion costume for no apparent reason other than to prove that all three characters from the book appear in the film as well. A veteran Semon collaborator, Bell is billed G. Howe Black (get it?) this time around and to compound matters is introduced eating a watermelon. Another low point comes earlier in the film with the introduction of the "Phantom in the Basket," an outrageous female impersonator (Frederick Ko Vert), all decked out in ostrich plumes and flirting with a visibly uncomfortable Bryant Washburn. Released by Poverty Row company Chadwick Pictures, The Wizard of Oz was awarded a first-class premiere at Los Angeles' Fortune Theater and then road-shown in the rest of the country. Although praised for its lavish production values, the film was not the anticipated success at the box office and proved the beginning of the end for Semon, a comedian whose salary at one time had almost rivalled that of Chaplin.
Critic Reviews for The Wizard of Oz
All Critics (2) | Fresh (0) | Rotten (2)
Goodbye, Yellow Brick Road!
August 28, 2009 | Rating: 1/5
Terrible version of The Wizard of Oz, that's filmed as a heavy-handed slapstick comedy.
Audience Reviews for The Wizard of Oz
Even if it weren't dwarfed by the later Judy Garland classic, this "Wizard of Oz" would be a sad, pathetic film. Director/writer/co-star Larry Semon obviously shot for the moon with this expensive-looking silent, and if you're wondering if he got there, you've probably forgotten to ask yourself "Larry WHO?" This misguided version of the L. Frank Baum book wastes half of the film back in Kansas, mostly setting up a love triangle between innocent Dorothy and two farmhands (Semon and the pre-stardom Oliver Hardy). Dorothy doesn't know she's the exiled queen of Oz, but when she turns 18, she and her loved ones discover the truth and are storm-whisked back to her homeland. There is no real magic in this Oz -- no witches, only an evil ruler -- and the iconic Scarecrow, Tin Man and Lion roles are awkwardly filled by Semon, Hardy and a forgotten black actor wearing disguises to avoid capture. The latter man (using the pseudonym "G. Howe Black") is especially problematic, as his racist part requires him to munch watermelon and abundantly mug in stereotypical, bug-eyed fashion ("cowardly," indeed). Logical holes are everywhere (for one, why does Dorothy's uncle enter as an abusive ogre and then abruptly turn into a good guy?) and laughs are woefully absent except during a late sequence where humans and shipping crates form a slapstick take on "the shell game." A few bits of crude animation offer some intrigue, but it's not enough. The ending is a throwaway, almost as if Semon abruptly ran out of money. He probably did.
Eric Broome
Super Reviewer
½
...So the duck steals the farmhand's lollipop and then goes through a fence. When the farmhand goes to get his lollipop back, the duck sticks his head through a hole in the fence and spits milk at him. The farmhand then pines away for Dorothy while sniffing some flowers that apparently contain a bee which chases him around the farm for awhile. No, this doesn't sound like the Wizard of Oz we know and love. It's actually more a series of gags set up to feature star and director, comedian Larry Semon, who apparently was almost as famous as Charlie Chaplin in his day. The film is also notable for having Oliver Hardy as the tin woodsman. Well, not really a tin woodsman, I'm not sure what he's supposed to be. Dorothy is actually the princess of Oz and she has been hidden away in Kansas with her "aunt" Em (who's not really her aunt at all). When some Oz-onians come for her one day in their bi-plane (yeah, Oz has it's own airforce), she and all her foster family are accidentally knocked over to Oz. All the handymen disguise themselves as their alter ego characters, and then there's some vague intrigue about how some of her Kansas family side with the evil Minister Kruel (and Lady Vishuss) and others side with the wonderful Prince Kynd. As I said before, the movie is little more than a self aggrandizing venture for this Larry Semon guy, who was at one time almost as big as Chaplin. Although I will say this, I might not have given the movie a fair chance, as I was so heavily distracted by Semon's gigantic beak. The man had an enormous nose.
Devon Bott
Super Reviewer
From the mind of Larry Semon (who wrote, produced, directed, and starred). I don't know why this movie was titled 'Wizard of Oz'. A grandfather/toymaker has Dorothy, Tinman, and Scarecrow dolls sitting in his shop when his granddaughter asks him to read her the book The Wizard of Oz. From the get-go the movie has NO relation to the book really. King Krewl has been copied from the earlier silent films from more than a decade ago. Nothing magical really happens in this Oz, it is vaguely like some European nation with a dictator unjustly in power and a "Kynd" prince who is beloved by the people. Dorothy does live in Kansas with an Uncle Henry and Aunt Em. Three farmhands become important: our star Mr. Semon, Oliver Hardy before Laurel and Hardy fame, and Spencer Bell an African American man (by the way the movie is very racist though on the other hand at least Mr. Bell was given a featured part in several scenes). There is a love-triangle between Dorothy, Semon, and Hardy. That sounds sooo naughty, I know! Krewl has a band of Zoro-like characters do his dirty work, and did you know you can fly from Oz to Kansas by plane!? Dorothy, the three farmhands, and Uncle Henry, but not Aunt Em travel to Oz by a storm. The Wizard of Oz is described as a "medicine-show hokum huckster." Like I said no magic happens. Turns out Dorothy is the rightful queen. To hide from Krewl, Semon dresses up as a Scarecrow, Hardy as a Man of Tin, and later Bell as a Lion. They are all explicitly men in disguise. The movie is filled with slapstick routines. In the end, Dorothy does not choose either Semon or Hardy, but Prince Kynd, and the little girl has obviously fallen asleep from boredom of her Grandfather's story rather than dreaming of happy adventures!
Byron Brubaker
Super Reviewer
The Wizard of Oz Quotes
There are no approved quotes yet for this movie.