The Young Offenders
(2016)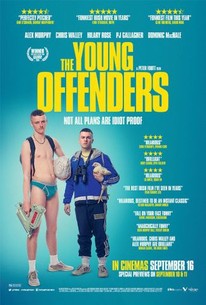 Movie Info
Inspired by the true story of Ireland's biggest cocaine seizure in 2007, The Young Offenders is a comedy road movie about best friends Conor and Jock, two inner-city teenagers from Cork who dress the same, act the same, and even have the same bum-fluff mustaches. Jock is a legendary bike thief who plays a daily game of cat-and-mouse with the bike-theft-obsessed Garda Sergeant Healy. When a drug-trafficking boat capsizes off the coast of West Cork and 61 bales of cocaine, each worth 7 million euro, are seized, word gets out that there is a bale missing. The boys steal two bikes and go on a road trip hoping to find a missing bale which they can sell so as to escape their troubled home lives....But Sergeant Healy is in hot pursuit.
Critic Reviews for The Young Offenders
Audience Reviews for The Young Offenders
½
Not that this has anything to do with the film, but I've always wanted to visit Ireland. It's always been one of my top 5 places to visit. That list, in no particular order, would include the aforementioned Ireland, South Korea, Australia, France and China I've fallen in love with Ireland since I've started watching their films. Obviously, like with every country, it's gotta have its 'uglier' side, but the Irish countrysides I've seen in films, legit, are some of the most beautiful sites I've ever seen. Seriously, Google that shit and be in awe at the beauty. With all of that said, let's move on to the review. I'll be honest, I don't keep up with Irish movies as much as I probably should, considering that, as far as I can remember, I don't think I've seen an outright awful movie from them. I'm just watching what is easily available to me on Netflix and Amazon Prime. I can't exactly spend a whole lot of money on DVDs either at this point in time. But I digress, the point is that I thought this was a really damn good movie. I can't say that it's the best comedy I've seen, it's gonna take something really special for me to say that, but it's legitimately some of the most fun I've had watching a movie in a very long time. I've certainly seen better movies on Netflix this past month (I Don't Feel at Home in this World Anymore was better, for an example), but I just had a blast watching this movie. It sees two best friends go off on this journey to Three Castle Head where a drug smuggler's ship has capsized. There are 61 bales of cocaine that, if sold, would make 440 million Euros. Jock and Conor, the friends in question, only just want one bale of cocaine, which would net them 7 million euros. They have their particular motivations for wanting this, Jock obviously wants to leave home as his drunk father simply cannot take care of him and gets downright physically violent with him later in the film. Conor has struggles with his mother, who's always putting him down and treating him like crap. Basically, both want to leave home for varying reasons. So, yes, there's nothing really new about this movie. But, as the cliche goes, it's the journey to the destination that really matters. And the journey is pretty crazy. There's various characters at play here. For example, Jock wears this mask of this other guy in the movie (Billy) and he goes around stealing bikes. Because he's wearing the mask, everyone believes Billy is responsible and he's sent to jail for it. There's an overzealous cop who follows Jock and Conor through their entire journey by placing a GPS under the seat. Later, in the film, when Jock and Conor find the bale of cocaine, being held by this handicapped man, they make another enemy. The handicapped man goes on a journey to find Jock and Conor. Around the same time, Billy is released from prison and he is told that Conor is responsible for getting him sent to prison. All of these stories and characters converge together in the climax at Conor's house. So, yea, the movie has a pretty wild journey, but it's really fucking entertaining. The characters are super likable, the writing is very good, the leads have great chemistry and it's got a killer soundtrack too. This might actually have one of the best soundtracks I've seen in a while. And I say that because they actually use the songs to enhance the scene they may be placed during. I find it rare to see a movie that actually takes into consideration which song fits what scene the best. Usually they're just background noise. But the songs here really do actually add to the effectiveness of the scene they may be used in. The movie might end a bit too perfectly for some, but I had no problem with that whatsoever. Anything else would have felt completely out of place for these characters and the world they may inhabit. Even when the movie tries to get too serious, like the stuff with Jock and his father, it doesn't necessarily feel out of place, since it gives Jock motivation to want to leave this life behind, it would mess with the tone of the movie if these scenes went too long. Thankfully they don't, so they don't mess with the movie at all. As if it wasn't obvious, I was a big fan of this movie. It's not necessarily a traditional 'feel-good' movie, like the previous film I reviewed (Uncle Nino), but it's definitely a pick-me-up. It put me in a good mood for sure. This review has gone long enough already. This is a damn good movie and I would encourage everyone to give this a shot if you have Netflix. It's not perfect, and no movie is really, but I think a high percentage of people will enjoy this movie. Highly recommended.
Jesse Ortega
Super Reviewer
Tom Sawyer and Huck Finn are in Ireland this time and after pirates' treasure once again with similarly hilarious and often heartwarming results. Don't miss it.
Kevin M. Williams
Super Reviewer
Exceedingly silly at times but also endearing. Based on the true story of two teenagers who go off in search of a capsized boat containing 61 bales of cocaine. Heartwarming too in how it shows the boys dealing with single-parent life and how strong their friendship is in the face of disadvantaged life.
Ian Walker
Super Reviewer
The Young Offenders Quotes
There are no approved quotes yet for this movie.