There's Always Vanilla
(1973)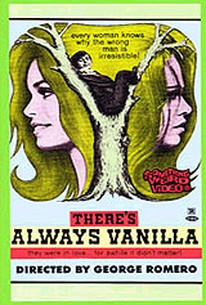 AUDIENCE SCORE
Critic Consensus: No consensus yet.
There's Always Vanilla Videos
There's Always Vanilla Photos
Movie Info
In this romantic melodrama, a recently-discharged young army veteran finds a girlfriend who is willing to support him. When she discovers that she is pregnant, she goes through a lot of soul-searching. Landing on his feet, the army veteran decides to take up his father's offer of a job.
Rating:
R
Genre:
,
Directed By:
Written By:
In Theaters:
On DVD:
Runtime:
Studio:
Anchor Bay Entertainment
Critic Reviews for There's Always Vanilla
All Critics (1) | Fresh (0) | Rotten (1) | DVD (1)
Instead of taking an indirect sociological tack, Vanilla opts for fairly transparent post-Graduate countercultural hot-button topics.

Audience Reviews for There's Always Vanilla
½
This drama from the early 70s is pretty terrible. A counter culture film that, much like it's lead male character, doesn't really know what to do with itself. It is the second film directed by George A. Romero, who had shocked the world with his amazing directorial debut, "Night of the Living Dead"...here he tries to make something like "The Graduate", but it is clearly not his forte. He luckily returned to the horror genre, after realizing how bad this movie is. The surprising spark Romero got out of his amateur talent in his first film is totally lacking this time around. Interesting if you'd like to see Romero's attempt at something else, but not a good film by any account, it is mostly boring.
Ken Scheck
After the success of "Night of the Living Dead" one would think director George A. Romero would follow-up that huge success with another monumental horror film.... one would think right? Hell No! Not wanting to be type-casted as a horror film director, Romero hastily decided to branch his horizons and direct a romantic dramedy. Was it the right move? Well considering NO one saw the film at the time and no one knows of its existence today other than Romero himself and his most die hard fans it would be safe to say that's a 'negatory'. Just because it's relatively unknown doesn't mean it's a bad film, right? well... We've got a clean cut drifter (new-comer Ray Laine) who drifts into his home town, meets with his dad and takes him to his ex-girlfriend's home where he gets his dad laid by a stripper. Now sending his dad on his way he by chance runs smack into a beautiful model/commercial (Judith Streiner from "Night of the Living Dead"). They begin a topsy turvy relationship that results in heart-ache and an attempted abortion. Cry me a river. The main problem with this film is it feels incomplete. It's like Romero didn't have enough funding to completely shoot the script so he had to quickly shot poor narration sequences and somehow stitched together the film with these on-screen narration bits to help the film flow and make sense. The result is just unfocused no matter what clever editing tricks Romero's has up his sleeves. The film really also has no purpose or goal to its plot leaving the viewer scratching their head after the film wraps up with no questions answered or any plot elements tied up. The acting is actually rather good for such a no-budget film and Ray Laine gives a good performance as the very confident, though unsuccessful drifter with his head in the clouds. The good acting and some clever editing is the only thing about this film I can give praise for. The rest is just missed the mark. The final result went mostly unseen by the public and Romero is very open about not liking the film. After finally seeing this 'lost' film of his I can see why as it isn't very good and just seems like a pieced together picture of a film that wasn't completed properly. This is still a must see as a curiosity piece for Romero die-hards as this was his one of his very few forays outside the horror genre. Just don't expect a GOOD film. Anchor Bay was gracious enough to include this film as a 'bonus' on their DVD release of Romero's third film "Season of the Witch" for those who are interested.
Eric Reifschneider
Right off the bat let it be said that the only real reason to see this movie is it's director. Romero feared being pidgeonholed as a horror director so he made this after Night of the Living Dead. While he has since alllowed himself to be pidgeonholed (thankfully), this is stil an interesting movie. It suffers alot of problems for sure and it was never completed properly. However Ray Laine is rather good in this movie and Judith Ridley is sure nice to look at. It doesn't really offer anything new however it does give us a glimpse of what Romero could do with a non-horror film so it has some signifigance. The scene involving the meaning behind the title at the end of the film is rather good however so I'll give it an extra half star. Interesting as a historical footnote but not much use for most filmgoers.
Jason Hartman
There's Always Vanilla Quotes
| | |
| --- | --- |
| Chris Bradley: | "That's my father. He can still cut the mustard. " |
| Chris Bradley: | That's my father. He can still cut the mustard. |