The Men Who Tread on the Tiger's Tail (Tora no o wo fumu otokotachi)
(1945)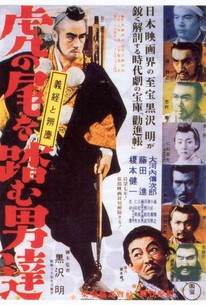 The Men Who Tread on the Tiger's Tail (Tora no o wo fumu otokotachi) Photos
Movie Info
The fourth film from Akira Kurosawa is based on a legendary twelfth-century incident in which the lord Yoshitsune and a group of samurai retainers dressed as monks in order to pass through a dangerous enemy checkpoint.
Critic Reviews for The Men Who Tread on the Tiger's Tail (Tora no o wo fumu otokotachi)
Audience Reviews for The Men Who Tread on the Tiger's Tail (Tora no o wo fumu otokotachi)
½
Kurosawa's fourth film = short and sweet. His first film incorporating elements of Noh theatre, which he would use very effectively in his later masterpieces like Throne of Blood. There is a very intense sequence where the seven men succeed in convincing the border guard to let them pass; the camera follows them as they walk past the soldiers all the way to the exit only to be stopped by a meddling menace which almost blows their cover. Definitely an intriguing film which does not have a conclusive ending, one that I think I have to revisit to better grasp. The only criticism would be the slapstick sequences which were supposed to be funny, and not that I want to hate on that actor (who I understand is no longer with us), but they did not amuse me in the least.
In "The Men who Tread on the Tiger's Tail," an otherwise witless porter(Kenichi Enomoto) stumbles onto the truth that the group of priests he has been working for are actually the exiled and hunted Lord Yoshitsune(Shubo Nishina) and his retinue. At the same time, he alerts them that their brilliant disguise may not work at the upcoming barrier. After a suggestion in favor of a frontal assault is declined, Benkei(Denjiro Okochi) has another idea. What follows is a highly suspenseful game of bluff, double bluff, and my personal favorite, a triple bluff with a half gainer.(Mine the anachronistic reference, but I almost thought that might be psychic paper for a second.) The only question at the end is not who wins but who was the real fool? Regardless, that porter is really annoying.
one of the earliest films from the greatest director that ever lived. at only 1 hours length there wasnt much time to hash out a story, but it was an interesting one. the plot was very interesting and the actors were amazing, pulling great facial expressions to portray their thoughts and feelings. its hard to rate this film too high because it was such a simple expression of what was being portrayed, but it was a solid film.
The Men Who Tread on the Tiger's Tail (Tora no o wo fumu otokotachi) Quotes
There are no approved quotes yet for this movie.