The Thief Lord
(2006)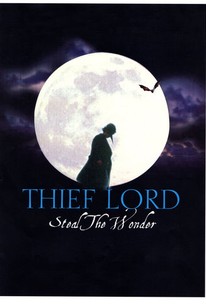 Movie Info
Set in Venice, two young brothers on the run fall under the care and protection of a mysterious "Thief Lord." Stealing the missing component of a magical carousel capable of restoring youth, they discover a thrilling and unforgettable world of wonder and enchantment.
Critic Reviews for The Thief Lord
All Critics (5) | Fresh (2) | Rotten (3) | DVD (2)
The kind of entertainingly gonzo storyline that completely disarms us, simply because anything could happen.
...too simplistic, too episodic, and too disjointed for this adult to enjoy, but...kids will probably like its intrigue and most of its generally sweet nature.
The Thief Lord is a magical little story, lovingly and expertly crafted. What an absolute delight.
Audience Reviews for The Thief Lord
This adventure film set in the beautiful city of Venice aims primarily at a young audience. That does not mean there is nothing for adults here, but they may have a harder time connecting to the story, what with very few believable grown-up characters in the story and a rather disjointed way of telling it. The plot gets surprisingly complex for a kids adventure, but the dialog remains rather shallow and simplistic. The soundtrack often makes things sound more exciting and bombastic than they actually are. The movie's biggest asset is the setting, which is primarily real Venice and oozes the atmosphere of the city (even if obviously filmed in winter). The characters do remain rather flat. Now, kids certainly don't mind all that, there is plenty of stuff happening and glimpses of magic between the adventure plot. So the target audience should have fun with it, as an adult there have been more coherent films to watch with children than this.
The Thief Lord Quotes
There are no approved quotes yet for this movie.