This Divided State
(2005)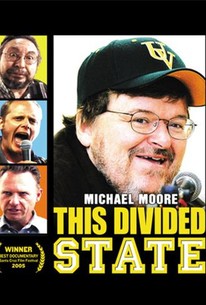 This Divided State Videos
This Divided State Photos
Movie Info
The state of Utah has long been home to the American headquarters of the Church of Latter-Day Saints (better known as the Mormons), and as befits the straight-laced lifestyle dictated by the faith, Utah tends to be a solidly conservative community and traditionally supportive of Republican candidates. However, many gained a perspective on just how conservative Utah was in September 2004, when filmmaker and leftist activist Michael Moore was invited to speak on the campus of Utah Valley State College in Orem, UT two weeks before the presidential election. While UVSC organizers expected some degree of controversy, no one anticipated the bitter firestorm of criticism that resulted, with many community leaders denouncing Moore and demanding that the event be canceled, with some on the event committee receiving death threats. (Joe Vogel, the student body vice-president who helped spearhead Moore's appearance, happened to be a former Mormon missionary and card-carrying Republican who believed that Moore's right to speak outweighed his own opinion about his views.) One of the most outspoken critics was businessman Kay Anderson, who was especially critical of the fact UVSC were paying Moore an honorarium to speak on campus. Anderson, who told reporters Moore "hates our values and would like to destroy us," offered the school 25,000 dollars to cancel the event. As tempers flared, some supporters of Moore's visit questioned the political influence of the Mormon church in Utah, while others wondered if someone can be a good Mormon and a liberal at the same time. This Divided State is a documentary directed by Steven Greenstreet, who studied at both Brigham Young University and UVSC, which offers a bird's-eye view of the controversy with a number of community and student representatives on both sides of the issue contributing their views.
Rating:
NR
Genre:
, ,
Directed By:
In Theaters:
On DVD:
Runtime:
Studio:
Critic Reviews for This Divided State
Audience Reviews for This Divided State
The righteous fight by Bush supporters to be able stick fingers in their ears and go LA LA LA I CANT HEAR YOU.
Alex T.
I felt rage watching this. You don't have to like Michael Moore, but this will show you how shallow and sheep-like conservatives/right-wings are. This is not a Rep vs Dem argument. This is a liberal vs conservative one.
Umair Zia
Whether you are liberal, conservative, or apathetic, you should see this film. It portrays just how far this country has to go before people can speak opinions freely without any persecution. Just watch the scene of two professors during Q&A portion of Sean Hannity's speech, only to be mocked and their quesitons ignored. I also liked that the filmaker presented both sides of the controversy and he did not seem to take a side. He just presented the story as it was.
Wendy B
This Divided State Quotes
There are no approved quotes yet for this movie.