This Happy Breed
(1944)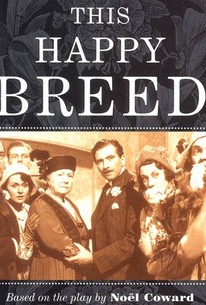 Movie Info
With This Happy Breed, playwright Noel Coward hoped to glorify the British working class in the same manner that he'd celebrated the "higher orders" in Cavalcade. The film begins just after World War I. Middle-class Londoner Robert Newton hopes to improve his family's lot by moving them into a comparatively posh house in the suburbs. The house is large enough for each family member to claim a corner or room as his or her own, allowing Coward to spotlight the characters' highly individual strengths, shortcomings and emotions. Twenty years go by, filled with the sorts of triumphs and tragedies with which British audiences of the 1940s could readily identify. Finally, left alone after their children and relatives have moved on, Newton and his wife (Celia Johnson) leave the house behind for a smaller, more practical apartment. This was the second of four collaborations between author Noel Coward and director David Lean. While Coward can't completely disguise his patronizing attitude towards "regular folks," Lean is successful in conveying the essential warmth, humanity and value of the film's characters.
Critic Reviews for This Happy Breed
Audience Reviews for This Happy Breed
½
Its predictable, but that may be the result of the fact that this kind of decade sprawling melodrama is a lot more common nowadays. You can see the seeds of the type of visual brilliance that David Lean was known for pop up occasionally here and there and Cowards dialogue is always enjoyable.
Alec Barniskis
Super Reviewer
Another David Lean, Noel Coward adaption, This Happy Breed follows the life of a suburban family between the two world wars. A two decade long epic this film has great character development and shows marriage, death, abandonment, and the rest of the occasions a family goes through. It has some funny snip bits of dialogue, and I especially like the communist/anarchists discussion. The film is somewhat dry, but it remains touching and relevant.
Daniel Dolgin
Super Reviewer
This is a bit of a difficult creature from the other Lean/Coward film 'Brief Encounter' as it focuses on a whole family and is more of an ensemble piece. In many ways it's a precursor to the soaps we see on TV today like Eastenders and Coronation Street in that the main drama are family based and although the film is set between the two wars we don't deal with international affairs. I suppose it's more of a film of its time and seems a bit stilted now but the performances are all good and it's nice seeing Celia Johnson in a different type of role after 'Brief Encounter'. A cosy Sunday afternoon film.
David Sayers
Super Reviewer
This Happy Breed Quotes
There are no approved quotes yet for this movie.