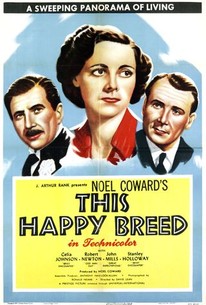 This Happy Breed
1944, Drama, 1h 55m
12 Reviews
500+ Ratings
Where to watch
Rent/buy
Rent/buy
Rate And Review
Movie Info
In 1919, Frank Gibbons (Robert Newton) returns home from army duty and moves into a middle-class row house, bringing with him wife Ethel (Celia Johnson), carping mother-in-law Mrs. Flint (Amy Veness), sister-in-law Sylvia (Alison Leggatt) and three children. Years pass, with the daily routine of family infighting and reconciliation occasionally broken by a strike or a festival. By the time the children have grown into adults, another war is looming.
Audience Reviews for This Happy Breed
Its predictable, but that may be the result of the fact that this kind of decade sprawling melodrama is a lot more common nowadays. You can see the seeds of the type of visual brilliance that David Lean was known for pop up occasionally here and there and Cowards dialogue is always enjoyable.

Another David Lean, Noel Coward adaption, This Happy Breed follows the life of a suburban family between the two world wars. A two decade long epic this film has great character development and shows marriage, death, abandonment, and the rest of the occasions a family goes through. It has some funny snip bits of dialogue, and I especially like the communist/anarchists discussion. The film is somewhat dry, but it remains touching and relevant.

This is a bit of a difficult creature from the other Lean/Coward film 'Brief Encounter' as it focuses on a whole family and is more of an ensemble piece. In many ways it's a precursor to the soaps we see on TV today like Eastenders and Coronation Street in that the main drama are family based and although the film is set between the two wars we don't deal with international affairs. I suppose it's more of a film of its time and seems a bit stilted now but the performances are all good and it's nice seeing Celia Johnson in a different type of role after 'Brief Encounter'. A cosy Sunday afternoon film.

The film is really about the evolution of a country between times of war, set against a families own personal ups and downs. The most dramatic events happen off screen. All deaths happen either off screen and many between different time periods, as do marriages and other "main" events other films would exploit. It captures the constant momentum of life in a very slow and thoughtful manner. Lean and Coward once again make a brilliant team with Lean's direction being the most ingenious counterpart to Coward's words. It sometimes feels not adapted enough from its stage play origins, and sometimes feels a bit too patriotic though it certainly offers up different views from different characters. It shows the constant worries of parents in a supposedly less dangerous time. It works as a very English drama and is powerful in that repressed kind of way. Lean's first use of colour is a triumph and there are some amazingly beautiful moments that will be forever eclipsed by his more obvious epics. The parents wondering back into a room in silence at some tragic news is wonderful cinema.
See Details